Cuba receives $23 million from UN climate fund
News from Cuba | Thursday, 20 May 2021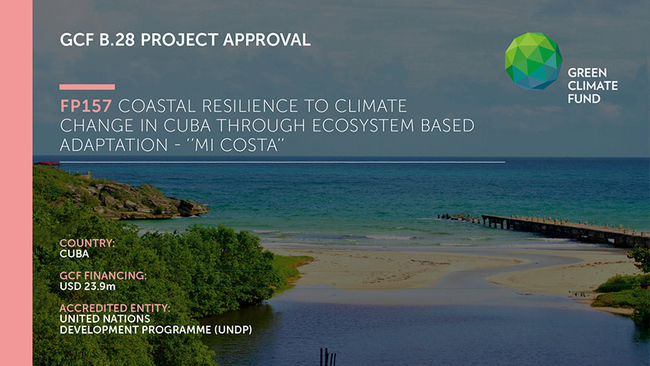 In March the United Nations Green Climate Fund (GCF) approved a $23.9 million grant for a project in Cuba to increase the climate resilience of people living in many of the island's coastal communities. The project, entitled 'Coastal Resilience to Climate Change in Cuba through Ecosystem -Based Adaptation' or 'MI COSTA,' will also receive $20.3 million from Cuba's government. It will benefit 1.3 million people in coastal towns in the provinces of Pinar del Río, Artemisa, Mayabeque, Ciego de Ávila, Camagüey, Las Tunas, and Granma. The GCF Board approved the grant during its 28th meeting, apart from the US representative who objected to approving the grant for the project.

According to the GCF's website, the MI COSTA project aims to increase the climate resiliency of coastal communities in Cuba through an "ecosystem-based adaptation approach." As part of that approach, the project intends to restore more than 11,000 hectares of mangroves, 3,000 hectares of swamp forest, and 900 hectares of swamp grass on the island. It will also improve the health of 9,000 hectares of seagrass and 134 kilometres of coral reefs. 60 percent of the population in the targeted coastal communities on the island will be trained on how to protect ecosystems in order to enhance climate adaptation.

The project, which will be carried out over the span of 30 years, will be implemented through the Institute of Marine Sciences by the Environment Agency of Cuba's Ministry of Science, Technology and the Environment (CITMA). According to CITMA, without intervention, by the end of this century, 21 coastal communities in Cuba will disappear while another 98 will be severely affected by climate change. The GCF further states that 57 percent of Cuba's populations live in areas that are "highly vulnerable" to flooding from intense storms and rising sea levels.
---