No change to anti-Cuban policy and US sanctions against Cuba
Prensa Latina | Tuesday, 25 May 2021 | Click here for original article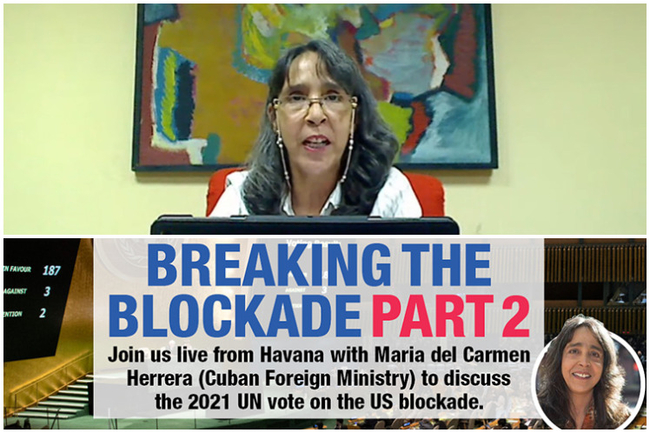 On 24 May, the deputy director of Multilateral Affairs of the Cuban Foreign Ministry, María del Carmen Herrera said that the sanctions imposed by Donald Trump against Cuba remain unchanged under the mandate of Democrat Joe Biden.
"Unfortunately, we cannot be optimistic, because four months after the Biden administration came to power, there has been no change in the United States' policy towards Cuba", said the official during a virtual conversation with activists of solidarity with the Antillean country from the United Kingdom.
Herrera stressed that all the measures and restrictions imposed by Republican President Donald Trump remain unchanged, and are fully applied against the Cuban people under the new Democratic administration, despite the promises he made during the electoral campaign to review the bilateral relations.
According to the official, Biden has the prerogative to deactivate Title III of the Helms-Burton Act that allows Americans to sue those who invest in properties nationalized in Cuba after the triumph of Revolution, or to remove the island from the list of countries sponsoring terrorism.
"But he has done nothing about it, despite the fact that, as we did with previous governments, we have made it clear to him that we are willing to establish normal and civilized relations with Washington", she remarked.
During the online event organized by the Cuba Solidarity Campaign (CSC) in the United Kingdom, Herrera analyzed the context in which the Cuban government will present a resolution to the UN General Assembly on June 23 on the need to end to the blockade imposed by the United States for six decades.
She explained, "for example, that last year Washington applied resurgence measures that had a negative impact on the island's ability to effectively combat Covid-19."
She also reiterated that this unilateral measure represents the main obstacle to Cuba's economic development, and the achievement of the sustainable development goals and the confrontation with climate change.
In turn, the director of the CSC highlighted the support provided by 58 British legislators who signed a motion in which they ask the British government to intercede with Biden for the normalisation of relations with Cuba and denounce the impact of the blockade on the Cuban people.
---