CSC 2021 Blockade Buster Raffle winners
Campaign News | Tuesday, 8 June 2021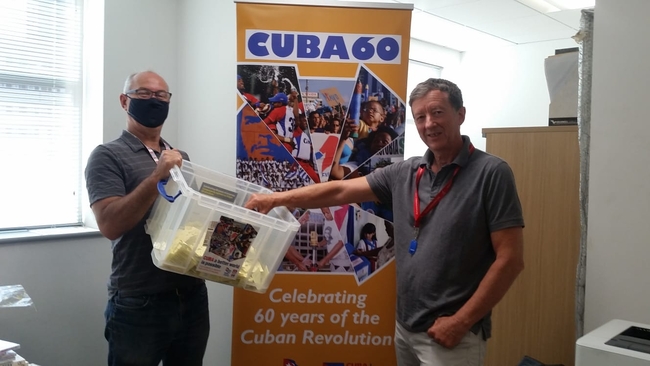 The grand draw took place this week at the CSC office in London, with the help of Unite London & Eastern Regional Secretary, Peter Kavanagh. The raffle raised nearly £20,000 for the Campaign and we would like to thank all our members and supporters who bought tickets this year.
CSC director Rob Miller said: "This has been the biggest CSC Blockade Buster raffle ever and I'd like to thank absolutely everyone who bought and sold tickets. Your support has been tremendous and will help enormously in out campaigning against the Blockade and for Cuban sovereignty. Viva Cuba!"
Peter Kavanagh, Unite LE Regional Secretary said: "It is a shame that Unite members have been unable to travel on delegations and brigades this year due to coronavirus. I can assure you that we are there in Cuba in spirit alongside our Cuban Sisters and brothers standing firm against the vicious US blockade and we will continue to support this struggle."
The winners are:
1st prize: 2 return flights to Cuba *
Winner: 08681 Adrian Weir, London
2nd prize: Cuba Hamper with rum, coffee & more
Winner: 30449 Danny Tartaglia, London
3rd prize: A selection of 5 CDs of Cuban music
Winner: 13966 Lydia Hill, Ely
Plus 5 runners-up prizes of Cuba books/CDs
07525 Martin Stoolman, Exeter
30236 Pauline Colledge, London
03291 Gillian Siddons, Aberdeenshire
37321 Phil Newing, Sheffield
37345 Maxine Sadza, Southend-on-Sea
Raffle winner Adrian Weir, on receiving news of his win, said: "That's brilliant news. I can't wait to get back to Cuba hopefully for May Day next year. Joining with millions of trade unionists from Cuba and around the globe is such an inspiring experience. I'm lucky enough to have been before but this win will mean I can start dreaming of another visit hopefully sooner rather than later."
The draw was delayed from 5 June to 8 June due to COVID-19 restrictions.
*Two economy class low season flight tickets to be used in 12 months from draw – or cash alternative £1000.
---