British donors help Cuba's COVID-19 vaccination programme
Campaign News | Wednesday, 15 September 2021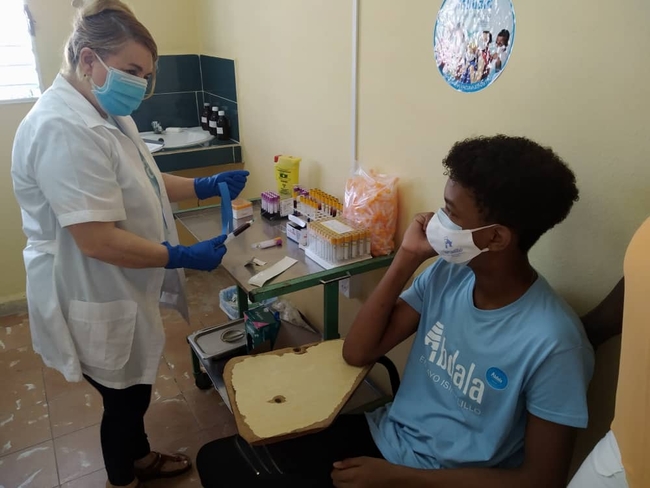 Recent photographs received from Cuba show how some of the £95,000 raised by supporters of CSC's COVID-19 Medical Appeal is helping Cuba treat and vaccinate its people during the pandemic.
The images are of health workers at a policlinic in Camagüey taking samples using crytotubes purchased with funds from the appeal. Cryotubes are small and sterile and used for storing blood and other biological samples for testing and vaccinations. Those purchased with donations from the UK were used for trials in adolescents and children of the Abdala vaccine. In September, the Cuban Ministry of Health announced that all children over 2 years old would receive a vaccination – making it the first country in the world to vaccination children from this age.
The cryotubes formed part of £16,500 spent on equipment sent to Cuba in May, which included serums and compounds used to manufacture drugs to treat patients with COVID-19. Working in close collaboration with Cuban partners we were able to source the latest products from a company in Switzerland and ship them direct to Cuba.
Another two shipments have been made since the appeal was launched six months ago. In April, £8,700 was spent on raw materials which were urgently needed for the manufacture of COVID-19 vaccines. In July, £12,000 of equipment from China including syringes and specialist vacutainers for blood sampling was purchase. After issues with financial transactions these items were finally air freighted to Cuba in August.
CSC has now been asked to purchase a large quantity of an urgently needed muscle relaxant medication to enable successful mechanical ventilation for seriously ill COVID-19 patients and are working to fulfil this request as soon as possible.
Rob Miller, CSC director said: "It is a complicated process to bypass the US blockade to source the requested materials and equipment, and then to ensure that the finances are successfully transferred and the items shipped. Having the COVID-19 funds in place allows us to respond quickly to urgent and specific requests."
As many will be aware, the US blockade makes financial transactions and shipping materials to the island incredibly complicated, sometimes even preventing donations to European based organisations fundraising for Cuba. However, we have been able to ensure that all donations have been successfully processed.
The Cuba Solidarity Campaign covers the costs of all banking and transfer charges to ensure every penny donated goes directly towards buying essential medical supplies in the fight against COVID-19.
In May CSC received a letter of thanks from Ana Teresita González Fraga, vice minister for Foreign Affairs, for the first shipment.
"At a time when the economic, financial, and commercial blockade of Cuba by the United States is intensifying like never before, this gesture constitutes a demonstration of solidarity and friendship that we highly value and is an expression of the positive relations that exist between CSC and Cuba," she said. "Please pass on our sincere thanks to all members of the campaign for such a noble gesture."
Cuba us currently experiencing its worst infection rates as the Delta variant of COVID-19 has made it more difficult to prevent the spread of the virus. COVID rates are the highest that the country has suffered since the pandemic began at around 8,500 infections and 80 deaths a day.
Once again we would like to thank everyone who has donated to this appeal, your support is helping Cuba to treat COVID-19 patients and roll out its vaccination programme at this moment. Gracias.
You can donate to the COVID-19 Medical Appeal for Cuba here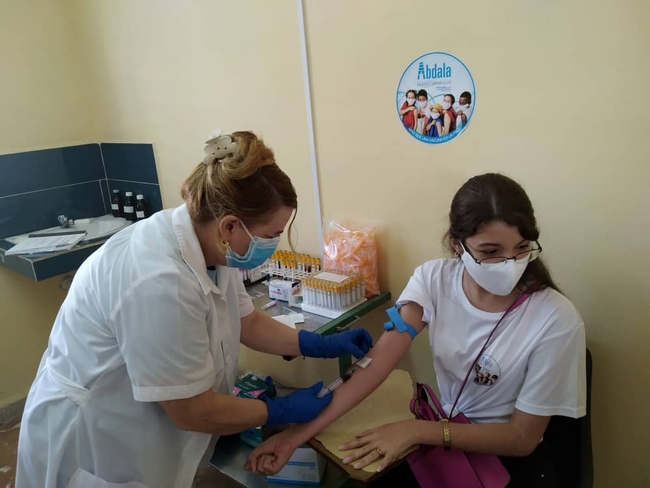 ---