Annual General Meeting – All welcome for 4 June meeting
Campaign News | Wednesday, 20 April 2022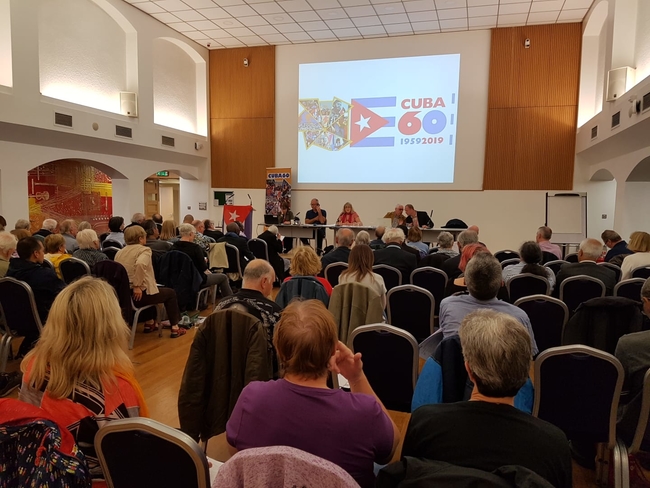 After a two-year break we are delighted to announce that the Cuba Solidarity Campaign Annual General Meeting 2022 will take place on Saturday 4 June at the NEU headquarters, Mabledon Place, London. Doors open for registration from 10am and the AGM runs from 10.30am–4pm. All are welcome to attend, but only members are eligible to vote.
This will be the first time since 2019 that CSC members and affiliates will be able to meet face-to-face to discuss the impact of the COVID-19 pandemic and the tightening of sanctions under both the Trump and Biden administrations.
Guest speakers will include the Cuban Ambassador Her Excellency Bárbara Montalvo, and from Cuba, Elizabeth Ribalta Rubiera, Europe Officer for the Cuban Friendship Insititute (ICAP), who will be visiting the UK for the first time.
As the blockade enters its seventh decade it is as catastrophic for the Cuban economy and people's livelihoods as at any time in its history. And it shows no sign of abating under Biden. The optimism that the Democrat president would keep his campaign pledges and reverse Trump sanctions has faded. In addition to maintaining all of Trump's 243 punitive measures, Biden has added his own, and the US government continues to fund destabilisation programmes, threatening regime change and taking actions to deter international investment.
Together we will discuss the strategy for CSC to take the campaign against the blockade forward within this difficult environment. The AGM will provide updates on this and review the two years of work since the last meeting.
We know that there are many challenges ahead for the Cuban people, and they will need our focussed solidarity and campaigning work more than ever.
The AGM is open to all, but only CSC members and affiliates are able to propose and vote on motions, and elect the 34 members of the new National Executive Committee.
Full details on how to to submit amendments or nominate candidates for the new Executive Committee have been sent to all members with their CubaSí magazine this April. If you are a member of CSC and have not received your AGM papers, or would like to join the Campaign and take part in the AGM, please contact the office on 020 7490 5715 or email office@cuba-solidarity.org.uk.
The AGM takes place on Saturday 4 June at Hamilton House, Mabledon Place – the NEU headquarters in London.
The AGM makes up part of a full day of activities which include a special film showing of 'Herencia', a fascinating and important film exploring Cuba's collective African heritage from the point of view of Cubans interviewed.
In the afternoon there will be a special rally '60 years of Blockade, 60 years of solidarity and friendship' with a selection of short documentary films and special guests including Elizabeth Ribalta from Cuba. Free entry, open to all.
---