Cuba has "the friends we deserve"
Campaign News | Friday, 1 July 2022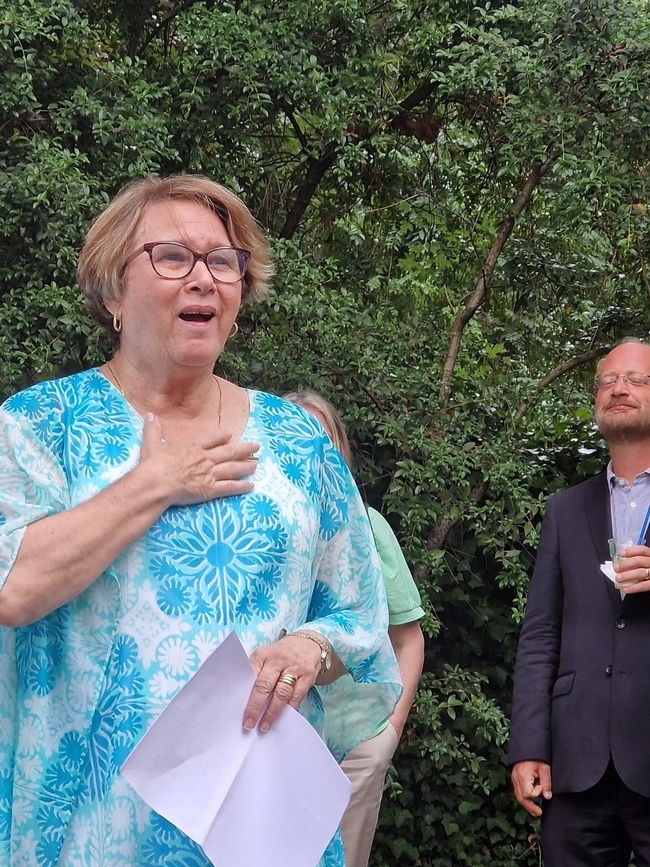 In June Her Excellency Bárbara Montalvo Álvarez, the Cuban Ambassador, hosted her first 'Friends of Cuba' reception at her residence in London to thank regular donors for their support for Cuba and the Cuba Solidarity Campaign. In addition to invited 'Friends of Cuba,' special guests included MPs Navendu Mishra, Rachel Hopkins, Mick Whitley, Richard Burgon, Claudia Webbe, Paul Maskey, Micky Brady, and member of the House of Lords, former General Secretary of Unite and CSC Patron, Baron Tony Woodley.
The Cuban ambassador and staff treated guests to Cuban mojitos and traditional roasted pork in her garden. Addressing the guests, Bárbara welcomed them to "this little piece of Cuba, because this is Cuban territory." She recalled some highlights of the last two years, including the 42 academics and politicians from Britain who had nominated the Henry Reeve Medical Brigade for the Nobel Peace Prize. "You need to know that in each Cuban life saved during the pandemic, the solidarity and trade union movement, and many citizens and groups were present in some way."
"Cuba has in you the friends we deserve, and at the same time you have in the Cuban people the people that you deserve, because we will never, never surrender," she said. "Without the blockade not only Cuba but the world would be a better place."
The reception also heard from Navendu Mishra MP who said that whatever people's views on Cuba, all could agree that the blockade was illegal and criminal and needed to end.
Rob Miller, CSC Director, thanked the 'Friends of Cuba' for their crucial contribution to CSC's campaigning work which helps sustain the organisation, as it receives no large grants or subsidies and relies on members and fundraising to continue.

'Friends of Cuba' members contribute £200 per annum to support the long-term work of the Campaign, directly helping our efforts to defend Cuba's sovereignty and campaign against the illegal US blockade. If you are interested in becoming a 'Friend of Cuba', and receiving the benefits of 'Friends of Cuba' membership including special discounts and invitations, please email Rob Miller at director@cuba-solidarity.org.uk or call 020 7490 5715. You can also join the scheme online at cuba-solidarity.org.uk/get-involved/friends/
---