International Tribunal in Brussels rules that the blockade of Cuba violates international law
News from Cuba | Thursday, 16 November 2023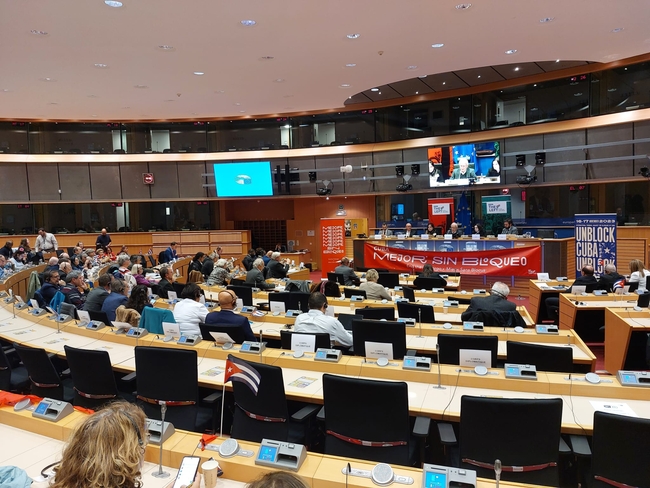 The International Tribunal against the Blockade of Cuba took place in Brussels on 16-17 November and ruled that the policy violates international law and the universal norms essential for peaceful coexistence.
The Tribunal heard evidence on the impact of the blockade imposed by the United States on Cuba for more than six decades and sought to strengthen the movement to end US sanctions in Europe. Rob Miller and Bernard Regan, Director and National Secretary of the Cuba Solidarity Campaign, attended on behalf of CSC.
In its final ruling, the 263 delegates issued the Brussels Declaration, in support of the verdict of the judges, which condemnded the US government for crimes of aggression and crimes against humanity. Reflecting the extraterritorial scope of the blockade, the decision of the judges stressed that the economic, commercial and financial blockade imposed by Washington violates the UN Charter, which enshrines the sovereignty of countries, the Universal Declaration of Human Rights and agreements of the World Trade Organization, among other norms. The signatories come from 21 nations, including representatives of the solidarity movement with the island and parliamentarians. You can read the final ruling here.
Ahead of the Tribunal, a statement signed by the International Association of Democratic Lawyers, the Left Group in the European Parliament, the PIE and the National Lawyers Guild of the United States, said: "We are sure that this action will serve to add voices to the defense of democratic rights, sovereignty and freedom of the peoples."
The initiative was also endorsed by the Foro de Abogados y Abogadas de Izquierda-Red de Abogados Demócratas de España, the National Conference of Lawyers of the United States, the Movement of Solidarity with Cuba in Europe, trade union organisations and associations of Cubans living in Europe.
Speaking to Prensa Latina, Manu Pineda MEP said: "Let us remember that the European Union formally rejects the blockade and all its member countries vote in the UN General Assembly every year for its end." Pineda said the Tribunal was needed to give legal treatment "to what is obviously a crime, and a crime has to be judged and condemned."
On behalf of Cuba, Fernando González, President of the Cuban Institute of Friendship with the Peoples (ICAP), who attended the tribunal, thanked the MEPs, the organisers and the participants.
In a joint press conference, González and MEP Sandra Pereira considered that although the judges' decision is not legally binding, it represents a valuable instrument to continue the struggle for the end of the blockade.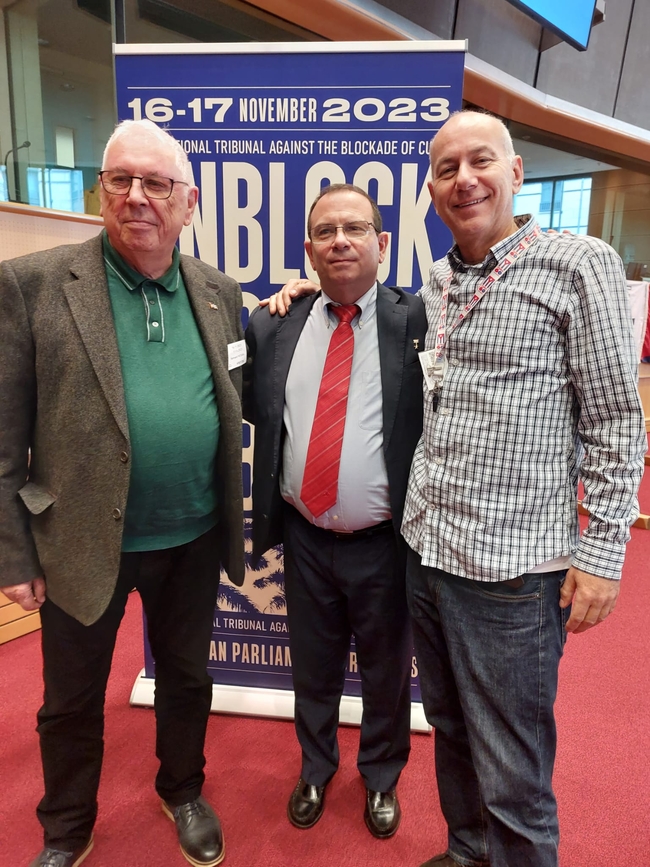 ---