Summer Solidarity Brigade 2018
9 - 29 July 2018
Experience the real Cuba! Be more than just a tourist. The Solidarity Brigade consists of groups from the solidarity organisations of several European countries.
Now is an exciting time to be going to Cuba and the brigade gives a unique opportunity to speak to Cubans from all walks of life, see the reality of life under the ongoing US blockade, and learn about the country's economic and social development.
Work alongside Cuban farmers as well as participate in a full programme of talks, meetings with representatives of mass organisations and visits to community and cultural projects, with time to relax at night with a cool Mojito. Mostly based near Havana but also visit to other parts of during these brigades.
Summer 2018 Solidarity Brigade will visit Santiago de Cuba and participate in the 26 July national celebrations and activities.
Cost includes programme of talks, events and visits, accommodation, transport, food and preparation pack in advance of departure. You need to organise your own international flights but we can assist with this.
"It was a life-changing experience, a really wonderful, rich time in every sense. Humbling in the face of the blockade and its consequences – I will definitely go again, and encourage others to do so!" past brigadista
To view photos and read reports from past Brigades or for more info please visit the Brigade section of the CSC website: http://www.cuba-solidarity.org.uk/tours/article/8/volunteer---brigade-opportunities-all-year-round
Summer 2018 brigade programme includes working in a rural area outside Havana alongside local farmers producing citrus fruits, as well as visits to a cooperative and eco community project, talks on the current challenges of the blockade, the updating of the economy, the media war, participative democracy, internationalism and the ideas of Jose Marti, with opportunities to meet Cuban doctors who have been part of internationalist missions, to meet veterans of the revolutionary war and the Bay of Pigs and to discuss international solidarity.
The group also meet top sportspeople and a youth theatre company, as well as students' representatives, the Women's federation and trade unionists. With free time to explore the capital and lots of opportunities to soak up the culture. Not forgetting some time at amazing beaches.
The brigade includes a 4 day trip to eastern Cuba to Santiago de Cuba, via Sancti Spiritus and Camaguey for the 65th anniversary of attack on the Moncada barracks in 1953 – with visits to Moncada, the Granjita, meeting local veterans of the underground struggle, visiting the resting places of Fidel Castro and Jose Marti, and participating in the special activities for 26 July, Cuba's national revolution day.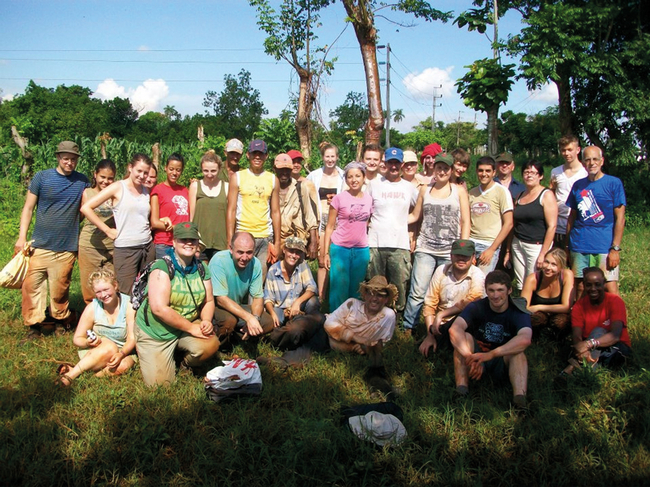 ---