Winter Solidarity Brigade 2019
16 December 2019 - 5 January 2020
Discover the real Cuba and make a real difference with this amazing experience. Join a diverse group of UK and international volunteers at the International Centre near Havana for a unique opportunity to learn first hand about the realities of Cuban life.
A fantastic programme of trips, visits and discussion with Cuban people from politics, sports, the arts, industry as well as voluntary work and plenty of social activites will ensure that you make the most of this once-in-a-lifetime journey.
Now is an exciting time to be going to Cuba and the brigade gives a unique opportunity to speak to Cubans from all walks of life, see the reality of life under the ongoing US blockade, and learn about the country's economic and social development.
Work alongside Cuban farmers as well as participate in a full programme of talks, meetings with representatives of mass organisations and visits to community and cultural projects, with time to relax at night with a cool Mojito. Mostly based near Havana but also visit to other parts of during these brigades.
Winter 2019 brigade programme includes working in a rural area outside Havana alongside local farmers, as well as visits to a polytechnic college, mental health medical centre, museums and historical sites, a local community organisation and cultural project, plus talks on the current challenges of the US blockade, on the economy, political system, environmental policy, OSPAAL and internationalism, and on equality and diversity.
The group also expect to meet representatives of mass youth organisations such as the student unions, plus representatives of the Womens Federation and Trade Union federation, Cuban Movement for Peace (MovPaz) and top Cuban sportspeople.
With free time to explore the capital and lots of opportunities to soak up the culture, with dance classes, film screenings and live music, and a day at the beach.
The brigade is based at an international centre 25 miles outside of Havana. This brigade also includes a 4 night trip to Pinar del Río province over the New Year period – including a visit to the historical rural site of Che Guevara's command post, to Palenque de los Cimarrones the site of a settlement of runaway slaves, a tobacco factory and to Las Terrazas, a UNESCO designated Biosphere Reserve and site of the earliest coffee plantations in Cuba.
Cost includes programme of talks, events and visits, accommodation, transport, food and preparation pack in advance of departure. You need to organise your own international flights but we can assist with this.
"It was a life-changing experience, a really wonderful, rich time in every sense. Humbling in the face of the blockade and its consequences – I will definitely go again, and encourage others to do so!" past brigadista
To view photos and read reports from past Brigades or for more info please visit the Brigade section of the CSC website: http://www.cuba-solidarity.org.uk/tours/article/8/volunteer---brigade-opportunities-all-year-round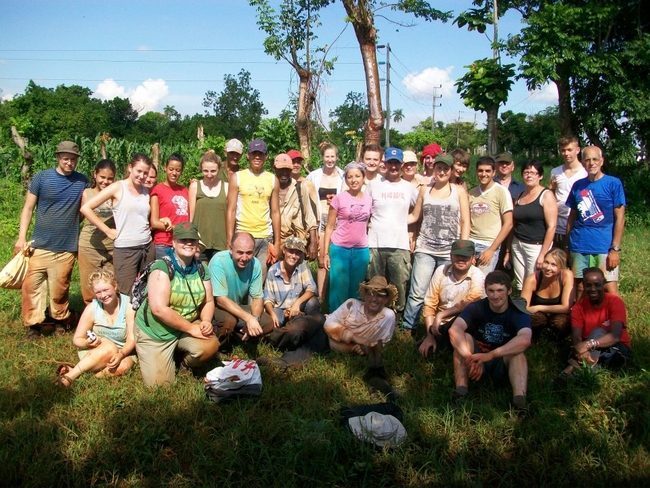 ---