They think it's all over. It's not.
Autumn 2016
As Cuba prepares for the 25th annual United Nations vote on the blockade, Dr Steve Ludlam reports on how the outdated and cruel US policy continues to cause suffering to the Cuban people and the importance of keeping up the international campaign to end it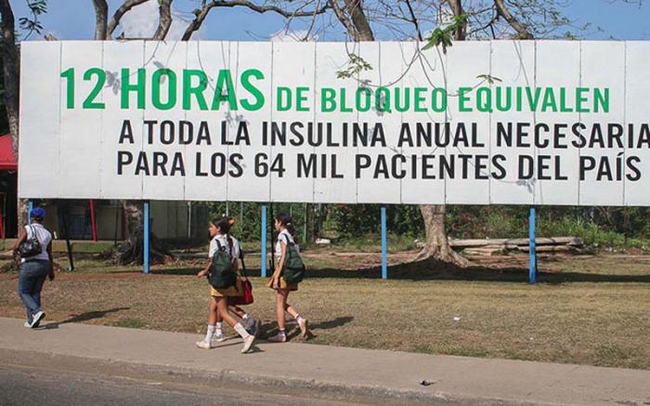 It is nearly two years since Barack Obama's historic speech admitting that the US blockade had failed to defeat the Revolution and should be lifted. Many people, including friends of Cuba, actually believe that the blockade has gone. It has not.
Of course there have been some measures taken on presidential authority, as Cuba demanded. Commercial flights have resumed on a small scale. A US cruise ship has visited the island. Cuba has contracted US companies to help develop the islands communications infrastructure, the one sector permitted to export given the White House's public objective of using the internet to organise regime change.
For Cuba's private sector, that the US sees as its key arena for undermining the Revolution, the blockade is effectively over in terms of trade and investment. But for the other 92% of the economy, the blockade remains comprehensive and suffocating.
So, in its Report this year to the UN ahead of the October 2016 blockade vote, Cuba has again highlighted the unforgiveable nature of the suffering imposed on the Cuban people by its continuation.
The damage to Cuba in the year April 2015-2016 is calculated to be $4.7bn. The damage of the blockade since 1961 is calculated at $125.9bn at current prices; $753.7bn on a calculation relating dollar depreciation to gold prices. Cuba has achieved so much across those years. Imagine what they might have achieved with those resources.
$83m of the cost of the blockade in the past year has fallen on Cuba's world renowned public health system. Some of this is the cost of paying more for medicines and equipment that might otherwise be bought in the US markets.
Exclusively-US equipment is blockaded totally, including cerebral stimulators that would bring relief to hundreds of Cuban sufferers of Parkinson's Disease. Cuba's neurophysiologists in the past year have been denied the right to buy GEC equipment to study the peripheral nervous system. Cuba's successful bio-medical company, FARMACUBA, has been refused protective equipment as well as ingredients for life-saving products. Cuba calculates the cost of the trade blockade to the biotech industry at $172m last year. The cost in human pain of such constraints cannot be calculated.
Food security has been undermined in the past year because of increased prices for seed, fertilizer and agro-industrial parts, and the delays caused in finding alternative sources. Such delays cause Cuba to have to warehouse food supplies for far longer than would be the case if US markets were open. Cuba cannot buy important US bovine vaccines, and importing from Europe is blockaded by the refusal of US Certificate of Origin requirements. Cattle health and food supplies are affected.
Losses of $1.3m hit the education, culture and sport sector simply through having to buy in more distant markets. US manufactured sports equipment whose use is mandatory in international competitions is blockaded. Samples sent from international competitors to Cuba's accredited anti-doping sports laboratory were blocked in transit.
The report offers the lamentable example of elementary students enrolled in music courses, whom Cuba supplies with a stringed instrument: Cuba has to pay three times the US price for a half-size violin for these students.
Cuba's informatics sector is denied access to google.com, ti.com, oracle.com. vmware.com and other key sources of information. Services freeze when a Cuban IP is recognised. The tourism industry lost over £2bn last year on a conservative estimate, due to increased costs and the US ban on its citizens visiting freely as tourists. Other examples in the Report are arresting. Seawater and drinking water quality testing is undermined and Cuban climate change research centres are denied access to US data. Cuba's energy, mining, transportation, aviation, tobacco, rum, sugar and nickel sectors offer further examples in the Report, reinforcing the simple truth that no economic activity on the island is unaffected.
$4.1bn of the costs of the blockade in the past year fell on Cuba's foreign commerce and investment. The Report lists the blockading of Cuban medical exports to the US itself, where, annually some 200,000 sufferers of ulcers of the diabetic foot, of whom 70,000 suffer amputation, are denied access to the unique and proven Cuban Heberprot-P treatment. Supplying this would earn Cuba $122m a year. Other Cuban treatments, for high cholesterol and other vascular conditions, for psoriasis, and natural treatments that reduce pain in cancer patients, are blockaded to US patients.
A key measure promised by Obama in 2015, authorisation of the use of the US dollar in Cuba's international trade has not materialised (the Cubans have repeatedly tried it). This is hardly surprising. During Obama's term of office, some $14bn of fines have been imposed on banks, mostly European and Asian, for facilitating trade with Cuba. The 2016 Report notes that in October 2015 the French bank Crédit Agricole paid a $1.1bn fine to the US. This year the German Commerzbank pulled out of all Cuban activities following a $1.7bn fine. British bank Standard Chartered closed Cuban doctors' accounts in Uganda. Japanese and US banks refused to process legal tourist payments; three Italian banks refused to process business involving Cuban rum.
The 2016 Report contains dozens of examples of financial and trade transactions refused, payments blocked or delayed; and banking agreements cancelled.
Cuba has been unable to patent its medical products in Australia and New Zealand, for lack of a bank willing to process the registration fees. Cuban professionals' salaries have been blocked by banks in Guatemala and Paraguay. UK supermarket ASDA was ordered by US owner Walmart to stop stocking five Cuban and Cuban material-containing products from Germany.
Shipping to Cuba is still disrupted as cargo ships cannot put into US ports for 6 months after visiting Cuba. Even the US Christian group Pastors for Peace has been stripped of its tax-exempt status for humanitarian work in Cuba. No wonder Cuba struggles to secure sources of foreign investment in the face of such coercion!
The impact of US buy-outs of third country companies continues. Following US takeovers, a Canadian air cargo warehousing company promptly cancelled services to Cuba's airline, and Dutch-owned TNT mail handlers in Austria and Turkey withdrew services from Cuba's diplomats after FedEx took over.
And, as we know to our cost, the UK Co-operative Bank's new US owners closed the national CSC account and eventually admitted that they feared US sanctions, as Cuban diplomats reported to the UN in May this year.
As Cuba's Foreign Minister noted when he introduced the Report, Cuba is not trying to conceal its own problems, limitations and errors, but no-one should doubt the shortages, difficulties and privations that are the direct effects of the blockade on the lives of Cubans and every sector of the society and economy. It is, as the Report concludes, 'the most unfair, severe and prolonged system of unilateral sanctions ever applied against any country.'
'An outdated burden on the Cuban people', Obama called it in Havana last year. He might have added illegal, immoral, genocidal, and the principal destroyer of human rights in Cuba. He could be doing a lot more to mitigate it.
The gordian knot of the 1996 Helms-Burton legislation may be hard to cut given the current political balance of the US Congress, but public opinion in the US is no longer an obstacle, least of all among Cuban-Americans. But Obama could, the Cuban Report points out: enable Cuban entities to open bank accounts in the US; end the 'financial persecution' of Cuba; authorize direct exports of US products to Cuban companies; permit import of Cuban products and products containing Cuban materials from third countries; authorize US companies to invest in Cuba; authorise US citizens to receive medical treatment in Cuba; and eliminate the 6 month ban on shipping docking in the US after calling in Cuba.
If he genuinely wanted to leave an irreversible process when he leaves the White House, he would get on with it.
Our responsibility in CSC remains to convince our members and supporters that not only is the blockade still in almost full force, but that the need to get rid of it is as important as ever for Cubans, in their everyday lives and in their struggle for self-determination.
---