¡Presente! Contemporary Art from Cuba
Autumn 2016
Trish Meehan reviews ¡Presente! Contemporary Art from Cuba exhibition and the associated events which took place in October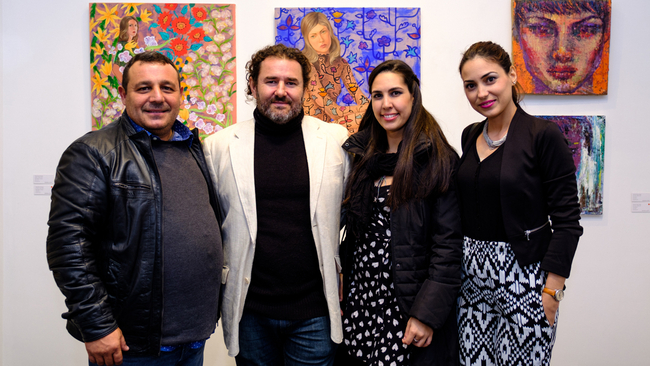 The Presente! exhibition, a project of the Music Fund for Cuba charity supported by Cuba Solidarity Campaign, finally opened its doors for the month of October at GX Gallery in Denmark Hill, London.
It had been planned for 18 months, in conjunction with the Cuban Ministry of Culture and the Fondo Cubano de Bienes Culturales plus GX Gallery, with the aim of introducing a British audience to the visual arts of Cuba while raising funds for desperately needed arts materials for young people on the island.
As well as putting on the exhibition, for 12 days, three Cuban artists and a Cuban curator were invited to the UK by Music Fund for Cuba to speak to people in many different venues, talking about their art and Cuban culture. They were: artists Adislen Reyes, Luis Camejo and Mario Gonzalez, with Chrislie Perez Perez, Cuban curator.
Adislen Reyes is a young artist, who makes exquisite prints, using drawing, paint and collage, which are witty and serious at the same time, asking questions about her own identity and that of her contemporaries and the relationships between the individual and the collective, the artist and her art. Luis Camejo is an established artist who captures cinematic moments in paint and whose special focus is as he says the city as a human jungle, almost with an identity of its own. He is famous for painting many images of the Malecón, Havana's famous seawall, which he walks along every morning. Mario Gonzalez is a member of artist trio 'The Merger'.
Internationally very successful, splitting their production between Havana and Miami, they make strange large steel sculptures and many drawings and screenprints while they explore ideas for sculptures - inspired by the relationship between machines and human beings. Chrislie Perez Perez is a curator and art specialist at a Havana gallery, run by the Ministry of Culture. She studied art history and is committed to helping others appreciate art, with a slot on Cuban TV talking about art.
After a packed opening night at the gallery with over 100 guests, the Cuban visitors went to Norwich where they met students at UEA, had a guided tour of the Sainsbury Centre for Art with the Deputy Director, then spoke to a packed meeting in Norwich organised by Norwich NUT. Back in London the artists and curator spoke to visitors to the gallery and led tours there, then took in some London tourist hotspots like the London Eye and Tate Modern.
A day in Northampton was spent at Northampton University Fine Arts Department which has the largest printmaking facility in the UK. The artists had an interesting exchange with students and tutors there and then were back in London to speak to students and tutors at Goldsmiths college, University of London, but this time with the emphasis on art education, talking to students training to be art teachers. Both Luis Camejo and Adislen Reyes also teach at art schools in Havana.
Catriona Leahy, Printmaking tutor at Northampton University Fine Arts commented: "From a student point of view the Cuban artists provided great insight into what work is being created in Cuba today. The most striking difference I can see between the Cuban experience from an educational point of view is the support afforded to the arts in nurturing and developing them which is harder in the UK where there is an emphasis on a technology and maths based academic pathway and less emphasis on the arts which are not seen as a sustainable career or as contributing to society. This is grossly false. We all know how beneficial to society and to young people the arts are. I praise and commend the Cuban system for supporting art at a young age and for their state supported galleries."
The following day the Cuban visitors were back at the gallery to welcome 20 8-year-olds from a local primary school – their teacher had used the Presente! Education pack to help 60 children to make their own works of art inspired by one of the works in the exhibition. The children's work was impressive and the artists drew pictures for them as a thank you. One of the great questions the schoolchildren asked was: What inspires you to make your art? Camejo: "The sea, sky, clouds." Adislen: "My experiences in life." Mario: "The little details."
Then the tour went to Camberwell art college, University of the Arts, London, where up to 70 students crammed into the room with some turned away to hear the artists talk about the Cuban arts scene today. The students asked lots of questions including about artistic freedom and censorship. Chrislie responded saying: "There is a degree of censorship in every country but in Cuba artists are encouraged to experiment with any style and with no limits. In 1986 'artist' became a category of profession which meant that artists could sell and receive payment for their work, pay a tax to the state and receive all universal benefits including health care and a pension. Whether or not they receive their income from the state or from selling their work makes no difference – they still have the same freedom and I don't think it impacts on their work." Adislen commented: "My art could have been controversial in the 60s or 70s but not now - our models have changed and there is always renovation in many areas - for example, male and female identities are much more fluid."
A day in Hull, City of Culture 2017, was spent exchanging with students and tutors at Hull School of Art & Design with a special visit to the Goodwin Estate to see the amazing community art project there. Finally back to London for a roundtable discussion sponsored by the Cuba Solidarity Campaign and the Institute for Latin American Studies about Cuban arts and culture together with Cuban writer Pedro Perez Sarduy and Cuban ambassador Teresita Vicente, with the last day in the gallery to talk to more visitors about their art.
By the end of the tour the Cubans had had some fascinating exchanges with many hundreds of people interested to know about their art and culture and as Chrislie summed up: "Culture in our country is not longing for the past but stands confidently in the here and now."
This project would not have been possible without many hours of volunteer labour and generous funding from donors, both large and small. A team was led by Dodie Weppler-Grogan and Trish Meehan on behalf of the Music Fund for Cuba charity. The whole project was supported especially by NUT, Lipman Miliband Trust, Barry Amiel and Norman Melburn Trust, Sutch and Searle Shipping Ltd, Cuba Solidarity Campaign and with special thanks to UK artist and writer Rasheed Araeen.
Background to the exhibition and about the Art
Today Cuba is in the midst of an artistic boom. Some have even suggested that the island is in a state of 'artistic overproduction'. At the Havana Art Biennial in May 2015, visitors were overwhelmed by the incredibly diverse, complex, sometimes provocative, and often humorous art work. For a month Havana was awash with art - inside galleries, and in every imaginable space outside.
This boom has been brewing for some time. It has been stepped up with the easing of restrictions on US travel to Cuba as collectors flock to the island. But the abundance of artists on the island can be explained above all by the central role given to the humanistic values of culture since the fundamental economic and social transformation began in 1959. As Cuban curator Chrislie Perez has said: "Art is a human right in Cuba". This made possible a world class cross-discipline art education system, free to anyone with talent, beginning in secondary school and continuing to post-graduate level. This formal system is accompanied by local community art centres enabling everyone to join in some cultural activity, plus many national institutions which have helped shape attitudes to culture and maintain the ever changing debate. The path of encouraging people to be artists who can create whatever they want as long as they do it well, has not been an easy one, but it has paid off.
The PRESENTE! exhibition has celebrated this stupendous artistic achievement. It announces that Cuban art has arrived. It is unique for two reasons. First, it has been the biggest show in the UK for years with over 30 Cuban artists; and secondly, it has brought together different generations, where artists in their twenties are exhibiting alongside others who have been creating art for six decades. Despite the diversity in themes, genres, styles and artistic languages, the common thread is to reflect concerns within current Cuban society while acknowledging international art scene ideas.
Amongst the younger generation figurative painting and pop art loom large - large formats, a bright palate, and references from fashion, the street, domestic spaces and advertising icons, such as Harold Lopez Muñoz. In the work of Adislen Reyes, Lisandra Garcia and Osy Milián - and numerous women are in the forefront of newly emerging talent - the image of the female body is instrumental in interrogating issues relating to gender and young womanhood, but with a quirky, personal stamp - they are not didactic. In his 40s, Reynerio Tamayo's work shines with his huge range of references and is always up for a laugh, with an incisive punch. Satirical humour is his bridge for opening up a debate, not just about Cuba's relationship with the US but also about the artist's relationship with the art world and the role of the artist.
Social concerns permeate works of older artists. René Peña brilliantly uses photography to construct images of the black male body alongside a variety of heavily coded objects which challenge the stereotypical gaze. Eduardo Roca, known as Choco, uses collography to make visible the internal world of his Afro-Cuban characters, referencing elements of santeria, the syncretic religion born in Cuba with its roots in West Africa, which permeates all of Cuban culture, regardless of religious belief. Kcho's drawings of people and parts of boats bring to mind the current crisis of migration of people on a global scale. As islanders, it is not surprising that the sea often features as a central element. Luís Camejo skilfully captures the meeting point as the mighty waves of the sea encroach on the city in his cinematic meditations in oils and watercolour on the Malecón.
Niels Reyes is more concerned with the fragile psychology of the individual and invites us to consider the reality beneath the surface of his highly textured human faces. One of the youngest artists in the show, Richard Somonte, paints landscapes, almost pastiches, to join an art historical dialogue paradoxically critiquing current 'anti-art' trends. Pedro de Oráa, the oldest artist in the show and the only living member of an influential group of ten geometric abstract artists in the 1950s, today works from initial drawings which he then manipulates digitally.
More info about the whole project at www.presentecubanart.org
Facebook page CubanArtPresente
Twitter @CubaArtPresente
Instagram CubanArtPresente
Find out more about the Music Fund for Cuba charity at www.musicfundforcuba.org.uk
---