Distinguished art practitioners rewarded
Spring 2018
Every year in Cuba the most prestigious honour as an artist is to receive the National Award in a particular cultural category. Trish Meehan reports on some of the winners over the last 12 months.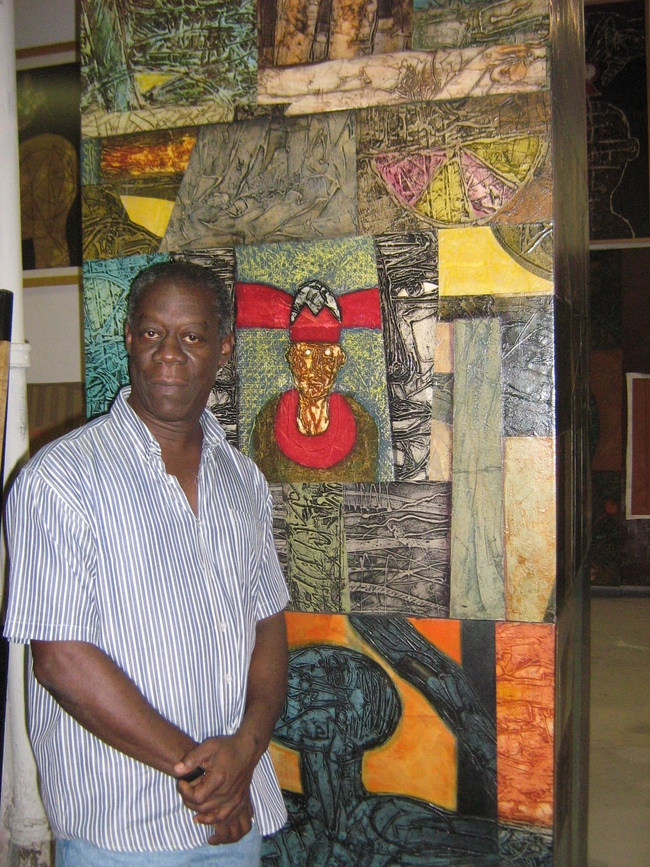 VISUAL ARTS - Eduardo Roca Salazar (Choco)
Cuban artist Eduardo Roca Salazar, known as Choco by colleagues and the public that have followed his work, was awarded the National Prize for Visual Arts in November 2017. Born in 1949 in Santiago de Cuba, he graduated in 1970 from Cuba's National Art School and went to practise and teach art. Along with Nelson Dominguez, Choco was one of the first Cuban artists - after the 1959 Cuban revolution - invited to the United States to exhibit his work in 1980.
There have been two crucial moments in Choco´s career. The first, when he was recognized as one of the leading figures of the rural movement in painting which was significant in shaping the 70's generation of Cuban artists. The second was his exploration of collagraphy in the 80s and early 90s. Collagraphy is a printmaking technique in which the image is composed from a variety of textured materials placed on a plate, then inked and pressed. Choco has often used 'found' and recycled materials in this process.
Choco's work reflects the magical world of Afro-Cuban religions, as well as the ethnic mix of people, and the racial and economic challenges of daily Cuban life. His collagraphs are boldly colourful and his technique gives the images a 3-dimensional and stunning textured feel, as if they were in motion. This movement is sustained in Choco's interpretation of the figures themselves, where bodies are twisting and reaching, swaying or working, and often entranced in a deep gaze. The sharp contrast of colours responds to his particular symbolism and to a very personal lyricism, which establishes an emotional connection with the viewer.
In an interview in 2010 by critic David Mateo, Choco was asked if he was interested in issues of race or identity. He answered: "When I paint, I don´t think in terms of white, mulatto, black or Chinese. The person I portray has body, limbs, soul, heart, grey matter. I refer to the biological, universal man. The person I paint has no particular skin colour or profile. If you look closely, I show them with heterogeneous features, maybe African lips, Chinese eyes, pink or earth skin shades: it is a person that has its ascendancy all over the world. When you look at my human figures, if you look closer at their faces, you see an amalgamation of elements. From a face, let´s say, I can extract any object: vegetation, for instance, or landscape. I am comfortable, formally and conceptually, painting man as the centre of everything. "
Choco's work has been shown across the world and many works are already in institutional collections in Cuba as the National Museum of Fine Arts and the Office of the Historian of the city, and abroad for example in the United States, Caribbean, Europe and Japan.
Choco generously participated in the 'Beyond the Frame' exhibition of Cuban contemporary art in 2013 in aid of the Free the Miami Five campaign, and visited London for the show.
THEATRE – Fátima Patterson
A poor black woman born in the Los Hoyos neighborhood of Santiago de Cuba is how director of the Estudio Macubá Theatre company, Fátima Patterson, describes herself. She was awarded the National Theatre Award especially for, over many years, bringing works dealing with issues of gender, marginalization, and death to the stage.
Patterson's artistic career began in 1970, as an actress on radio and television programmes, which she later directed. After that she joined Santiago de Cuba's Cabildo theatre company, where she explored working with elements of traditional popular culture and Afro-Cuban religion.
In 1992, she founded the Macubá collective – a play on the words Madre and Cuba (Mother Cuba) – renowned for its investigative work and use of theatre to confront life experiences; explore popular religions, traditions, and elements of Cuban folklore such as patakines (religious laws based on historic teachings and stories) and oral traditions of the palo monte and vudú belief systems, as well as Caribbean poetry.
Her vast array of works include Santiaguerías, Ayé N´fumbi (World of the dead), Repique por Mafifa, Iniciación en blanco y negro para mujeres sin color and Ropa de plancha.
Oral narrative plays a fundamental role in the playwright's work, which is why she considers herself to be an actress who tells stories, rather than a storyteller. What is more, her love of oral traditions led her to found and direct the International Biennial of Oral Traditions.
On the function of theatre and the importance of the annual International Festival of Theatre in Havana each October, Patterson told Cuban magazine La Jiribilla:
"We are in times when theatre sometimes picks the wild card, and this festival represents a space to experiment and move the foundations of creativity to develop this artform that, above all, has an important social function to fulfill. For this we cannot forget history, those roots that right now many want to make us forget, and that are essential to understand, own and transform our present, and build the future. The performing arts and in particular the theatre are very important tools to feed the spirit and reflect on everyday situations and how to address them in a creative and positive way."
MUSIC - José Luis Cortés
The 2017 Music prize recognized José Luis Cortés' contribution to the universalization of Cuban music. 'El Tosco' as Cortés is known, is considered an architect of Cuban timba during the 1990s, expanding the limits of Cuba's popular dance music scene. Specialising in flute, Cortes is also a successful composer, arranger and producer. Cortés has been acknowledged to be an exceptionally talented flutist, with a great gift for improvisation. He has also been dedicated to teaching and set up flute academies.
Growing up in the city of Santa Clara's Condado neighbourhood, central Cuba, El Tosco got his nickname when he went to school in field work boots. "The man with the clumsy-looking boots (botas toscas)" soon got abbreviated to "El Tosco", despite his real name Cortés meaning courteous. He is proud of his achievement of getting into the National Arts School as a teenager, but legend has it that got into a fight with the principal just before graduating and left without the diploma. Luckily he went on to join Los Van Van under the leadership of Juan Formell, and later Irakere, founded and directed by maestro Chucho Valdés.
In 1988 he formed his own group: N.G. La Banda (New Generation, The Band), the leading timba group in Cuba that set the tone for popular Cuban music in the 1990s. The group was loved for how it interacted with the audiences, giving concerts in their neighbourhoods. N.G. La Banda led the way for a new Cuban salsa that was later adopted by groups like Charanga Habanera, Isaac Delgado and his group, Paulito FG and others that rose to popularity. The band's brass wind section was known as "The horns of terror" and is one of the group's most remarkable characteristics. Cortés has said that N.G. tries to reach people with simple language and grass-roots lyrics but always underpinned by good music.
On receiving the award, El Tosco pointed out it was a recognition of Cuban popular music, its creators and followers. "This is one more rock to add to the mountain that is popular dance music. This gesture makes me stronger and more dignified to continue representing the genre, and as long as people love me there will be Tosco for a while longer", he said.
The outstanding musician also called on the media to promote more diverse programming and greater attention to Cuban music, to allow the public to hear the orchestras and sounds that identify the island around the world.
DESIGN - Carlos Alberto Masvidal
The designer Carlos Masvidal says in school the teacher complained he was always drawing in class but as there was no Design degree in Cuba at that time, he studied engineering, until he became an illustrator and then artistic director at the hugely popular Juventud Técnica (Technical Youth) magazine: "There began one of the funniest times of my life, where I also made many friends. Juventud Técnica was what made me famous in a popular way - there are still people who stop me on the street and ask: 'Are you Masvidal the JT?' They are a generation now in their 40s that I managed to hook with the illustrations".
At the time of the Special Period from the early 1990s many publications closed, reduced their pages and their frequency. Masvidal worked at the newspaper Granma and Abril Publishing House, but then came the cultural project of the Office of the Historian in Havana (a highly praised and creative huge project to regenerate Old Havana) which included the station Habana Radio, Editorial Boloña publishers, the project Rutas y Andares, and many other initiatives of Old Havana that thrived on creativity, innovation and development.
"I really admire the project of Eusebio Leal (who heads the Office of the Historian of Havana) and the people who put it together, because it has managed to do something different," says Masvidal. "Leal knows how to appreciate things well and uses the resources that he has in order to improve things. The fact that everything I designed became reality is an incalculable treasure."
Masvidal has received over 40 awards. He has designed magazines, books, newspapers, tabloids, visual identities and campaigns that include digital and print applications, including TV spots, websites and stands. He has lectured at national and international events and universities.
Material from Granma, AfroCubaweb.com, Cubadebate, La Jiribilla, Lahabana.com
---