A vocation to care
Spring 2019
As part of the Cuba60 celebrations, CSC is very proud and honoured to be bringing Dr Enmanuel Vigil Fonseca, a volunteer in Cuba's Henry Reeve Medical Brigade, to Britain in June 2018. Here he speaks about his experiences working in emergency situations from the Ebola outbreak in West Africa to floods in Ecuador.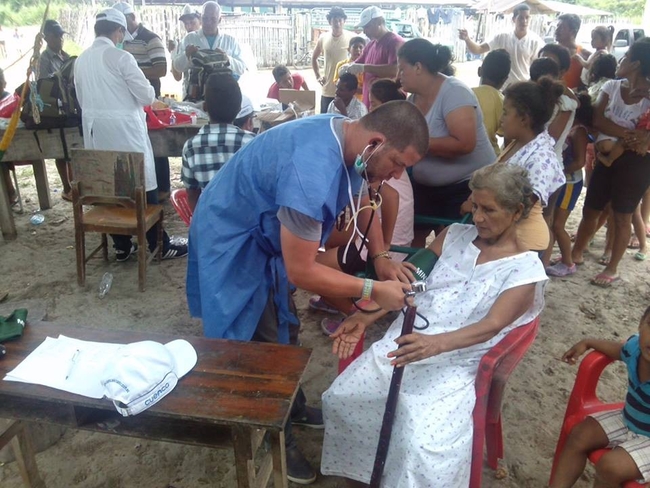 "I chose to become a doctor to help people," says Fonseca. "My parents had other jobs and ever since I was a young boy I have felt admiration for these people in white coats, who lovingly care for the sick."
In 2005 Vigil Fonseca was a student at the Calixto García University Hospital's medical school in Havana when he and other students heard about the creation of the Henry Reeve medical contingent to help victims of Hurricane Katrina in the southern United States. They were impressed by Fidel Castro's speech at the time, and immediately asked the deacon of the school if they could join the doctors, but were told that they needed to finish their studies first.
As soon as he graduated in 2009, Enmanuel volunteered for his first international mission and was chosen to go to Venezuela as a member of the Barrio Adentro (Into the Neighbourhood) Health Mission.
His first posting was in 2010 in the neighbourhood of Villa Tatiana, Sucre, in the Venezuelan state of Miranda.
Recalling his time in Venezuela he says: "I offered primary care services to the population in a massive program aimed at providing medical coverage to Venezuela's most vulnerable communities. At the same time I was studying to become a Comprehensive Family Medicine specialist with Cuban professors working in Comprehensive Diagnostic Centres."
"I treated lots of children and even delivered babies. Women in full-term pregnancy should go to their genealogical clinics, but on more than one occasion they would come to me in the early hours of the morning with contractions and I couldn't wait. I also assumed epidemiological control of various camps for people who had lost their homes as a result of intense rains."
Fighting Ebola in West Africa
"I returned home from Venezuela in May 2014. We learned about how this dangerous illness was developing in that part of Africa from the news. We saw the meeting the Director of the World Health Organisation (WHO) Margaret Chan held with Cuban Health Minister Roberto Morales Ojeda, and we Cubans learned of our country's decision to help those infected with Ebola.
"At that time I was working in one of the Nguyen Van Troi polyclinic's community offices in Central Havana. The managers of the institution met with a group of doctors and asked for volunteers to go to Africa. I signed up right then and there.
"Later, we received around the clock training at the Pedro Kourí Institute of Tropical Medicine. Over 500 of our health professionals came together there. We received classes from WHO specialists, who explained the protocols in dealing with the illness with an emphasis on protection.
"European doctors gave conferences with audiovisuals and provided us with up-to-date bibliographies and the results of recent studies.
"During the course we underwent rigorous medical checks, received all necessary vaccinations and prophylactic measures. Those with chronic conditions or any other type of illness weren't selected. At the end of the training, they gave us exams to test our knowledge and only those who passed were included on the list.
After I found out that I had been chosen I felt two things: first the excitement of being chosen on the basis of my physical condition and ability to fulfil the risky mission at 31 years of age. This made me feel proud; it would be my contribution to humanity. The second emotion was sadness.
"Chatting with the group while waiting for the plane, someone said very seriously, "We are going to fight a war and we might not return." At that moment I thought of the faces of my family; of the kiss, the apology, the hug I never gave. Only my conviction to keep going got me to Sierra Leone.
"In the first days we received training by medical personnel from other countries based there and members of the WHO brigade. We toured the hospitalisation clinics which were separated from conventional institutions. We received magnificent care from these professionals, who provided us with all the knowledge they had amassed thus far.
"I was surprised that the people of Sierra Leone knew about Cuba. They'd point to a Cuban and say two names: Fidel Castro and Ernesto Che Guevara.
"The children infected with Ebola affected me greatly. I saw newborn babies and other infants with sad faces.
"We rigorously complied with safety measures. We needed to protect ourselves in order to care for others. This was the number one safety measure we had to fulfil.
"I fell ill with appendicitis and underwent surgery. I never talked about going home. That's why I returned to my medical activities, once I recovered.
"Fatalities were increasing and we began to study all the medical processes. We held group discussions to decide on new courses of action to treat the pathology. After saving many people, more patients wanted to be treated by Cuban doctors.
"We didn't have enough hospital beds, but we never turned away a single sick person. We had to improvise with full wards, but we treated everyone that came to us for help.
"Before returning to the island we had to spend 12 days in isolation, we were subjected to clinical tests to determine whether we were carrying some undetected disease. The nine hours on the way home were the most amazing. We were overcome with joy. We landed at Varadero's Juan Gualberto Gómez International Airport, located in the western Cuban province of Matanzas, and were taken to a medical facility for 21 days. There we were visited by Health Minister Roberto Morales Ojeda, deputy sector minister Marcia Cobas, and many other officials from the country. We received wonderful care.
"No one slept the night before returning to our homes, we all wanted time to go home quickly. We were all desperate to embrace our families. At 5am we set off for Havana's Fragua Martiana museum to attend a welcome ceremony by authorities of the capital.
"During the event, I caught sight of my wife, daughter and my parents (with tears in their eyes). I can't describe to you how it felt."
Sahrawi Arab Democratic Republic 2015
His next international mission was in the Western Sahara where Cuba already had a medical brigade in the Sahrawi Arab Democratic Republic. Intense rains and flooding had affected the area and he was called on to lead a group of eight health professionals.
"We conducted surveys in the communities and refugee camps; we even gave classes to young graduates from Cuban medical universities. They acted as our translators," he says.
"One of my fondest memories is of a visit to an elementary school called Simón Bolívar, where Cubans and Venezuelans worked. I also met many Sahrawi people who had studied in schools in Cuba's Isle of Youth Special Municipality and others with children or relations who had graduated from Cuban institutions.
"The Sahrawi maintain a tireless spirit of struggle for national sovereignty and consider Cuba to be the closest reference for achieving victory."
Ecuador earthquake 2016
As a member of the emergency medical brigade Dr Fonseca is always ready to leave at a moment's notice. In the case of the floods in Ecuador he remembers the phone call vividly. "They called me on a Sunday. I remember it was raining hard, my daughter was sleeping, my wife was on call at the hospital, and I was working at the computer. I had learned about the earthquake the previous day through multinational broadcaster Telesur. I called my wife and we decided to meet at the Central Unit for Medical Collaboration. I left my daughter with a beloved and trusted neighbour.
"I arrived at the place, but the group had already left for Havana's José Martí International Airport, and I was sent there straight away. I wasn't able to say goodbye to my wife and I left feeling sad. We departed immediately and arrived early in the morning to the Eloy Alfaro International Airport in the Ecuadoran city of Manta. At dawn we set off for Puerto Viejo, a town in the province of Pedernales.
"What I saw was a destroyed town. A search and rescue team travelled with us and our first task was to find survivors in collapsed buildings.
"We received a visit from President Rafael Correa and other Ecuadorian health officials. This filled us with energy to focus even harder on our work. From there we travelled to Jama and worked in communities almost completely wiped out by the strong earthquake.
"I was assigned to a clinic located in a very remote zone called Cheve Arriba – a two and a half hour drive away on a badly paved road – which offered services to other communities in the area. I worked in Dr Eric Omar Pérez's clinic, one of the three Cuban physicians who died in the earthquake. There was no electricity, means of communication, or basic water and sewage services.
"I had to visit remote houses located two hours away by horse, and crossing rivers. I took with me my backpack full of medicines, a bottle of water and something to eat. I walked for many hours every day.
"In the town I had to wash in the river, cook over an open fire, get used to the mosquitoes, snakes and other types of animals as part of the natural landscape.
I remember a mother with a seriously malnourished baby in her arms came to see me. She looked like a very humble lady, with those sorrowful eyes which tell of a hard life. The child didn't even have a name; he was born with the help of a midwife and wasn't listed in any civil registry. I began to treat him and he survived. The mother named him after me.
"I repeatedly explained that my work was voluntary and asked that the greatest thanks go to the government of Rafael Correa, which allowed us to work there and to save lives.
Enmanuel also volunteered in Haiti following Hurricane Matthew which killed hundreds of Haitians and also devastated parts of eastern Cuba.

"These medical missions have enriched me as a human being. I help people with what I was taught by other professionals. I've always done it to help others."
"Each mission is a unique experience and they all have a different characteristic, they all teach you something new."
Based on interviews by Nuria Barbosa León and Angélica Paredes which appeared in Granma International and Radio Rebelde.
The Henry Reeve Medical Brigade
The 'Henry Reeve International Team of Medical Specialists in Disasters & Epidemics' was formed in September 2005, in response to the devastation caused by Hurricane Katrina. At the time, Fidel Castro offered to send 1,586 medical professionals, including physicians and nurses to the USA. The Bush administration rejected the offer.
The brigade which specialises in medical responses in emergency situations is named after a US citizen who became a general in Cuba's fight for independence from Spain. Henry Reeve Brigade members pledge to serve wherever they are needed. Since 2005, more than 7,000 health professionals have volunteered in over 20 countries worldwide – including Bolivia, Chile, China, Ecuador, El Salvador, Guatemala, Haiti, Indonesia, Mexico, Nepal, and Pakistan. The Henry Reeve Team carried out a significant mission during the Ebola virus outbreak in West Africa, when over 250 health professionals risked their lives to provide care in Sierra Leone, Guinea, and Liberia.
In 2017 it was awarded the World Health Organisation's Dr Lee Jong-Wook Memorial Prize for Public Health which honours individuals, organisations, and institutions whose contributions to public health extend far beyond the normal call of duty.
---