Cuba: Castro vs the World
Winter 2020
CSC director Rob Miller spoke to Mick Gold about his documentary on the history of the revolutionary island and its leaders over the last 60 years
In August, the BBC broadcast a two-part documentary, Cuba: Castro vs the World, which looked back at the island's relationship with the United States since the 1959 Revolution. The British producer and director, Mick Gold, spoke to CubaSí about the making of the films and the reaction they received across the globe.
In 2016, Mick, and Norma Percy (Executive Producer of Castro vs the World), were making the critically acclaimed Inside Obama's White House. The changing US position towards Cuba was a fascinating backdrop at that time which the pair found impossible to ignore. It prompted them to begin work on the Cuba documentary, and so begin a three-year odyssey which took them to Havana and Moscow, and back to the US.
"Obama's opening to Cuba struck us as a very interesting story. So we thought, let's try to do this... so we started writing," Mick explained.
"The whole principle of this sort of programme is to look at big international moments, big international negotiations, big turning points in history, and then you try to capture it from all sides. You have a Soviet side, an American side, the Cuban side. And so we thought, OK, let's look at the US opening towards Cuba."
Originally they worked through the BBC, spending months trying to set up filming in Cuba to no avail. Eventually they went into a co-production with a French company that already had good connections to Havana, together with Delphine Jaudeau who was co-producer/director with Mick.
They interviewed the 'usual suspects' who regularly feature in documentaries on Cuba-US relations, but one of the stand-out aspects of this production was the number of contributions from Cubans who were key protagonists in the history. Many are friends of the Cuba Solidarity Campaign, including some who have visited the UK on speaking tours such as diplomats Ricardo Alarcón and Carlos Alzugaray, as well as families of the Miami Five including Gerardo Hernández and Adriana Pérez. Too often in historical programmes, the voices of Cubans who support the Revolution are ignored, so it was great to hear this perspective represented.
Mick explained his thinking: "whenever I see programmes about the Cuban Missile Crisis, it's always about the Kennedy brothers. I wanted to hear what the Cubans were thinking was going on. So that was a good sort of catalyst."
The films have generally received positive reviews, though, unsurprisingly, hardline anti-Cuban elements in Florida have attacked them.
Cuba certainly divides opinion, says Mick. "I think the last time I looked there were six reviews on Amazon, and three of them said 'these films are great', 'Fidel Castro is great', and 'this tells you the truth'. The other three said 'these films are shit', 'Fidel Castro's a murdering psychopath', and one of them actually says something like 'if Adolf Hitler wanted good PR, he would hire these filmmakers'. There''s nothing in the middle."
Cuba crops up as a key factor in every US presidential election campaign. In one section President Clinton makes clear, after his defeat in the 1981 Arkansas governor election following the Mariel Boat lift, that he wouldn't let Cuba derail his election hopes once again.
As the 2020 US election approaches, Cuba is again an issue as both sides scurry to secure Cuban-American votes in the key state of Florida.
It is no surprise that these films are making waves in the US, says Mick: "it's a chapter of the Cold War that has never really ended. The US will happily trade with Vietnam, with China, but they won't trade with Cuba. I think the reason is that it's such a live issue in American politics. Whoever wins Florida, wins the presidency."
The insightful interviews stand out in the documentary, but getting them was not always straightforward, explained Mick. "There were some stories they were very happy to talk about, and people they were happy to facilitate us interviewing. And in other places, it proved difficult." Some of the history is contemporary and sensitive which made it difficult to cover, for example the peace negotiations between the government and the FARC in Colombia which is still a live issue.
"One story we were interested in telling was how Cuba was crucial in brokering the peace process in Colombia for which Cuba hosted the peace talks. But for some reason, the Cubans were not happy to talk about that story.
"The only way we managed to get interesting stories about Cuba in the Soviet Union was by going to Moscow and finding some former Soviet generals and diplomats who had been central to Cuba, who had loved working with Cuba and who told us their stories. So we got the Soviet angle in that way. But it didn't come from the Cubans. It came from the Russians."
The team tried to tell human stories to make the films accessible to the viewers. The section on the Miami Five is brought to life by Adriana Pérez and Gerardo Hernández talking about their desire to have children despite Gerardo being locked up in a maximum security jail thousands of miles away for over a decade. Incredibly, the couple managed to conceive, through an amazing story which brought together an American senator, Barack Obama and the Pope.
"We ended up weaving Adriana's story into what becomes the Obama detente, rather than looking at the network [the network of undercover Cubans infiltrating US terrorist groups] itself, because then it becomes part of the diplomatic game. And it's obviously a nice human interest story. There is this kind of miraculous birth, and it brings the Pope and the Vatican into the history in an unexpected way. So that was really our ambition with the storytelling."
Mick clearly loved his time in Cuba, despite being up against budget and time restraints and facing complications and delays. He recalled what happened when Gerardo and Adriana showed up for their interview: "It was like everybody working within half a mile got wind of their visit, came over, stood in line outside, and all of them wanted their photo taken."
The two films give an excellent overview of Cuban history since 1959 and the world view of the Cuban leadership. Invariably, when Cuba is mentioned, you are sure to get polarised views. So much time and money has been spent vilifying the island's people, history and their achievements, it is great to see film-makers making a genuine effort to give Cubans a platform to tell their version of events, rather than the usual one-sided anti-Cuban propaganda that we are used to. And for this the film-makers must be congratulated. As Mick himself put succinctly:
"The principle of what we have done with this film and other films is to try and bring you the voices inside the room: the voices that make the decisions and contribute to how certain things happened. These kinds of programmes work best when you have both sides telling their side of the story."
WATCH: Cuba: Castro vs the World
Part 1: The Armed Struggle and Part 2: The Charm Offensive, available to watch on BBC iPlayer until June 2021.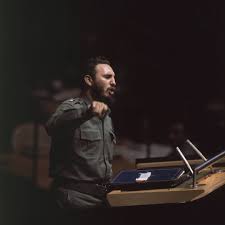 ---