South Africa welcomes the Miami Five
This article originally appeared on COSATU's website | Sunday, 21 June 2015 | Click here for original article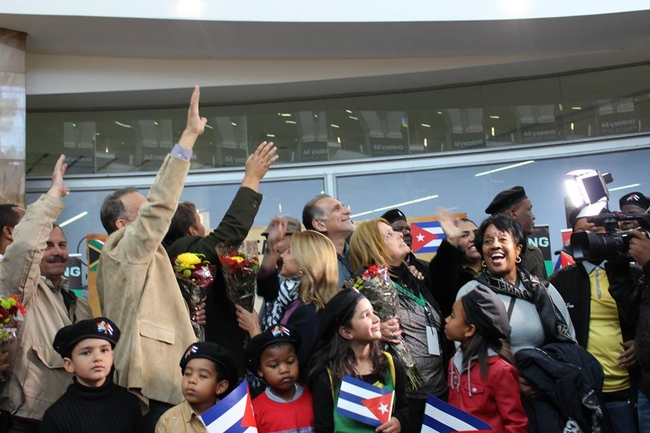 Revolutionary Cuba has a long history of support and solidarity with South Africa
South Africa welcomes to its shores the five Cuban National Heroes, namely, Gerardo Hernandez, Ramón Labañino, Fernando Gonzalez, Antonio Guerrero and René Gonzalez, who are visiting the country from 21 June to 03 July 2015. They have become renowned globally as the Cuban Five. The purpose of their visit to South Africa is to thank the people and the Government, including the Tripartite Alliance, who have used every available opportunity to call for their release.
René González was released on October 7, 2011 following the completion of 13 years of his sentence with a further three years of probation in the US. He was allowed to return to Cuba for his father`s funeral on 22 April 2013, and a federal judge allowed him to stay there provided that he renounce his United States citizenship. Fernando González was released on February 27, 2014. The remaining members were released on December 17, 2014 in a prisoner swap with Cuba for an American intelligence officer in what is seen as a precursor to the joint announcements by President Castro of Cuba and President Obama of the United States of America that the two countries will work towards the full restoration of diplomatic ties.
Cuba has furthermore participated in the reconstruction of South Africa after the demise of Apartheid by training, inter alia, scores of South African youth in medicine in Cuba. Cuba`s ongoing support for the South African Government`s main priorities through the implementation of joint programmes in health, social development, defence, housing and infrastructure is significant.
In addition, the deployment of Cuban doctors, engineers and technical experts throughout South Africa is a further demonstration of Cuba`s commitment to work with South Africa to address the infrastructural back-logs inherited from the pre-1994 period. There are currently almost 3000 South African medical students studying in Cuba. A further 45 will be starting their studies in medicine in Cuba in September 2015.
To celebrate their release and to thank them for their sacrifices made during the war in Angola, the Ministry of International Relations and Cooperation will host a Public Participation Programme in Cape Town on 22 June 2015 led by the Deputy Minister of International Relations and Cooperation, Hon. Mr L Landers.
An engagement with the Parliamentary Portfolio Committee on International Relations and Cooperation is also scheduled to be held at Parliament on 23 June 2015.
---