Angola Honours Fidel Castro's Internationalism and Anti-Colonialism
Telesur | Monday, 27 March 2017 | Click here for original article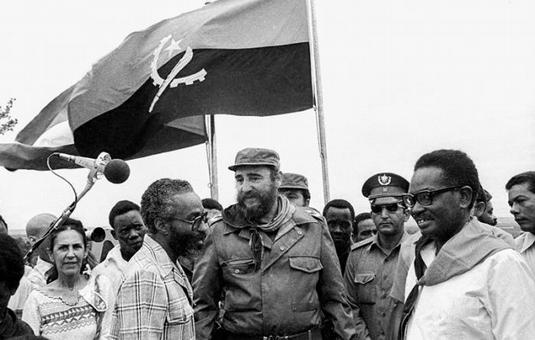 With help from the late Cuban leader, Angola was successfully able to secure and defend its independence.
Late Cuban revolutionary leader Fidel Castro's enduring legacy is being recognised in Angola throughout this week, which marks the 40th anniversary that the Latin American icon first visited the nation.
Fidel visited Angola between March 23-27, 1977, less than two years after the country gained its independence from Portuguese colonialism. Fidel was a well-known internationalist and was also committed to helping out in what he saw as common struggles against imperialism and colonialism across the globe.
Following Angolan independence, the country was faced with an invasion by South African forces and requested Cuba's assistance. Through "Operation Carlota" Cuba helped to defend Angola's new independence, which installed a Black government.
With Cuban assistance, Angola was eventually able to defeat South African aggression and the victory is seen as a key event in wider independence and self-determination movements throughout the continent. Over 15 years, more than 330,000 Cubans fought and around 2,000 were killed in the defense of Angolan independence.
A number of officials from Angola and Cuba recalled Fidel's visit with fond memories, touching on his personal charisma and Cuba's support of the country.
"Thanks to Cubans, we have achieved what we have today. I have been to Cuba some 10 times, and I am Cuban, as well," said Lucia Ingles, who was in charge of Presidential communications at the time, adding that Fidel was an exemplary humanist.
"I would like to thank him for the support he gave us, which permitted us to be here in this room today," said General Antonio dos Santos Franza, who met Fidel while studying in Cuba.
---