Youth Are Joining Cuba's Communist Party in Droves — Here's Why
TeleSur | Sunday, 9 April 2017 | Click here for original article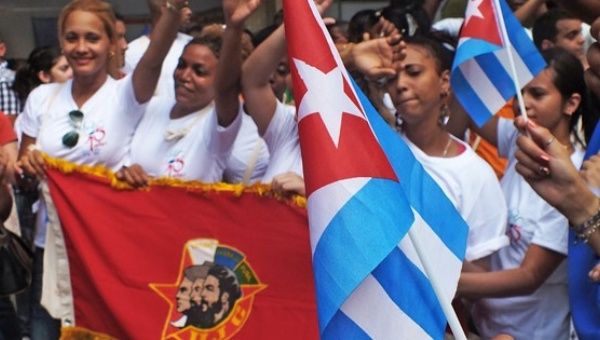 The Young Communist League of Cuba currently has 300,752 members and over 33,000 grassroots committees.
When former U.S. President Barack Obama and Cuban President Raul Castro began normalizing relations in 2014, many claimed the move signaled the death of communism on the Caribbean Island.
But for Communist Party official Susely Morfa Gonzalez, the shift in diplomatic relations actually signaled a growing interest in communism among the nation's youth.
Since 2014, membership in the Young Communist League, UJC, has been steadily increasing, Gonzalez told Granma on Thursday. The UJC, founded in 1965, is the youth wing of Cuba's Communist Party. It currently has 300,752 members and over 33,000 grassroots committees.
"Despite the high figures, we want to keep recruiting more young people and ideas," Gonzalez said.
"What is more, we continue to strengthen the organization and its political processes, encouraging and motivating new generations to learn more about Cuba's history in a more inclusive, humane and creative way."
The UJC, like most youth wings of communist parties, serves to teach young people about socialism while involving them in community organizing projects. Despite declining membership in young communist leagues around the world, the UJC is finding new ways to recruit youth and grow its base.
Not only has the UJC held historic tours, summer camps, workshops, and political debates for high school and college students across the country. The organization has also teamed up with Cuba's National Association of Small Farmers to educate and financially support young campesinos living in the country's rural areas.
Youth represent 65 percent of Cuba's sugarcane and tobacco industries, Granma reported, making those fields of work optimal organizing spaces for the UJC. A growing number of young workers from Cuba's growing private sector are also joining the organization.
Gonzalez claimed these diverse recruitment tactics, coupled with ongoing political education, are helping the UJC grow in numbers. She also said those who move onto joining the Communist Party continue to help the UJC recruit more young people.
"Those of us who wish to defend, transform, create and preserve everything that has been achieved over these last 55 years will always be with the UJC," Gonzalez told Granma.
"Our aim is to increase participation in order to be an organization for all, so that every young person feels a greater attachment to it."
Gonzalez serves as first secretary of the UJC National Committee for the Communist Party.
---