Cuba Celebrates 56 Years Since Declaration of Socialism
TeleSur | Tuesday, 18 April 2017 | Click here for original article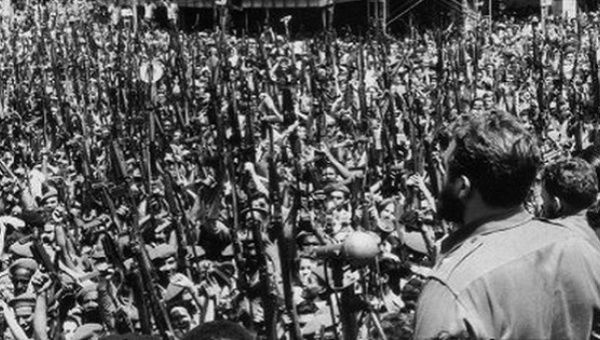 Representatives of Cuban youth organizations and veterans celebrated Sunday the 56th anniversary of the proclamation of a Socialist Revolution on April 16, 1961. The commemorative event took place at Cinema 23 and 12, a few feet away from the site where Fidel Castro made the historic declaration in 1961, during a funeral for the victims of U.S. airstrikes one day earlier on airports in Ciudad Libertad, San Antonio de los Baños, and Santiago de Cuba.
In the eulogy to the victims, the people raised their rifles and swore to defend what Fidel proclaimed as a "Socialist Revolution of the humble and for the humble," aware of their historic role of not only defending Cuba but socialism in the Americas.
That air attack on April 15 was followed two days later by the Bay of Pigs invasion, a military action prepared during the administration of President Dwight D. Eisenhower and executed under the command of President John F. Kennedy with mercenaries from the right-wing Cuban opposition.
During the ceremony, Yuniasky Crespo, from the Executive Bureau of the Provincial Committee of the Communist Party of Cuba in Havana, confirmed that the proclamation of socialism was one of the most transcendental moments in the country's contemporary history.
He recalled Cuba's revolutionary leader Fidel Castro, who "knew how to combine Antonio Maceo's machete with Jose Marti's ideas in order to lead the struggles for Cuba's sovereignty, an example of resistance against imperialist hegemony."
The veterans who fought against the Bay of Pigs invasion were awarded a medal for the 60th anniversary of the Revolutionary Armed Forces during the commemoration.
---