Cuba Fights Human Trafficking Better Than Most Countries: UN
TeleSur | Monday, 17 April 2017 | Click here for original article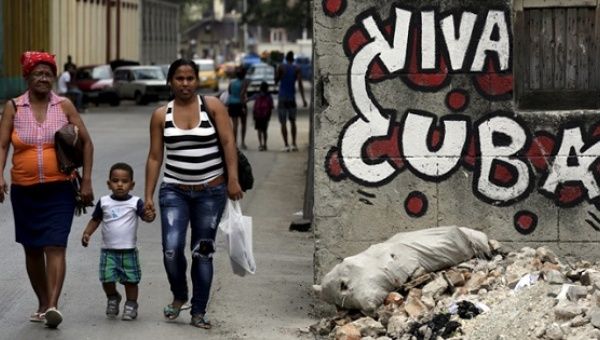 This U.N. offical said Cuba's socialist health care, education and social security systems help reduce vulnerabilities that can lead to trafficking. United Nations Special Rapporteur Maria Grazia Giammarinaro on Friday praised Cuba's efforts to prevent and address human trafficking, which she said is less of a problem there compared to other countries.
Giammarinaro is the first rapporteur from the U.N. Human Rights Council to travel to Cuba since 2007. She spent five days on the island investigating government practices against human trafficking and other social issues.
Summing up her findings at a press conference in Havana, Giammarinaro lauded Cuba's approach to dealing with the root causes of human trafficking.
"There is political will in the country to deal with these issues and, in addition, the authorities consider it of great importance," Giammarinaro said. "In this country I can say that vulnerability factors are less significant than in other countries, where deep social inequalities or situations of complete destitution create desperate citizens drawn to traffickers' promises of a better life abroad."
Despite claiming that "much remains to be done," she said Cuba's free health care, education and social security systems help reduce vulnerabilities that can lead to trafficking. Giammarinaro is expected to make official recommendations to the Cuban government which advocate for improving laws that address human trafficking, prostitution and sexual abuse, Prensa Latina reports.
In 2016, 2,174 suspected cases of child sexual abuse were reported last year on the island, the Cuban Ministry of the Interior announced in a report released this week. The figure represents 0.09 percent of the total population of 2.6 million children in Cuba, which is much lower in proportion to most Latin American countries.
Cuba's approach to prostitution resembles that of Nicaragua, where sex workers are integrated into government and civil society instead of being criminalized. In 2015, for example, Nicaragua's Supreme Court of Justice asked members of a sex workers collective if they wanted to work as judicial facilitators in Managua, Economy reports.
Now, the sex workers are accredited and have licenses signed by the Supreme Court of Justice to mediate small conflicts in their communities, which include problems between relatives and neighbors.
In Cuba, where prostitution is not illegal, the government offers sex workers education scholarships, career training and trade skills so as to avoid getting caught in sex trafficking rings.
---