Angolans Travel to Cuba to Honour Soldiers Who Fought in Africa
Telesur | Wednesday, 24 May 2017 | Click here for original article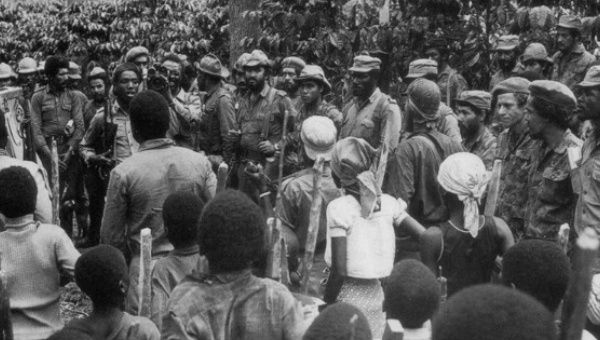 The Cuban people's profound sense of internationalism made a vital contribution in many anti-colonial struggles across the African continent
Maria Eugenia Neto and Irene Alexandra, the widow and daughter of Angolan independence leader, Angostinho Neto, visited Cuba Monday to honour those who fought and died during the struggle for Angola's independence.
Roses and gladioli were placed at the tomb of the fallen soldiers by Neto and her daughter, who is a deputy to the Angolan National Assembly and president of the Agostinho Neto Foundation.
Cuban General Tete Puebla accompanied the two, along with other guests from Angola, on a guided tour of the Veterans' Pantheon of Havana's Colon Cemetery — the final resting place of Cuban revolutionaries who participated in the independence struggle of several African nations and those who resisted the invasion of US-backed mercenaries at the Bay of Pigs.
Puebla emphasised the Cuban people's gratitude to Africa, "We are indebted to Africa because many men and women brought from there fought against Spanish colonialism in this land."
Granma reported that Neto mirrored those sentiments, noting that as a result of the Cuban people's profound sense of internationalism, Africa had been liberated from the horrors of colonialism.
While the colonial nightmare may have ended, Europe's carving up and underdevelopment of the continent continues to plague the resource-rich region. Responding to this often overlooked fact, Neto added that the continent's new mission must be based on the legacy of those who sacrificed and fought for a better world in order to rebuild African nations.
The Mehdi ben Barka Solidarity Order was also presented to Neto Monday in Cuba, a posthumous honour to her husband, awarded by the Organization of Solidarity of the Peoples of Africa, Asia and Latin America.
Neto was the first president of Angola in 1975, having led the Popular Movement for the Liberation of Angola in the war for independence. Known also for his literary achievements, he is considered one of Angola's pre-eminent poet.
---