WHO awards Public Health Prize to Cuba's Henry Reeve Contingent
Prensa Latina | Thursday, 1 June 2017 | Click here for original article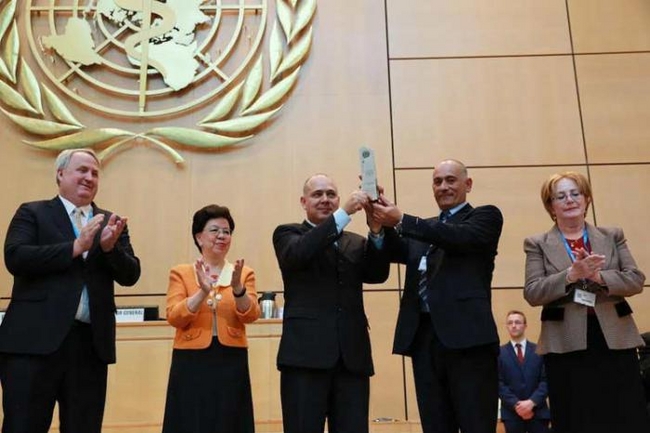 Geneva.-On May 26, the World Health Organisation (WHO) presented the Dr. Lee Jong-wook Memorial Prize for Public Health to Cuba's Henry Reeve medical contingent, in recognition of its work treating victims of natural disasters and serious epidemics.
The award was presented to Dr. Félix Báez Sarría, a member of the contingent, and Cuban Minister of Public Health, Roberto Morales, during the 70th World Health Assembly.
The Executive Council of the international organisation unanimously decided to honour the Henry Reeve International Contingent of Doctors Specializing in Disasters and Serious Epidemics for the work undertaken in numerous countries around the world affected by natural disasters, as well as the efforts of 250 specialists in African nations during the dangerous Ebola epidemic.
The Henry Reeve Contingent was established on September 19, 2005, in Havana by the historical leader of the Cuban Revolution, Fidel Castro Ruz.
According to official figures, since then a total of 7,244 Cuban medical collaborators offered their services in emergency situations in 19 nations (twice in Haiti and Chile).
The health professionals, specially trained for these missions, have treated more than 3.5 million people and saved the lives of some 80,000 patients, according to estimates. (PL)
---