Medicine Developed by Cuba Saves 3000 Ecuadoreans From Foot Amputation
Telesur | Tuesday, 27 June 2017 | Click here for original article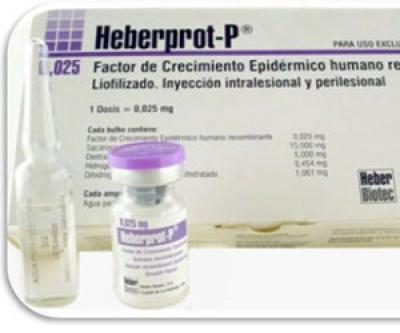 Cuban doctors developed Heberprot P to prevent diabetic foot amputation.
At least 3,000 Ecuadoreans have received a Cuban medicine called Heberprot P to prevent foot amputation from ulcers derived from diabetes in patients since 2011, according to Cuban doctors.
With the application of the Cuban medicine "the average healing time of a patient with diabetic foot in Ecuador is 41 days," said Andes Lopez, deputy director of the Center for Genetic Engineering and Biotechnology, and part of the team that created Heberprot P.
Lopez spoke on Saturday during the National Workshop on Comprehensive Care of the Patient with Diabetic Foot Ulcer, in Cuba and is part of the multidisciplinary team in the Cuban medical brigade working in Ecuador.
He said this is the only medicine of its kind in the world that works "on a disease that has no medical solution at this moment," and was created by Cuban Doctor Jorge Berlanga.
"The treatment has shown through several clinical studies, which are so-called pharmaco-surveillance studies or impact studies, to reduce the relative risk of amputation by almost 70 percent," Berlanga said.
In Ecuador, there are around 6,000 amputations each year, according to the World Health Organization and the International Diabetes Federation, and the doctors say they've seen a 4.4 percent decrease in the years since they brought the medicine to the country.
Lopez said that 300,000 people around the world receive the medicine, and he said it's now being applied in more than 25 countries.
There are more than 50,000 Cuban doctors working in more than 60 countries around the world, as part of a health program supported by the government of Cuba.
The Henry Reeve Brigade was first created by the late revolutionary leader Fidel Castro on Sept. 19, 2005. The internationalist brigade is recognized by the World Health Organization for its solidarity work throughout the world, as well its outstanding contribution to public health.
Even U.S. officials recognized the team's work in combatting the Ebola virus in Sierra Leone, Liberia and Guinea, where Cuba sent more than 250 workers when the crisis peaked in 2015.
---