Oscar López Rivera receives Solidarity Order in Cuba
Granma and ACN | Tuesday, 14 November 2017 | Click here for original article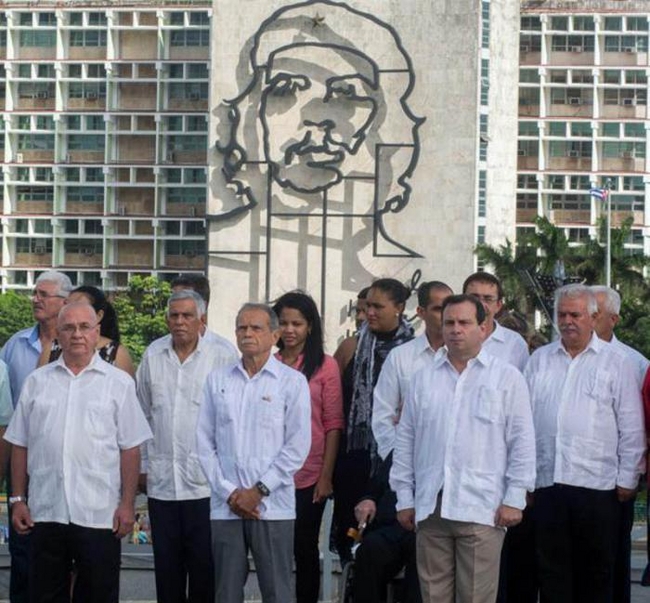 Oscar López Rivera "feels at home" in Cuba
Puerto Rican independence fighter, Oscar López Rivera, was greeted at José Martí International Airport by Fernando González, president of the Cuban Institute of Friendship with Peoples (ICAP).
Upon his arrival in Havana during the dawn hours today, November 13, the Puerto Rican patriot expressed his gratitude and affection for the Cuban people and government.
"I feel at home, this is a dream come true; for many, many years, I have wanted to come to Cuba and today for the first time I have arrived," he said after receiving a warm embrace from decorated Hero of the Republic Fernando González, with whom he shared a cell for several years, when they were both unjustly incarcerated in the United States.
López, who was imprisoned for almost 36 years, convicted of "seditious conspiracy," before being released May 17 this year, said he wished Cubans much strength, adding that the Puerto Rican people will always stand with Cuba.
"I am very encouraged to be able to enjoy some time with the Cuban people. I'm alive and kicking; at my age I believe I can work 14 or 15 hours a day. I feel good."
Commenting on the extremely difficult situation in Puerto Rico, he said, "No Puerto Rican can say we govern in Puerto Rico, it is Washington and Wall Street who give orders."
He added that the U.S. government and Donald Trump have shown they have no respect, or consideration for the suffering people.
"After Hurricane Maria, Puerto Rico was left devastated and is now showing the world the poverty that existed and was hidden; the world is being shown what colonialism is, because it is perhaps the best example of what becomes of a country that has been colonized for 119 years by the U.S. government, and how the U.S. government has behaved toward Puerto Rico for these 119 years. If there is a huge debt, it is the one the U.S. owes Puerto Rico," he emphasized.
López Rivera commented that there are more Puerto Ricans living abroad than on the island, and that many more have left since Maria struck, September 20.
He noted that the U.S. did not allow aid from countries like Venezuela, Panama, Cuba, or México to enter Puerto Rico.
During this first visit, López Rivera will be awarded the Solidarity Order by the Council of State; visit the Che Guevara Memorial in Santa Clara; as well as Santiago de Cuba, where the remains of national hero José Martí and Comandante en Jefe Fidel Castro Ruz rest.
Also present to greet the Puerto Rican patriot were Silvia Matute, from the Party Central Committee's International Relations Department; Yolanda Ferrer, president of the National Assembly of People's Power International Relations Committee; and Edwin González, from the Puerto Rican mission in Cuba.
Oscar López Rivera receives Solidarity Order in Cuba
In recognition of his bravery and resistance for over 36 years while unjustly imprisoned in the U.S., Puerto Rican patriot Oscar López Rivera received, November 14, in the Cuban capital, the Solidarity Order awarded by the Council of State of the Republic of Cuba.
In a ceremony held at the José Martí Memorial, in Havana's Plaza de la Revolución, Mercedes López Acea, a member of the Communist Party of Cuba (PCC) Political Bureau and vice president of the Council of State, presented López Rivera with the medal.
The independence advocate, visiting the island for the first time, thanked Comandante en Jefe Fidel Castro, President Raúl Castro, and the Cuban people for their support and solidarity.
He went on to note that Cuba will continue to be an example for the world at a time when governments are promoting war and exploiting the most vulnerable.
Decorated Hero of the Republic of Cuba and President of the Cuban Institute of Friendship with the Peoples (ICAP) Fernando González Llort highlighted the Puerto Rican activist's many qualities, describing him as a "brave, modest, educated man with a great artistic sensibility," and "a concerned father, caring grandfather, and committed lover of his island and people."
There are convincing reasons to award him (López Rivera) the Solidarity Order, in fitting recognition of his struggle and his commitment maintained for almost 36 years in prison – 12 of which he spent in solitary confinement – to a single cause: struggling for his country's independence, stated González Llort.
The ICAP President went on to recall that López Rivera, with whom he spent years in prison, was arrested May 29, 1981 and accused of seditious conspiracy, a strictly political charge used against Puerto Rican independence advocates.
In the presence of José Ramón Balaguer, a member of the PCC Central Committee Secretariat, and head of its International Relations Department, as well as Gerardo Hernández Nordelo, decorated Hero of the Republic of Cuba, among others, González Llort reaffirmed the island's commitment to continue strengthening the fraternal ties which unite the two islands.
Prior to the ceremony, López Rivera paid tribute to Cuban National Hero José Martí, laying a floral wreath at the foot of the monument erected in his honor, in Havana's historic Plaza de la Revolución.
During his stay López Rivera will also visit various central and eastern provinces, where he will tour cultural and historic sites such as the Comandante en Jefe's childhood home in Birán, Holguín and the Santa Ifigenia Cemetery in Santiago de Cuba, where Fidel's ashes are interred. (ACN)
---