British award winning scriptwriter denounces US blockade of Cuba as "a disgrace that must end
Based on an article from Granma | Wednesday, 3 October 2018 | Click here for original article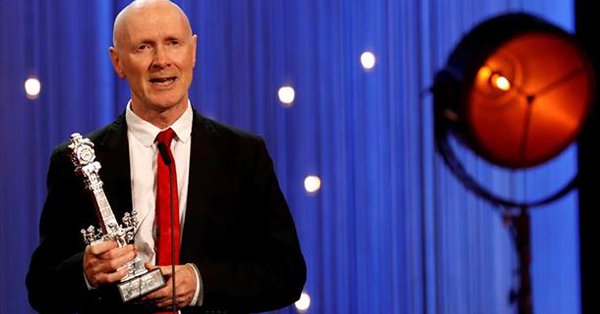 Paul Laverty denounced the US blockade of Cuba as "a disgrace that must end"
The British scriptwriter Paul Laverty denounced the US blockade of Cuba upon winning the Jury Prize for Best Screenplay at the San Sebastian International Film Festival. The scriptwriter won the award for the film Yuli, a film based on the life of dancer Carlos Acosta, one of the greatest dancers in the history of Cuban ballet.
The film, based on Acosta's autobiography No Way Home was described as "dazzling" at the Film Festival. Acosta said the film can serve as an example of the perseverance of Cubans: "It is the triumph of a humble Cuban family and can serve as a mirror for all Cubans who on a daily basis confront adversities," he said.
Upon accepting the prize, Laverty, who has worked closely with the acclaimed director Ken Loach on many films including I, Daniel Blake, said: "Some 58 years ago, the U.S. imposed a blockade on Cuba, a blockade that is illegal, that is condemned every year in the United Nations, and is only supported by two votes, those of the U.S. and Israel. Two experts in applying collective punishment on civil populations. Two bullies, shameless hypocrites. We must do away with this disgrace; the blockade of Cuba must end."
Laverty joins the long list of artists and intellectuals who have spoken out against the blockade, such as filmmakers and actors Oliver Stone, Benicio del Toro, and Robert de Niro, as well as musicians like Manu Chao, Tom Morello, Chris Martin, and Chris Cornell, among many others.
According to Cuba's latest report to the United Nations, the US blockade has caused losses valued at more than $933 billion US dollars. The blockade has caused great damage to all sectors of Cuba's society, including arts and culture.
Cuba-US cultural exchanges have been hampered by the United States' unilateral policy and many Cuban artists are increasingly unable to receive US visas following President Trump's tightening of the blockade. There are huge obstacles in place to the acquisition of musical instruments, instructional software, and studio equipment, among other damages.
A preview of the film is on YouTube here
---