New lawsuit against Cuban companies under Helms-Burton
ACN | Wednesday, 22 May 2019 | Click here for original article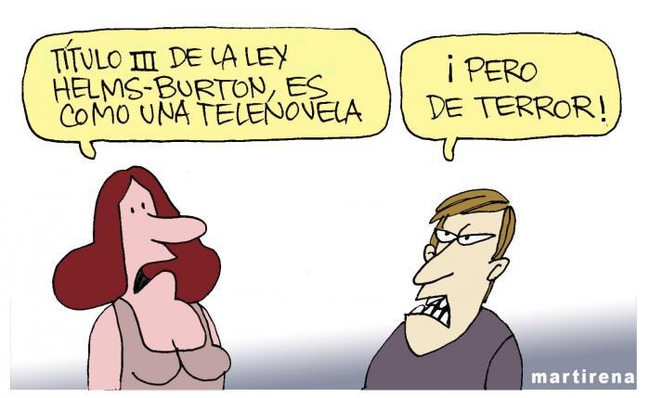 HAVANA, Cuba, May 21 (ACN) A new lawsuit was filed Monday in Miami, Florida, against several Cuban tourism companies under Title III of the controversial Helms-Burton Act, activated by the current U.S. government as part of its policy toward the island.
According to Prensa Latina, using information broadcast by CBS and the Miami Herald, members of the Mata family filed a claim in the federal court of the Southern District of Florida to request compensation for the use of the Meliá San Carlos hotel, located in the central Cuban province of Cienfuegos.
The legal action mentions the hotel groups Gran Caribe, Cubanacán and Gaviota, as well as the Cimex corporation, but for the moment does not include the Spanish Meliá hotel chain, which participates in the management of the tourist facility.
The media indicated that although the Spanish group still does not appear in the lawsuit, it received a notice on Monday informing it that if it did not pay compensation, it would be included in the class action lawsuit.
The Helms-Burton, approved by the U.S. Congress in 1996, codifies the economic, commercial and financial blockade imposed by Washington almost 60 years ago against the Antillean nation.
The lawsuit filed on Monday is the first case filed by people who only became U.S. citizens after the nationalisation of the property.
As Engage Cuba coalition president James Williams indicated in a recent web conference, the possibility given to Cuban-Americans who were not nationals of this country at the time to file claims 'is unprecedented in international or U.S. law.
This is the fourth lawsuit filed in U.S. courts since Title III was activated on May 2 as part of the Trump administration's growing hostility to the island.
Numerous voices inside and outside the United States have condemned this action to tighten the blockade, which is fundamentally aimed at depriving the Caribbean country of foreign investment.
---