US imposes new Cuba travel restrictions, tightening the blockade further
Based on an article in Prensa Latina | Wednesday, 5 June 2019 | Click here for original article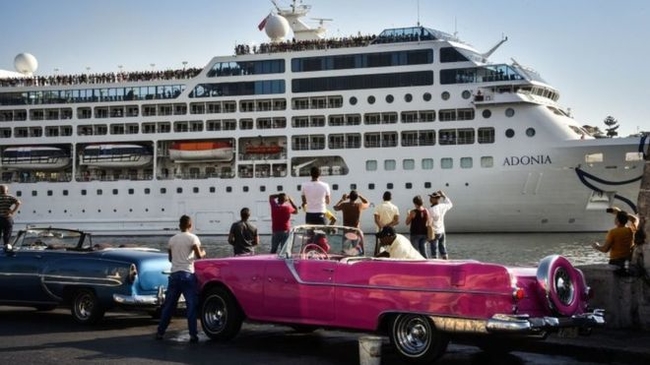 The Trump administration on Tuesday imposed major new travel restrictions on visits to Cuba by US citizens, including a ban on educational and cultural trips known as ''people-to-people'' travel, as well as a ban on cruise trips to the island nation.
The US Treasury Department said it would also deny permission for private and corporate aircraft and boats to fly or sail to the neighbouring island. However, commercial airline flights appear to be unaffected and travel for university groups, academic research, journalism and professional meetings will continue to be allowed.
The Treasury Department released in a statement that its Office of Foreign Assets Control (OFAC) submitted some amendments to the Cuban Assets Control Regulation (CACR) to implement the Trump´s policy, whose administration has been marked by growing hostility against Cuba.
The new US restrictions, which will take effect on Wednesday 5 June, answer to announcements made on April 17 by National Security Adviser John Bolton in an aggressive speech in Florida, by announcing that new restrictions were going to be implemented to non-family trips to Cuba.
Such measures pay no mind to demands of many US sectors which fight to eliminate travel restrictions to Cuba, a nation to which US citizens are barred from visiting as tourists.
Furthermore, while Trump´s administration holds a discourse about allegedly supporting the Cuban people on the island, the new bans however will have a negative impact on Cuba, mainly in the private sector.
Miguel Diaz-Canel, Preisdent of Cuba wrote on Twitter: "The US Government keeps at its perverse efforts to crush Cuba. New measures intensify the blockade and violate International Law. We strongly condemn this policy. They won't be able to stop us: we'll survive and we shall overcome."
Rob Miller, Cuba Solidarity Campaign Director said: "This latest tightening of the US blockade is yet another unjust attack on the Cuban people. These measures will cause great harm to Cuba's tourism sector which is a major source of revenue for the Cuban economy.
"It is outrageous that US tourists can travel freely to almost every country on earth except for Cuba. Cuba is a safe place to travel, with welcoming people and excellent tourist facilities.
"The US continues to try to strangle the Cuban Revolution through intensifying the blockade even further, but they will not succeed now in their aim to overthrow the Revolution, as they have failed to succeed in the same aim for the last 60 years."
Read more: They cannot stop us. We will live and triumph: Granma
US bans cruise ship travel to Cuba amid new restriction: BBC
---