Head of Cuban union movement urges workers to fight economic order
Morning Star | Monday, 9 September 2019 | Click here for original article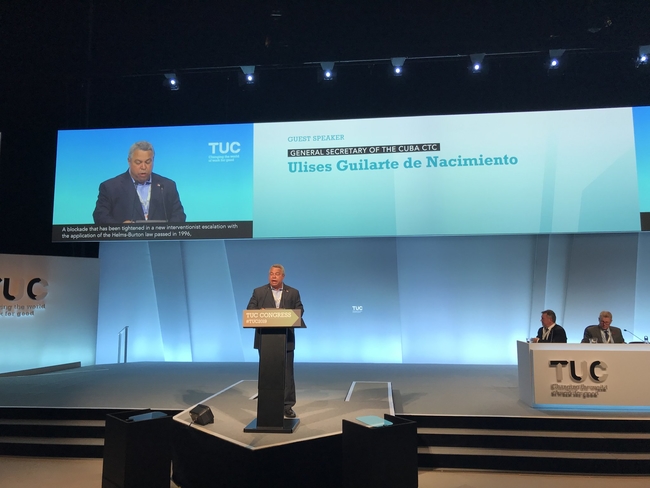 The head of Cuba's trade union movement has urged workers worldwide to unite and fight the "decadent international economic order."
Speaking at the TUC Congress in Brighton, Workers Central Union of Cuba (CTC) general secretary Ulises Guilarte de Nacimiento praised British trade unions for their support for the socialist island, saying that the "relations of friendship" between British and Cuban trade unions have "passed the tests of time."
Mr de Nacimiento said the nearly 60-year-old US blockade of Cuba brings "paralysis" and "deprivation" to the country's people, punishing them for the Cuban government's refusal to "bow to the orders of the empire."
He also noted that 200 million people across the world are unemployed and that 2.3 million workers die every year in workplace accidents, while also criticising "precarious contracts" in capitalist countries.
The Cuban labour leader called for a "campaign of struggle and union action" against the "current unjust, exclusive and decadent international economic order."
He also demanded the release of former Brazilian president and trade union leader Luiz Inacio Lula da Silva, accusing President Jair Bolsonaro's government of jailing him "under false charges and legal traps," and appealed for unity in South America.
Finishing his speech, Mr de Nacimiento added: "The international trade union movement can always count on the sincere voice of Cuba in the condemnation of injustice and inequality, while working for the establishment of a world centred on the human being, his or her dignity, and the wellbeing of workers.
"Hasta la victoria siempre!"
---