Cuban embassy attacked by gunfire in Washington
The Morning Star | Friday, 1 May 2020 | Click here for original article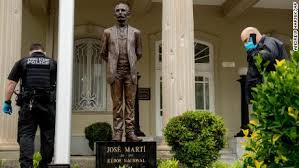 CUBA has offered to help the US investigate an attack on its embassy in Washington after a gunman opened fire on the socialist island's diplomatic headquarters late on Thursday.
Foreign Minister Bruno Rodriguez condemned the attack and urged the US government to clarify what happened and offer a guarantee that such an incident would not be repeated or go unpunished.
"I urged the state department to adopt the necessary measures to fulfill the responsibilities attributed to it by the Vienna Convention and guarantee the full security of the Cuban embassy and the permanent mission to the United Nations," he said.
In a meeting with the US representative in Havana, Mara Tekach, he offered the full co-operation of Cuban authorities with the investigation.
Mr Rodriguez praised US police officers for their swift action after they arrived at the scene quickly and apprehended the suspected shooter, who remained in custody.
But he said that the Cuban government had not been given any details or information about the identity of the alleged gunman.
The incident is believed to have taken place at around 2am with shots fired at the building in north-west Washington DC.
There were no reported injuries, but there was some damage to the building.
The US has ratcheted up hostilities against Cuba during the Covid-19 pandemic, blocking essential medical equipment, including much-needed ventilators, from reaching the Caribbean island.
Its blockade is said to cost the US economy around $1.2 billion (£958.8 million) per year in lost sales and exports, while the Cuban government estimates that it has cost the island itself $753.69 bn (£601.4bn) over six decades.
Mr Rodriguez hoped the investigation would be speedy and the results shared with the Cuban authorities.
---