Republican senators present a bill to punish countries working with Cuban medical brigades
News from Cuba | Sunday, 21 June 2020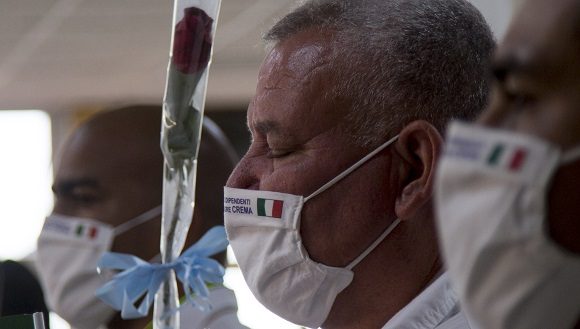 Three republican senators in the United States have are sponsoring a bill which aims to punish countries which accept Cuban medical missions.
Senator Rick Scott (FL), along with Senator Marco Rubio (FL) and Senator Ted Cruz (TX), introduced the Cut Profits to the Cuban Regime Act to the US Senate on 17 June which will list those nations with Cuban medical brigades in the State Departments's annual Trafficking in Persons (TIP) report, unless they comply US imposed regulations to do so.
Cuba currently has 28,000 medical professionals working in 59 countries around the world. Depending on the resources of those countries, the brigades either work free of charge, or the Cuban government receives payment form the host nation. As explained in previous articles and interviews with Cuban doctors, those who volunteer abroad retain their salary at home which is paid to their families while they are away, as well as an agreed percentage of the host nation's payment. The remainder is used to support medical brigades in poorer nations and Cuba's health service at home.
The senators objective according to Cuban news outlet CubaDebate, is to curb the income Cuba receives from its medical missions. Under the terms of the bill, countries which receive Cuban medical brigades can be free from US sanctions if they make payments directly to the doctors and not to Cuba.
Senator Rick Scott said that Cuba "now uses the coronavirus pandemic to make a profit at the expense of these doctors" and considered that "any country that requests medical assistance from Cuba is supporting human trafficking".
More than 2,000 Cuban health workers have volunteered in 24 countries specifically to help fight the coronavirus epidemic including Italy, Andorra, Jamaica, Peru and Angola. Over the years, more than 400,000 professionals have carried out missions in 164 countries in Africa, America, the Middle East and Asia.
The bill is the latest in a series of actions by the US government to discredit Cuban medical missions within the international community, warn off countries from working with Cuba and deprive Cuba of resources and funding for its own health service.
In 2019, the Department of State ranked Cuba in Tier 3 in the TIP report, the lowest-ranked tier. However in the last year the US government has been promoting a campaign to paint Cuba's medical brigades as "forced labour".
Bruno Rodriguez, the Cuban Foreign Minister denounced the move a "desperate maneuver by anti-Cuban senators against Cuba's international medical co-operation which threatens to penalise those who do not follow the isolated and reproachable US government behaviour. Cuba sales lives. They can't erase that truth."
Meanwhile, the Cuba Nobel Prize Campaign in favor of awarding Cuban Henry Reeve Medical Brigade the 2021 Nobel Peace Prize continues to gain support. The petition has over 15,000 signatures and has been endorsed by writer Alice Walker, musician Silvio Rodríguez, and actor Mark Ruffalo among others.
---