'I live in Cuba, I love my people, and I will defend our Revolution' by Aleida Guevara March
News from Cuba | Wednesday, 28 July 2021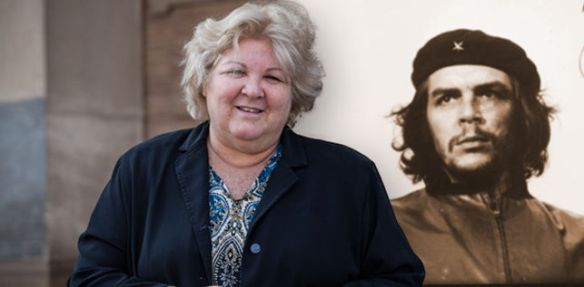 Che's daughter gives her opinion on recent events in Cuba
I live in Cuba, I love my people and I will defend our Revolution. I am an internationalist doctor and proud to be one. I see the reality of today's Cuba and have my criticisms. I understand that there are many things that we have to improve and many others that we must change. My ideals have been deeply influenced by Cuba's great national hero and poet José Martí, who said that while the sun has its blemishes, because it provides so much energy and so much light we ignore those blemishes. Martí taught us to respect every human being; we do not all think the same, but we all have the right to be heard and, above all, to be considered. But one must also earn that right.
You can shout as long and as loud as you like, but if those next to you are shouting something different, no one will understand you, no matter how loud you are. So having common ground rules is important. I would recommend that if you want to criticize something, you must also be capable of proposing a solution to that problem. What is very clear to me is that if using violence in order to be heard simply results in rejection -- especially by a well-informed and self-respecting people – it is totally futile.
A few days ago, some unscrupulous people committed acts of vandalism in different cities around my country, breaking windows, looting shops, throwing stones at children's hospitals, overturning cars in the street, sometimes with people inside. Cubans are not accustomed to such behavior or to the ill-informed language of hate and lies that came with it. What bothers me the most is that individuals carrying out such acts apparently have no shame in acknowledging their financial links with US government bodies.
The Cuban Revolution is far from perfect, but we Cubans are the only ones who have the right to solve these problems. No other country has the right to intervene in our internal affairs. Can you imagine the reaction among Cubans when some of the protests called for the intervention of foreign powers! What is still not understood is that we Cubans are a very proud people and when our national dignity is questioned, we will unite to defend our country's sovereignty.
We have many problems with housing, we have serious difficulties with public transport, and now this brutal pandemic that has brought so much suffering to so many everywhere. On top of all this, the US government has further strengthened the economic blockade that it has maintained against Cuba for almost 60 years, resulting in shortages of medicines, such as oral antibiotics and other medical items like syringes. Due to the financial sanctions imposed by the extraterritorial reach of the US blockade, we lack the foreign currency with which to buy all the food we need. Moreover, in recent times it has become quite an odyssey for foreign ships to reach our shores with the things Cuba desperately needs, including the oil necessary to prevent frustrating power blackouts.
Now can anyone convince me that the US government is genuinely concerned about the welfare of my people if it maintains this blockade? I honestly fail to understand.
Despite all this, Cuba is the only country in Latin America that has created at great sacrifice not one but two vaccines against Covid-19, without the involvement of any international pharmaceutical company. This enables us to vaccinate our entire population free of charge and allows us to help other peoples in need. I want the US people, too, to know that if they need our solidarity, we will gladly give it. You may not know that Cuba's internationalist brigade of doctors and health personnel, who have been working in more than 50 countries to help overcome this pandemic and assist the most needy across the globe, is named in honor of a brave, young US citizen, Henry Reeve, who fought alongside Cubans against Spanish rule in the nineteenth century. For the Henry Reeve brigade, and for much, much more, I am proud of my people and of my Socialist Revolution.
An embrace with all the warmth of my people, the Cuban people.
Aleida Guevara March
Havana, July 2021
Aleida Guevara is the daughter of Ernesto Che Guevara, a pediatric specialist in childhood allergies, who lives and works in Havana. She has written a preface to a new selection of her father's personal and political letters, forthcoming from Seven Stories Press/Penguin Random House: Ernesto Che Guevara, I Embrace You with All My Revolutionary Fervor: Letters 1947 - 1967 (September 2021).
---