Plaid Cymru host first Cuba fringe meeting at annual conference
Campaign News | Sunday, 8 October 2023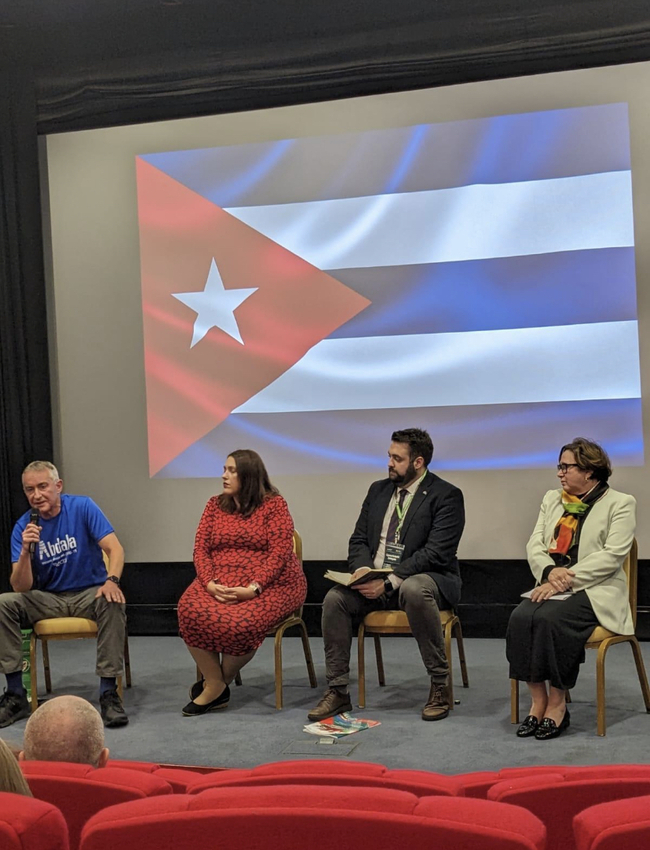 In 2022 Luke Fletcher, the South Wales West Plaid Cymru Member in the Senedd (MS) tabled a successful opinion that expressed solidarity with the people of Cuba, while noting the inhumane blockade that has been in place for more than 60 years causing severe shortages of food, medicines, and fuel. It also accepted that the Welsh Government should develop links with Cuba in areas of mutual interest.
At the recent Plaid Cymru Annual Conference in Aberystwyth, Luke, along with UNDEB (the trade union section of Plaid Cymru) and fellow MS Heledd Fychan, organised a fringe meeting to discuss the latest situation.
Over 40 delegates attended and were shocked when Bárbara Montalvo Álvarez told them about the impact of President Trump's 243 additional sanctions and the effect of being labelled a SSOT. She stressed that despite all the hardships, what the blockade will never stop "is solidarity with Cuba" and "I want you to have my huge gratitude and appreciation for the work done in the Assembly and I look forward to it developing even further in the future."
CSC executive member Bob Oram welcomed Plaid Cymru's support and the importance of cross-party groups taking up the struggle for justice for Cuba. "We should all unite on four key demands – Cuba's absolute right to independence and sovereignty, an end to the 61-year-old inhumane and genocidal blockade, the immediate removal of Cuba from the SSOT list, and the end of the illegal occupation of the Guantánamo Bay – the closure of the US military base along with its condemned torture detention centre," he said.
Bárbara Montalvo Álvarez explained how sanctions against Cuba were "aggravated by the fact that Cuba remains on the unilateral and illegitimate SSOT list which reinforces the blockade."
---