Evo Morales advocates elimination of U.S. blockade
This article originally appeared in the Granma | Tuesday, 4 August 2015 | Click here for original article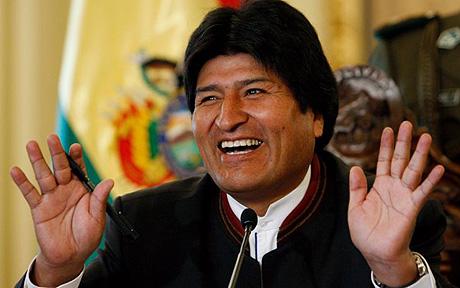 The Bolivian President expressed his hope that President Barack Obama would end the blockade of Cuba, and return the Guantánamo Naval Base territory
LA PAZ.— Speaking with the press, Bolivian President Evo Morales expressed his hope that President Barack Obama would end the blockade of Cuba, and return territory illegally occupied by the Guantánamo Naval Base.
He said that the process Cuba and the United States have undertaken to normalise relations is a resounding victory for the Cuban people and the Revolution, emphasising that Cuba's resistance to pressures of all kinds, and ability to move forward with its own project, are inspiring to peoples and the left, around the world.
He added that Cuba has international support in the United Nations, where only two or three nations support the blockade, and recalled that, at the beginning of his Presidency, he was criticised for building relations with Cuba, Venezuela and Iran, but that now countries like the U.S. are working to establish such ties.
Morales recalled that his response to this criticism was always that he hoped to have relations with all the world's countries, since Bolivia's traditional culture is one of dialogue.
He commented, "Now, instead of us running after the United States, they are after the peoples of Latin America and the Caribbean."
---