Cuba offers the world healthcare alternatives
Granma | Wednesday, 18 November 2015 | Click here for original article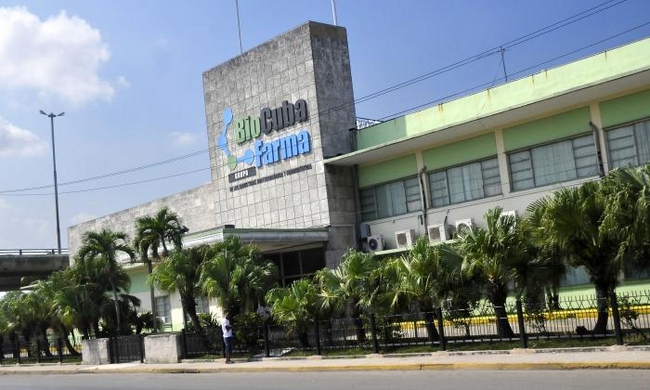 BioCubaFarma, a 100% state owned entity, founded on the country's highly-skilled professionals and committed to ensuring the population's health, has been enjoying positive results over the last 50 years.
Biotechnology and Pharmaceutical Industry Group BioCubaFarma, was founded December 7, 2012, and is composed of 32 entities and 78 production facilities. Photo: Alberto Borrego
Under a new action plan, the Biotechnology and Pharmaceutical Industry Group BioCubaFarma, is looking to promote potential businesses related to providing medical services, and making a multi-faceted contribution to the development of the Cuban economy.
The island's greatest export potential lies in its healthcare products and services, enhanced by international recognition of the country's medical care (in accordance with cooperation projects across 60 countries) and results of over three decades of scientific efforts, production and research for the treatment of chronic illnesses.
Increasingly comprehensive, cost effective and aimed toward diversification and constant growth, these exports promise to make a positive change in the health systems and quality of life of citizens in beneficiary nations.
According to BioCubaFarma's director of Trade, Business and International Collaboration Policy, Mayda Mauri Pérez, comprehensive care for diabetic patients, diagnosis and rehabilitation of cardiovascular illnesses and cancer prevention, research and treatment feature among priority demands.
Other projects include the detection, analysis and treatment of hearing disabilities; early identification of neurodevelopment disorders in infants; comprehensive pre and neonatal research; and epidemiological surveillance.
Through Cuban developed strategies, technologies, preventative care, early diagnosis and timely treatment, ranging from pre-conceptive illnesses to those which affect the elderly, the island's health initiatives continue to receive national and international recognition.
Currently, adds Mayda Mauri, "BioCubaFarma is composed of 32 entities, 78 production facilities and almost 22,000 workers, while it manufactures eight medicines and 578 of the 857 treatments which make up the country's basic catalogue of medicines.
"The biotechnological resources (used by the industry), are combined with services, attributes and technological platforms managed by highly trained staff, which includes 6,325 university graduates, 262 doctors, 1,170 masters of Science graduates, 1,300 technicians, and 719 researchers," she reported.
Affiliated with the Genetic Engineering and Biotechnology Center, Molecular Immunology Center, Cuban Neuroscience Center and Immunoassay Center, and other institutions, the group created December 7, 2012 also exports knowledge on hepatitis B, HIV and meningitis prevention.
The success of these programs is also supported by leading Cuban-designed products such as human recombinant erythropoietin or Heberprot-P (over 100,000 diabetes sufferers treated in 20 nations with a 78% amputation avoidance rate); new or biosimilar medicines to treat advanced stage cancer; and therapeutic vaccines for brain, neck and lung cancer (Nimotuzumab, Cimavax EGF and Racotumomab).
In regards to research, the specialist notes that work is focused on 33 infectious illnesses, and the same number of cancerous diseases, 18 cardiovascular disorders, and seven diabetes related conditions, among other afflictions.
The center is undertaking over 30 research projects in around 20 countries, has 182 Cuban registered products and some 2,300 patent requests (1,816 granted abroad, along with 893 health registrations).
According to Mauri, the entity's most noteworthy business models include the creation of five joint enterprises abroad, and contracts for the manufacture and transfer of technology to Brazil, Venezuela, South Africa, India, Vietnam and Algeria.
Mauri also noted the advantage of BioCubaFarma's future presence in the Mariel Special Development Zone, where it will benefit from a special taxation regime, helping to facilitate administrative procedures and operation.
KEYS TO SUCCESS
BioCubaFarma is a 100% state owned entity, founded on the country's highly-skilled professionals and with the central aim of ensuring the population's health, the institution has been enjoying positive results over the last 50 years.
The closed-loop strategy (research-development-production and marketing activities undertaken within the same institution), allow the facility to be self-sufficient, connect science to the economy, and contribute to the agriculture and livestock sector, as well.
It likewise prioritizes internal collaboration between its affiliated entities, as well as work with Cuban universities, specialist centers and various foreign companies.
The Cuba S.A. Medical Services Distributor and Labiofam Business Group constitute key allies in efforts to strengthen complementary relationships between health programs.
For patients from other parts of the world who decide to seek treatment in Cuba, it is a privilege to receive care which leads to life expectancy rates comparable to those of so-called developed countries.
THE MAIN OBSTACLE
Dr. Eduardo Martínez Díaz, first vice president of the institution, reported to Granma International that since the reestablishment of diplomatic relations between Cuba and the United States, various biopharmaceutical companies from that country have visited BioCubaFarma in order to identify areas of possible mutual collaboration.
"Many U.S. companies are interested in introducing their products in the Cuban market. This is also of great interest to Cuba, given that numerous lives are lost every year in our country due to the fact that we are unable to access exclusively U.S. produced medicines and treatments," he states.
The Cuban people are not the only ones affected by the brutal economic, commercial and financial blockade imposed by Washington. New products manufactured by BioCubaFarma and its affiliated entities can save the lives of numerous U.S. citizens.

To cite one example, more than 70,000 patients in the U.S. have their lower limbs amputated every year, while Cuba possesses Heberprot-P, the only product of its kind in the world, which also has a U.S. patent.
"Cuba's scientific community and in particular workers at BioCubaFarma, want both Cuban and U.S. patients' right to life respected, and we are calling for the elimination of the blockade as soon as possible, as the best way to put into practice the desires expressed with the reestablishment of diplomatic relations."
---