Palestinian Minister of Foreign Affairs thanks Cuba for support
Granma | Tuesday, 9 February 2016 | Click here for original article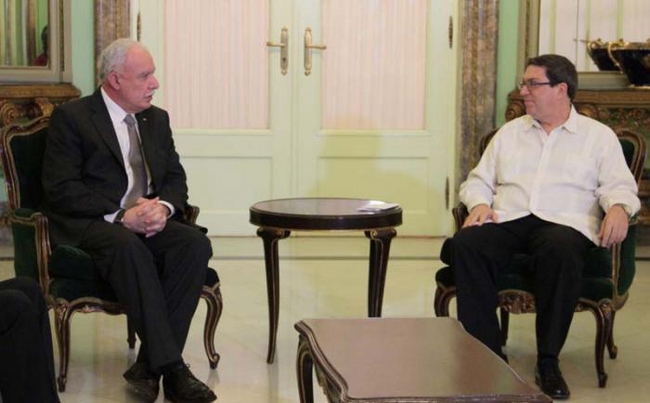 Cuban Foreign Minister, Bruno Rodríguez Parrilla, held talks yesterday with his Palestinian counterpart, Riad al-Malki, who is currently on an official visit to the island, where he will preside a meeting of Palestinian ambassadors to the Americas.
"It was an open, friendly and frank meeting, in which we discussed the ways to expand the already strong relations between the two countries and peoples," the Palestinian foreign minister stated.
Riad al-Malki referred to the common challenges faced by the two countries and ways to strengthen mutual support in international forums.
The talks also revolved around the conflicts in the Middle East, specifically in Syria, Iraq, Libya and Yemen, and how a common understanding of these could lead to possible solutions.
The Palestinian Minister also expressed thanks for the solidarity of Cuba toward his people, after having laid a floral wreath at the José Martí Memorial in Havana's Plaza de la Revolución.
"We are a state occupied by another and therefore we will continue in the battle to free our territory. In Palestine we are very proud of the support we have received from Cuba for so many years in different international events and forums and we have come here to show solidarity with the Caribbean island," he said in statements to the press.
He also noted that the Palestinian struggle has been protracted, but has always had the support of sister nations such as Cuba, which although geographically distanced, are "close at heart."
"Israel not only violates the resolutions of the United Nations, it also violates international law and the Geneva Conventions; on these grounds, Palestine will shortly submit a draft resolution to the Security Council on the settlements, the largest threat to establishing a viable, free, sovereign and democratic State of Palestine," the minister stressed.
On Saturday, February 6, the Minister of Foreign Affairs of the Palestinian National Authority also paid tribute to Yasser Arafat, who until his death in 2004 led the struggle for his country's self-determination.
In addition, Riad al-Malki held a meeting with Cuban First Vice President Miguel Díaz-Canel, in which they reaffirmed the commitment to continue strengthening bilateral relations and discussed relevant issues on the international agenda.
Cuba ratified its support for the recognition and exercise of the inalienable rights of the Palestinian people and state, recognised by 130 nations of the world and a formal observer state at the United Nations General Assembly.
---