EU Pact to Establish Full Ties with Cuba
Telesur | Monday, 14 March 2016 | Click here for original article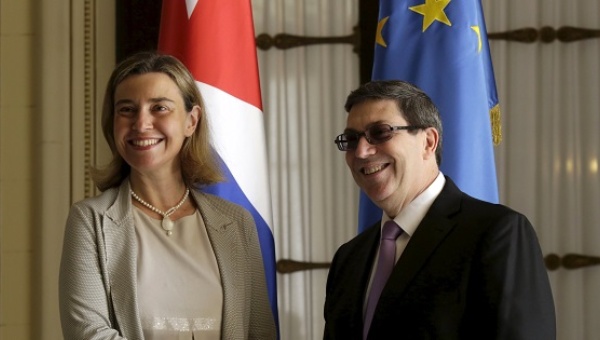 The pact adds to Cuba's rapidly thawing relations with the West since its 2014 detente with the United States
The European Union and Cuba signed an agreement in Havana on Friday to establish normal relations, bringing the Communist-run island further into the international fold and paving the way for full economic cooperation with the 28-member bloc.
Cuban Foreign Minister Bruno Rodriguez and EU foreign policy chief Federica Mogherini witnessed the signing of the pact, which will replace a policy imposed by Europe 20 years ago that pushed for changes to Cuba's one-party political system.
"This accord opens a new chapter in the history of relations between the European Union and Cuba," Mogherini said, shortly after EU negotiator Christian Leffler and Cuban deputy foreign minister Abelardo Moreno signed the deal.
Rodriguez said the two sides would soon meet to revive a human rights dialogue they started in Brussels last year.
The pact adds to Cuba's rapidly thawing relations with the West since its 2014 detente with the United States and the renegotiation of debt with creditors from the Paris Club of wealthy nations in December.
It comes just days before a visit to Havana by President Barack Obama on March 20, the first by a U.S. president since the victory of Cuba's 1959 revolution.
---