President of Ecuador Thanks Cuba for Help
ACN | Tuesday, 26 April 2016 | Click here for original article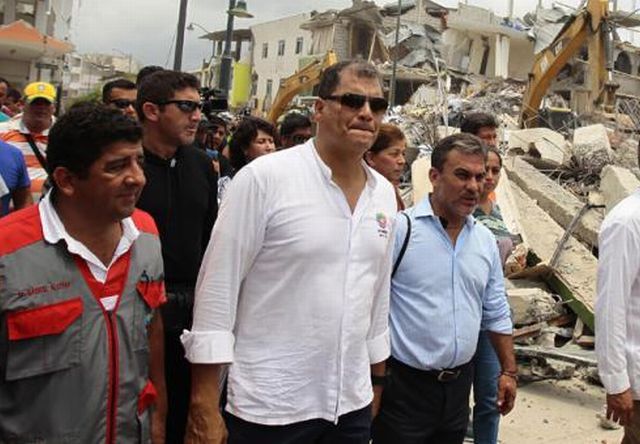 HAVANA, Cuba, April 23 (acn) Rafael Correa, president of Ecuador, asserted on Friday in that South American nation that Cuba is a champion of solidarity, while thanking the Caribbean island for its help after the catastrophic earthquake of April 16, as a consequence of which 587 people have lost their lives and thousands of people were injured.
Speaking to Cuban journalists after touring the previous day the provisional hospital installed in Bahia de Caraquez, in the province of Manabi, severely affected by the earthquake of 7.8 degrees on the Richter scale, the head pf state greeted the members of Cuba's Henry Reeve medical brigade, reports Prensa Latina.
"We count on the solidarity of Cuba, and Cuba can count on that of Ecuador, stated the dignitary, who emphasised the "infinite gratitude "of his people towards the island.
Correa lamented the deaths of three Cuban physicians who were voluntarily working in the town of Pedernales at the time of the earthquake and conveyed his solidarity to their relatives and to the people of Cuba.
The brigade sent by Cuba last Sunday includes rescue workers, health professionals that joined the more than 700 health workers offering their services permanently in Ecuador for two years, as part of 11 agreements signed by the two countries.
The Attorney General's Office indicates that so far the death toll from the earthquake amounts to 587, but search efforts continue to find bodies among the rubble in areas of Ecuador's northwest coast amid successive aftershocks -more than 600 so far- added Prensa Latina.
---