More than 5,000 kidney transplants performed in Cuba
Granma | Tuesday, 21 June 2016 | Click here for original article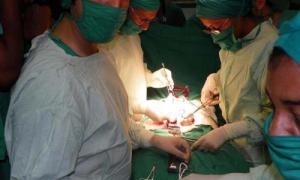 The commitment of Cuba's public health system to improve quality of life evidenced in expansion of kidney transplant program
SANTA CLARA.—A total of 5,703 kidney transplants have been performed in the country since the first operation in February of 1970, the majority of which were possible due to cadaver donations, according to speakers at a commemorative event here, marking the initiation of transplants in Villa Clara 15 years ago.
This accomplishment is a result of the commitment of Cuba's public health system to improve quality of life of patients suffering from chronic kidney failure, a disease which has increased considerably around the world, and Cuba is no exception.
According to Dr. Milagros Hernández Fernández, transplant coordinator in the country's central region, among the over 5,000 patients, only 458 received kidneys from live donors, indicating, in her opinion, the need to increase donations on the basis of a new regulation authorizing as possible donors a broader range of family members, including aunts, uncles, cousins, nieces, nephews, and spouses.
During the event, which brought together specialists from most of the country, it was noted that transplants are currently available in Havana, Camagüey, Holguín, Santiago de Cuba and Villa Clara, the province with the highest survival rate, above 80%, a result which compares favorably with those in developed countries. The national survival rate is 76.4%.
Dr. Hernández noted that internationally a kidney transplant can cost some $750,000 dollars, while the procedure is available free of charge in Cuba, costing the state an estimated $20,000, including post-surgery immunosuppressive medication, which is also provided at no charge.
---