Cuban Paralympians prepare for Río
Granma | Friday, 26 August 2016 | Click here for original article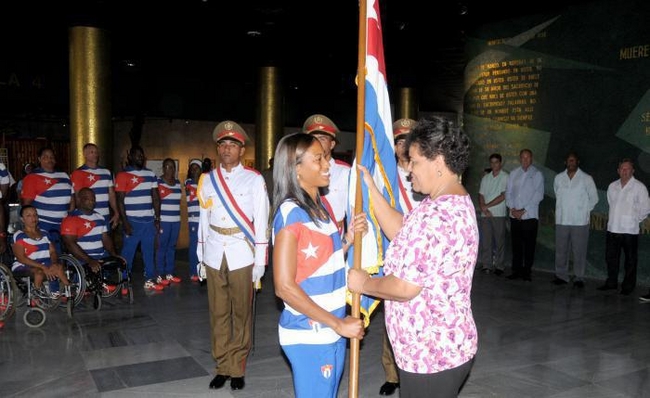 The Cuban delegation to the 15th Paralympic Games in Río de Janeiro, Brazil, participated in the official flag-presentation ceremony on August 25, at the José Martí Memorial
With emotions from the 31st Olympic Games still running high, we return to the matter of the global competition under the iconic five rings, this time the Paralympic edition, which will begin September 7 and feature an important number of Cuban athletes.
The island's delegation to the 15th Paralympic Games in Río de Janeiro, participated in the official flag-presentation ceremony on the morning of Thursday, August 25, at Havana's José Martí Memorial, where double Paralympic Champion and five-times World Champion, Omara Durand, received the national flag from the hands of Olga Lidia Tapia, a member of the Party Central Committee Secretariat.
The sprinter was accompanied by Leinier Savón, two-times World Champion in Doha 2015 and the Toronto Parapan American Games the same year, as well as Leonardo Díaz, multi-Paralympic and World medalist in throwing events.
Before receiving the flag, stellar sprinter Yunidis Castillo, five-times Paralympic Champion, and judoka Jorge Hierrezuelo, London 2012 gold medalist, laid a floral wreath at the monument, in tribute to Cuba's National Hero, José Martí. "We are going to defend and uphold the prestige of Cuba's sporting movement," stated Lorenzo Pérez Escalona - hoping to win Cuba's first swimming medal in a Paralympic competition - who also read out the oath taken by the 23 athletes participating in the tournament, on behalf of the entire group.
Cuba finished in 15th on the country medal chart during the London Paralympic Games four years ago with a total of 17 medals including nine gold, five silver and three bronze.
Also presiding over the official flag-presentation ceremony were Dr. Antonio Becali, president of INDER and renowned former track athlete Alberto Juantorena, president of the Cuban Paralympic Committee.
---