Bruno Rodriguez arrives in New York for UN vote on the blockade
CubaDebate and Prensa Latina (Article in Spanish) | Tuesday, 25 October 2016 | Click here for original article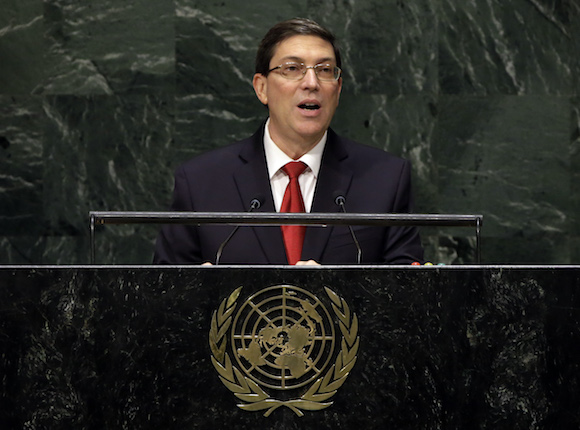 Cuba's Foreign Minister Bruno Rodriguez arrived in New York for a new vote in the UN General Assembly on the need to lift the US blockade against the Caribbean nation.
Rodriguez will speak on Wednesday at the plenary of 193 countries. The resolution against the over a half a century old economic, commercial and financial blockade of Cuba has been supported by the international community at the UN for 24 consecutive years.
The draft resolution to be submitted to the Assembly called the lifting of unilateral sanctions, which the Caribbean nation economic damages estimated to amount to $753 000 688 million, considering the depreciation of the currency against the value of gold.
The initiative adopted in 2015 had 191 of the 193 possible votes, a result that left once again isolated the United States, accompanied only by its ally Israel.
No doubt here, for the 25th consecutive year, the US siege will receive on October 26 a strong rejection and criticism from all the continents.
In late September, about 40 presidents, prime ministers and foreign ministers took the opportunity to address the world, which gives the annual high-level debate of the General Assembly to advocate for the end of the blockade.
Bolivia, Venezuela, Mexico, Nicaragua, Uruguay, Jamaica, Costa Rica, St. Vincent and the Grenadines, Angola, Tanzania, Vietnam, Laos, the Democratic People's Republic of Korea, Palau and Solomon Islands, among other nations, rejected the US blockade of Cuba.
In recent days, the Prensa Latina news agency spoke with several ambassadors on Wednesday's vote, who advanced the backing of their governments to the new draft resolution.
Angola will vote on October 26 with the rest of the international community for the lifting of the US blockade against Cuba, said the permanent representative of the African country Gaspar Martins, who highlighted the fraternal ties between Luanda and Havana.
Meanwhile, Uruguayan Ambassador Elbio Rosselli lamented that the world community once again to vote against a measure that should have never existed.
Uruguay will defend your Cuba's right to have normal relations with all countries, he said.
Also the permanent representative of Nicaragua, Maria Rubiales, guaranteed support from Nicaragua to the resolution.
"We will continue as always to support the island until the full and complete end of the criminal economic, commercial and financial blockade imposed on Cuba. Nicaragua will support the resolution", he said.
(With information from Prensa Latina)
More information: Stand with Cuba Against the Blockade
---