Cuba, Vietnam Celebrate Historic Friendship with Official Visit
Telesur | Thursday, 17 November 2016 | Click here for original article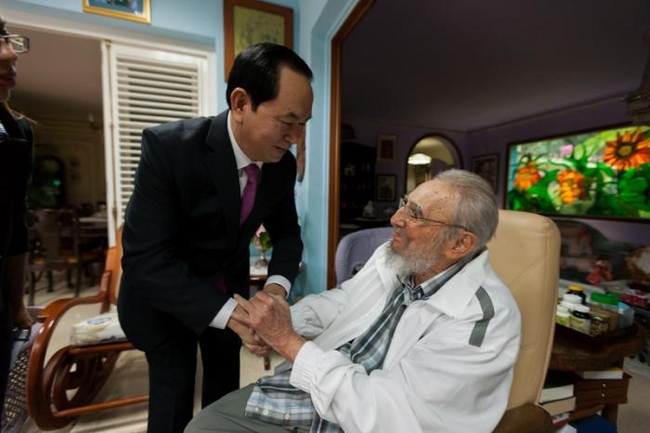 Cuba's relationship with Vietnam has withstood the test of time, celebrating its 56th year of common struggle against imperialism.
Cuba's revolutionary leader, Fidel Castro, met with Vietnamese President Tran Dai Quang today to advance their historical friendship and discuss their ongoing collaboration in different areas.
According to a government statement, the two leaders discussed their views on economic and social development, climate change, imperialist wars in various regions of the world and the global food shortage problem.
Castro's relationship with Vietnam has been an ongoing one, as he has met with various of its leaders in the past and expressed great admiration for Ho Chi Minh, the leader of the Vietnamese liberation struggle and one of the founders of the Democratic Republic of Vietnam.
In 2015, then Vietnamese president Truong Tan Sang visited Cuba to meet with Castro's brother and incumbent president, Raul Castro.
This year marks 56 years of diplomatic relations between the two countries. Throughout the years, the Cuban government has been instrumental in helping Vietnam and its people resist U.S. aggression and imperialism.
In 1963, the Committee in Solidarity with South Vietnam was founded in Cuba. It is now called the Cuba-Vietnam Friendship Association, an organization that has "played a leading role within the solidarity movement with the people of Vietnam during the war," according to Vietnam's ambassador in Cuba, Duong Minh, quoted by Cuba's state news agency Granma last year.
"Over the past five decades the two countries have made an example of their friendship," the article reported. "Admired by many, the ties that unite Cuba and Vietnam have stood the test of time."
President Dai Quang is also set to meet with Raul Castro, after which he will travel to the APEC Summit in Peru.
---