Cuba and Bolivia leaders in female parliamentary representation
Granma | Thursday, 16 March 2017 | Click here for original article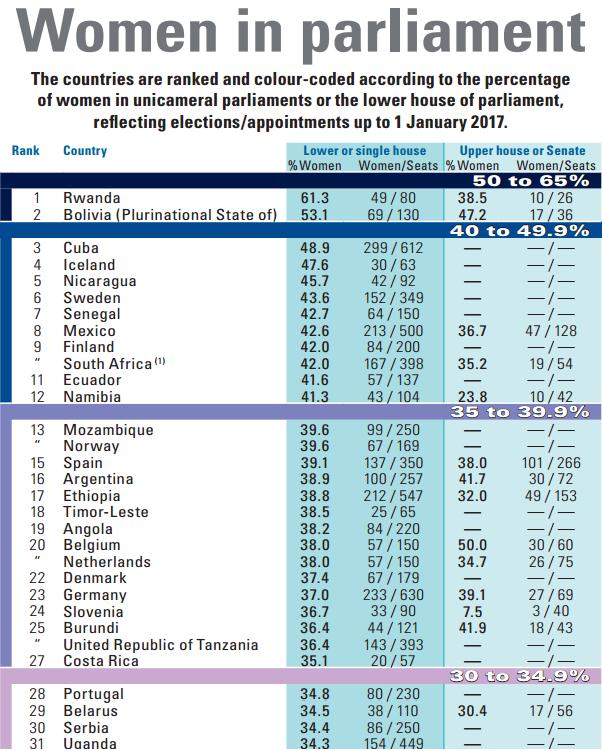 Cuba ranked third in the world for women's representation in parliament, according to UN Women and the Inter-Parliamentary Union (IPU)
UNITED NATIONS: Bolivia and Cuba occupy second and third place respectively, in regards to the percentage of women parliamentarians, according to a Global Women in Politics Map released March 15, by UN Women and the Inter-Parliamentary Union (IPU).
Women make up 53.1% (69 out of 130) of representatives in Bolivia's parliament, and account for 48.9% (299 out of 612) in Cuba, only surpassed by Rwanda, with 61.3% (49 out of 80).
Nations with at least 40% female legislators also include; Nicaragua in fifth place with 45.7; Mexico in eight with 42.6; and Ecuador in eleventh with 41.6%.
According to the map presented by UN Women Executive Secretary Phumzile Mlambo-Ngcuka, and Secretary General of the IPU, Martin Chungong, Micronesia, Qatar, Vanuatu and Yemen have no women parliamentarians.
Regionally, Nordic territories have the highest rate of female representatives (41.7%), followed by the Americas (28.1%) and Europe (26.3%), while Arab and Pacific states have the lowest: 18 and 17.4% respectively.
The map also details women's representation in senior government positions.
In this sense, it shows that there are currently only 17 female heads of state, and 1,237 women ministers.
The document was presented on the second day of the 61st session of the Commission on the Legal and Social Status of Women, a two-weeks long event focused on female empowerment and gender equality.
---