Cuba Backs Venezuela's Fight at the OAS: 'You Are Not Alone'
Telesur | Wednesday, 29 March 2017 | Click here for original article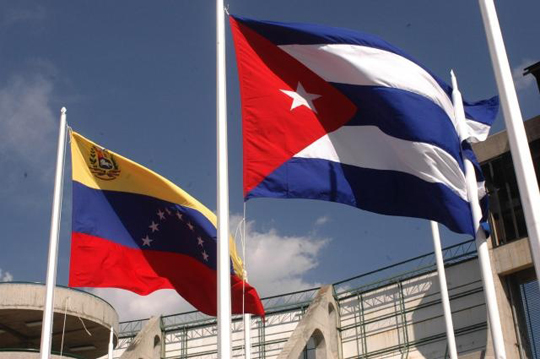 Cuba celebrated Venezuela's hard-fought battle "in defence of sovereignty, independence, self-determination, and dignity of all of our America."
Cuba's Ministry of Foreign Affairs issued a strong statement of support on Tuesday, backing Venezuela against a recent push by the U.S. and its hemispheric allies to expel the country from the Organization of American States.
The statement emphasized that Venezuela is "not alone," and suggested that the most recent attempt by OAS Secretary General Luis Almagro — backed by the U.S., Canada, Mexico, Paraguay and Argentina — to expel Venezuela from the organization had failed given that the expected vote to expel the country did not take place.
Noting the similarities between the campaign to expel Cuba in 1962, the statement said that Venezuela's hard-fought a battle "in defence of sovereignty, independence, self-determination, and dignity of Venezuela and of all of our America."
"The battle fought was by principles, against the imperial and oligarchic intentions of truncating the right of peoples and states to emancipate themselves, exercise their sovereignty and give themselves the political, economic, social and cultural system that they freely choose," said the statement.
The declaration was also highly critical of the 18 member countries supporting the proposal to invoke the OAS' "Democratic Charter" which would expel Venezuela for supposed human rights violations.
"The Ministry of Colonies again makes the same mistakes today: again the intense pressures and blackmail of the United States worked on a group of countries, including the smallest and most vulnerable; and again there was the submissive attitude of those who prefer to lie down and submit, than to face the (imperial) giant."
The special meeting, called for the sole purpose of attempting to expel Venezuela, was also supported by the Bahamas, Barbados, Brazil, Chile, Colombia, Costa Rica, Guatemala, Honduras, Jamaica, Panama, Peru, Saint Lucia and Uruguay.
"The OAS that faced Venezuela is the same one that has endorsed aggressions and military interventions; has been complicity silent in the face of serious democratic and human rights violations throughout the hemisphere, including coups, disappearances, arbitrary detentions, as well as the torture and murder of students, journalists and social leaders; has been complicit in the forced displacement caused by poverty and violence; has supported walls, deportations, unequal trade, environmental pollution, drug trafficking and cultural aggression."
The statement concluded that the failure to actually have a vote signalled that Venezuela was not alone.
"It was demonstrated that Venezuela is not alone. The brave defence of those who hold up the dignity of Latin America and the Caribbean is a source of pride, and they put themselves on the side of truth, reason and justice."
---