Latin America Congratulates Ecuador's President-elect Lenin Moreno
Telesur | Tuesday, 4 April 2017 | Click here for original article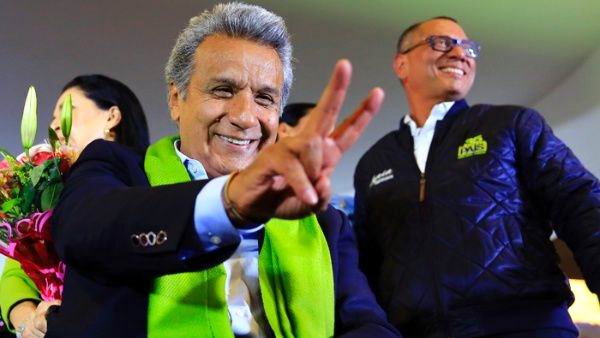 Political figures from around the continent congratulated the ruling party candidate's win in the run-off election.
Latin American leaders congratulated Lenin Moreno for his victory over former banker Guillermo Lasso in Ecuador's presidential election. With 98.45 percent of the official vote counted, Lenin defeated former banker Guillermo Lasso, candidate for the right-wing CREO-SUMO alliance with 51.14 percent to 48.86 percent, according to results issued by the country's National Electoral Council early Monday morning.
Bolivian President and fellow progressive Evo Morales, congratulated his "brother," tweeting that "the united people of Ecuador triumphed before the empire and it's submissives." In a previous post, Morales said that "the great homeland is moving forward. Socialism of the 21st century always triumphant."
Former Argentine President Cristina Kirchner said that she had spoken to outgoing President Rafael Correa "to whom I conveyed my greetings to his government and my affection for the Ecuadorean people."
Correa took to Twitter saying the "revolution triumphed in Ecuador. The right defeated, despite its millions and its press."
Ecuadorean Foreign Minister Guillaume Long tweeted that "I am in the Foreign Ministry receiving messages from many brother countries congratulating the Ecuadorean people for the electoral process and triumph."
Luis Almagro, head of the Organization of American States, also sent his best wishes to the new president via Twitter, praising the election as "civic."
"Congratulations Ecuador, the Citizens' Revolution triumphed," Venezuelan President Nicolas Maduro tweeted, congratulating Correa and his "compañero" Moreno.
"Ecuador pride of the Great Homeland! The invincible sword of Bolivar for Latin America! Congratulations," Venezuela's Foreign Minister Delcy Rodriguez tweeted.
Former president of Honduras, Manuel Zelaya, who was ousted in 2009 by a military coup, tweeted that with the Lenin victory the conservative cycle in Latin America has been broken.
Colombian President Juan Manuel Santos congratulated Moreno through a phone call. Moreno while celebrating outside the Alianza Pais headquarters in Quito expressed his solidarity with the Colombian people over a mudslide that has so far claimed more than 250 lives in the southern town of Monoa.
El Salvador's President Salvador Sanchez congratulated Moreno and tweeted that "I wish to strengthen our brotherhood and cooperation with Ecuador." El Salvador's FMLN party took to its official Twitter account to congratulate Moreno and Alianza Pais on the victory.
The Foreign Ministry of Mexico congratulated Moreno in a press release. The statement went on to describe elections as "peaceful, with high voter turnout, in which with authorities and the Ecuadorean people reaffirmed their democratic vocation."
Peru's President Pedro Pablo Kuczynski phoned Moreno to personally send his congratulations, adding on Twitter that he looks forward to the two countries working together as "the sister countries we are."
Michel Temer, president of Brazil, praised Lenin Moreno and the Ecuadorean people for their "commitment to democracy."
Paraguayan President Horacio Cartes, currently facing fierce political backlash over his bid to extend presidential terms, congratulated Moreno on the election win.
Juan Carlos Varela, president of Panama, wrote on Twitter that he "congratulates the people of Ecuador for their democratic vocation and President-elect Lenin Moreno before his new responsibility in the country."
Chilean President Michelle Bachelet also congratulated the accessibility advocate and new Ecuadorean president on Twitter, adding, "I am sure our countries will continue strengthening our historic friendship."
Luis Guillermo Solís, president of Costa Rica, showed his support on Twitter for the president-elect, wishing for "successful management that deepens bilateral relations."
Cuban President Raul Castro sent a message to Moreno, celebrating the election results which herald in a "new stage of the Citizens' Revolution."
---