Declaration of the Cuban Workers Central against the economic, commercial and financial blockade imposed by the US government
News from Cuba | Tuesday, 30 October 2018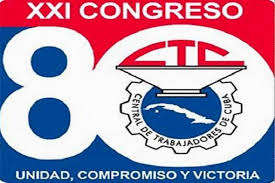 In advance of the 27th consecutive annual United Nations vote on Cuba's resolution against the US blockade, the Cuban Workers Central (CTC) and national trade union affiliates call on workers around the world to condemn this cruel and genocidal policy imposed by the US on Cuba, which impedes production, services and the prosperous and sustainable development of our people.
This call commits us to the fight against injustices carried out around the world today.
The accumulated damages caused by almost six decades of blockade amount to $933,678 million dollars (taking into account the depreciation of the dollar against the value of gold in the international market). At current prices, the blockade has caused quantifiable damages of more than $134,499 billion dollars.
The Cuban workers believe that the blockade constitutes a violation of human rights and is the main obstacle to our development. As creators of wealth, we will continue forward in the search for solutions to these obstacles and turn each workplace into an impregnable stronghold that, even in the most adverse circumstances, will continue to fulfill its internationalist duty, and raise our voice in defense of justice anywhere in the world.
With the arrival of President Donald Trump, the United States has resumed its strategy of intensifying the blockade and increased subversion against Cuba, aspects that demonstrate the hostility of its policy. For that reason we must condemn the economic war that is being waged against us.
Workers of the world:
During all these years we have counted on the solidarity of the international trade union movement and working class against this inhumane policy that has caused only
suffering for generations of Cubans, as well as the impossibility for workers to have the economic development that allows them to meet their needs.
All against the Blockade!
Declaración de la CTC en contra del Bloqueo económico, comercial y financiero impuesto por el gobierno de los EE. UU. contra Cuba
La Central de Trabajadores de Cuba (CTC) y los Sindicatos Nacionales, a pocos días de presentarse por vigésima séptima ocasión consecutiva ante la Asamblea General de las Naciones Unidas el informe de Cuba en contra del bloqueo que se nos impone de manera unilateral por el gobierno de los Estados Unidos convoca a los trabajadores de todas las latitudes a unirse en la jornada mundial del 25 al 31 de octubre, junto a interlocutores sociales y del movimiento sindical, para condenar esta cruel y genocida política que impide elevar plenamente los niveles de producción, los servicios, y lograr el desarrollo próspero y sostenible de nuestro pueblo. Este llamado nos compromete en la lucha contra las injusticias que hoy se cometen en el mundo.
Los daños acumulados por el bloqueo durante casi seis décadas de aplicación alcanzan la cifra de 933 mil 678 millones de dólares tomando en cuenta la depreciación del dólar frente al valor del oro en el mercado internacional. A precios corrientes, el bloqueo ha provocado perjuicios cuantificables por más de 134 mil 499 millones 800 mil dólares.
Los trabajadores cubanos consideran que el bloqueo constituye una violación de los derechos humanos y el principal obstáculo para nuestro desarrollo y en su condición de creadores de las riquezas, seguiremos adelante en la búsqueda de soluciones a las dificultades hasta convertir cada centro y puesto laboral en bastión inexpugnable que, aun en las circunstancias más adversas, seguirá cumpliendo con su deber internacionalista, y alzando nuestra voz en defensa de la justicia en cualquier lugar del mundo.
Con la llegada del Presidente Donald Trump, Estados Unidos retomó la estrategia de recrudecimiento del bloqueo y acrecentó la subversión contra Cuba, aspectos que demuestran la hostilidad de su política. Por esa razón debemos condenar la guerra económica que se nos hace.
Trabajadores del mundo:
Durante todos estos años hemos contado con la solidaridad del movimiento sindical internacional y clasista frente a la inhumana política que solo ha logrado el sufrimiento de varias generaciones de cubanos, así como la imposibilidad de que los trabajadores cuenten con el desarrollo económico que permita satisfacer sus necesidades.
¡Todos a votar contra el Bloqueo!
---