John Bolton threatens Cuba, Venezuela and Nicaragua
Based on an article from McClatchy | Friday, 2 November 2018 | Click here for original article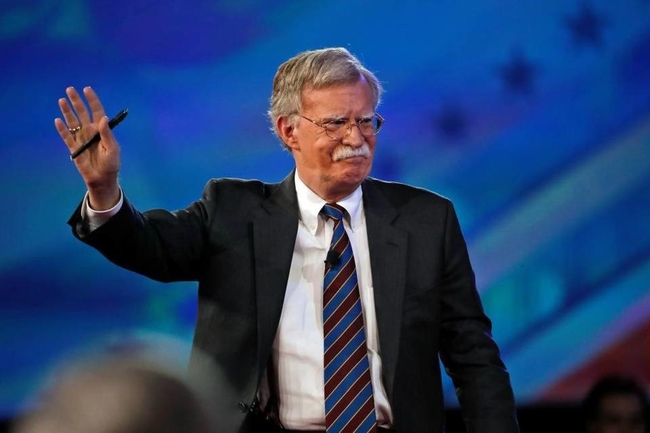 The White House National Security Adviser John Bolton attacked progressive governments in Latin America in a Miami speech that welcomed new right-leaning leaders and put three leftist governments on notice.
Referring to Cuba, Venezuela and Nicaragua as the "Troika of Tyranny," Bolton blamed them for causing "immense" human suffering and regional instability in the countries, and fostering communism in the region.
He called the leaders of those countries "clowns" and said the United States "looks forward to watching" their governments fall.
Bolton delivered the aggressive speech to Cuban and Venezuelan expats at the Freedom Tower in Miami - the hotbed of anti-Cuba politics in the US - while announcing that President Donald Trump had signed a new executive order that will allow sanctions against Venezuela's gold industry, which Bolton said the Venezuelan government has used to finance criminal operations. The order gives the administration authority to target other sectors.
The speech took place on the same day as the when 189 countries voted in favour of Cuba's resolution to end the US blockade of the island at the United Nations general assembly. Only the US and Israel voted against the resoltion. Nikki Haley, US Ambassador to the UN, said the 189 countries were "wrong".
Michael McCarthy, founder of Caracas Wire, a consulting group on Venezuela that regularly speaks with the Trump administration, said the order provides "strategic ambiguity" to target the oil sector later.
Bolton paid particular attention to Cuba's role in Venezuela, stating that many in the audience have personally suffered "unspeakable horrors" by their homeland governments. They fought back and now their descendents can live the American Dream, he said.
Harkening back to President George W. Bush's "axis of evil," Bolton's attacks on the three nations reflect an increasing aggression toward progressive governments that Trump has delivered during recent international speeches to the United Nations and other international forums.
Trump's supporters, who have long argued for a stronger position against Latin America, will likely praise the aggressive tone, but it may also heighten existing concerns that the United States is reviving a narrative promoted by leftist governments that the U.S. is the imperialist bully bent on punishing Latin American governments that don't do its bidding.
The U.S. government has already sanctioned 70 officials, including Venezuelan President Nicolás Maduro, and restricted U.S. investment and financial transactions, including those involving Venezuela's new digital currency.
A senior administration official said the U.S. will tighten sanctions against Cuban military and intelligence services, including expanding the list of Cuban companies that can be sanctioned.
Bolton told the Miami Herald and el Nuevo Herald that the United States will impose more sanctions against Cuba because it hasn't followed through with commitments made to former President Barack Obama to improve democray and human rights.
"Its performance toward democracy and human rights is worse," he said.
Bolton confirmed a McClatchy report that the White House is "very seriously" considering allowing thousands of Cuban Americans to sue in U.S. courts foreign companies and others who now control real estate on the island that was seized from them by the Cuban government.
McClatchy reported Wednesday that the White House has discussed the proposal with Sen. Marco Rubio and other South Florida lawmakers who have been pushing the administration to take more concrete steps against Cuba.
The high-profile visit and speech to a group of key Trump supporters comes in the midst of hot Senate and gubernatorial races in Florida that Trump has made a focus of final push to get his base to the polls.
Bolton denied the event was political. But McCarthy said that the timing is likely to raise eyebrows with foreign allies who may see this as more of an electoral ploy than a significant policy change.
"What is new here is the intensification of the pressure at the diplomatic level to say this is not just a single country that poses a security threat to Latin America," McCarthy said. "It's an alliance that poses a security threat to Latin America."
Venezuela sits on the world's largest oil reserves, but the nation has plummeted into a deepening economic crisis amid rising inflation.
Bolton has long advocated for stronger restrictions against Cuba. In 2002, as undersecretary of state in the Bush administration, he accused Havana of trying to develop biological weapons, and added Cuba to a list of "axis of evil" countries."
''The United States believes that Cuba has at least a limited offensive biological warfare research and development effort," Bolton said at the time.
Bolton also signaled that the United States was pleased by the elections of "like minded leaders" such as newly elected right-wing leaders Iván Duque in Colombia and Jair Bolsonaro in Brazil while failing to acknowledge the more liberal Mexican President-elect Andrés Manuel López Obrador.
For those farther to the left such as Nicolás Maduro, Daniel Ortega and Miguel Díaz-Canel: "Their day of reckoning awaits."
"The Troika will crumble," Bolton said.
---