UK Ambassador meets with Cuban Foreign Minister ahead of Royal visit
Prensa Latina | Friday, 1 March 2019 | Click here for original article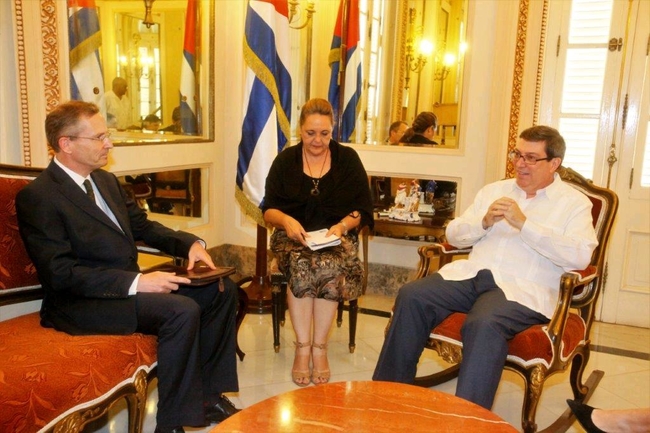 Havana, Mar 1 (Prensa Latina) Cuba will receive with warm hospitality the Highnesses Prince of Wales and his wife the Duchess of Cornwall, Foreign Minister Bruno Rodríguez reiterated on the occasion of the visit that will take place from March 24 to 27.
In his account of the social network Twitter, the Cuban Foreign Minister said he spoke in this capital with the British ambassador, Antony Stokes, less than a month from the trip of Charles, heir to the throne of the United Kingdom, and his wife Camille Parker.
Rodriguez said the meeting with Stokes allowed to verify the satisfactory progress of the bilateral relations. British media in recent days highlighted that this is the first visit to Cuba by members of the country's royalty.
Their Royal Highnesses will arrive in Cuba on Sunday, March 24, a stay that will highlight the cultural, academic and people-to-people links between the United Kingdom and Cuba, as well as exploring themes of the arts, the work of young entrepreneurs, patrimonial restoration and sustainable agriculture.
According to official sources, visitors will complete a varied program, which will culminate on Wednesday, March 27.
Charles and Camilla will travel to a province on the south coast of the island to learn more about the local flora and fauna, will attend an event on environment and nature conservation and will be at a roundtable to exchange criteria on the work in Cuba to provide support to victims of sexual and domestic abuse.
---