Supporting LGBT+ Rights and the LGBT+ community in Cuba
Campaign News | Thursday, 30 December 2021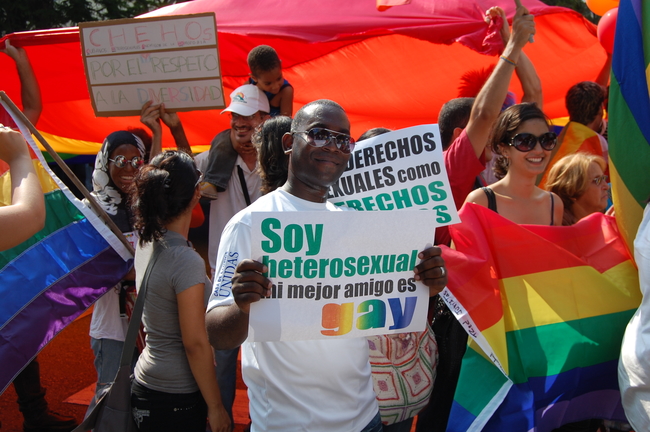 Like many other Caribbean and Latin American countries, Cuba's LGBT+ community have faced historical discrimination and homophobia and there is still work to be done to achieve equal rights for all.
Hundreds of years of Spanish colonialism, the influence of the Catholic church, and a culture of machismo helped to entrench homophobic attitudes deep in society which LGBT+ people are still fighting against today. However, in recent years there have been significant steps to rectify the mistakes of the past, to legislate to protect LGBT+ rights in society and try and educate the wider population to end discrimination and homophobia.
Following the decriminalisation of same sex relationships in 1979 a number of education initiatives and changes in the law marked the beginning of changes in government and societal attitudes, including the new Family Code passed in September 2022 which legalises same sex marriage and adoption.
Central to lobbying, raising awareness and educating against homophobia in the country has been the work of the government funded National Centre for Sexual Education (CENESEX). CENESEX campaigns for sexual equality and LGBT+ rights and is headed by director, Mariela Castro Espin, daughter of feminist revolutionary Vilma Espin.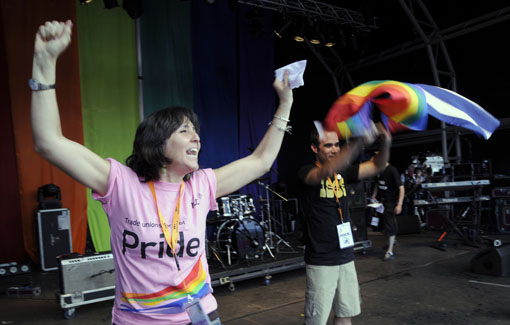 (Mariela Castro and Alberto Roque on stage in Trafalgar Square, taking part in London Pride, 2009)
CENESEX was established by the Ministry of Health in 1988 and has been instrumental in changing legislation and attitudes, including changes to the Family Code in 2022 which recognised same sex marriage and adoption. CENESEX recognises that there is still much work to be done, however huge achievements have been made both in terms of reforming legal structures and challenging cultural norms. These achievements are not only impressive in themselves, but especially so when the regional context of Latin America and the Caribbean is considered which is heavily influenced by generations of 'machismo'.
The impact of the blockade and aggressive US policy on the LGBT+ community and all Cubans should never be forgotten or played down. It impacts on all areas of Cuban society, access to healthcare, essential medication and education materials.
A timeline of advancing LGBT+ rights in Cuba
1979 Same sex relationships decriminalised
1988 CENESEX established to provide education on sexuality, sexual health and the recognition and guarantee of sexual rights of the population
1993 Strawberry and Chocolate, a ground-breaking film set in 1979, about a young communist man's relationship with a gay writer – explored tolerance, inclusion and homophobia and marked a watershed in Cuban society
2006 Cuban television begins running a soap opera featuring gay characters for the first time.
2008 Cuba starts celebrating the International Day Against Homophobia (IDAHO) with a two week programme of awareness raising, educational, and cultural events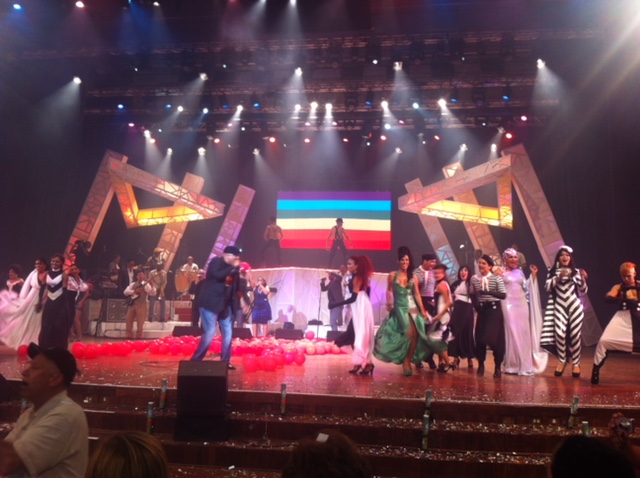 (above) Performers during the Gala against Homophobia at the Karl Marz Theatre in Havana in 2018
2008 Gender reassignment surgery is made freely available
2012 Adela Hernandez is the first known transgender person to be elected to public office, after being elected as a delegate to the municipal government in the province of Villa Clara
2013 The new Labour Code includes anti-discrimination laws based on sexuality in employment for the first time.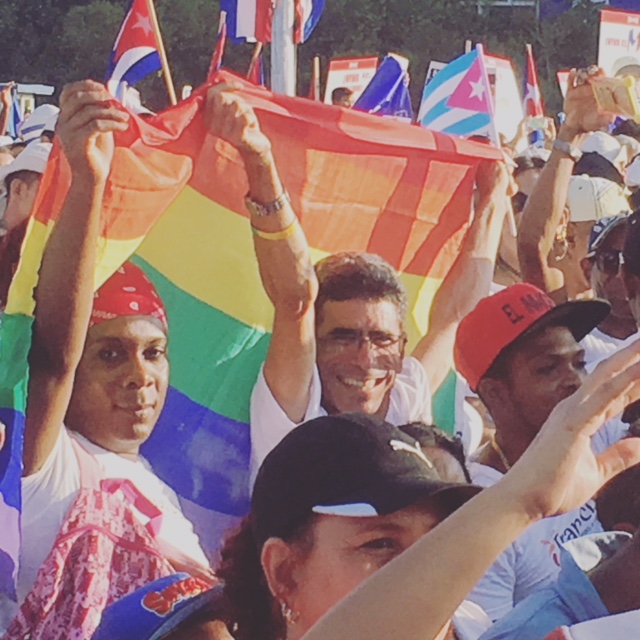 (above) CENESEX workers marching in Revolution Square as part of the annual May Day celebrations
2015 IDAHO features the involvement of the CTC (Cuban Workers Federation) for the first time, with a key focus being the creation of workplaces free from stigma and discrimination
2019 A new constitution is passed which expressly prohibits discrimination based on sexual orientation and gender identity and deletes the previous definition of marriage as a union between a man and women. Marriage is now defined as a social and legal institution and just one form of family organisation, recognising the right of everyone to found a family.
2019 First transgender marriage takes place
2021 The Cuban parliament unanmimously approves the draft of the new Family Code (updateing the 1975 document) in December. The document includes same sex marriage and adoption. CENESEX and the Federation of Cuban Women were part of the commission which drew up the draft document.
2022 Following a referendum and public consulation, on 26 September the Cuban population votes by 67% to approved the new Family Code which includes same sex marriage and adoption, as well as many changes to enshrine women's reporductive rights and more rights for minors and vulnerable groups within sociiety.
Exchanges between the UK and Cuba
CSC is proud to have worked with CENESEX and LGBT+ groups in Cuba and the UK to organise exchanges, facilitate links and promote understanding between the LGBT+ communities in both countries for more than 15 years.
2007 CSC organises a meeting between FBU LGBT+ members on a delegation to Cuba to meet with CENESEX and LGBT+ activists in Havana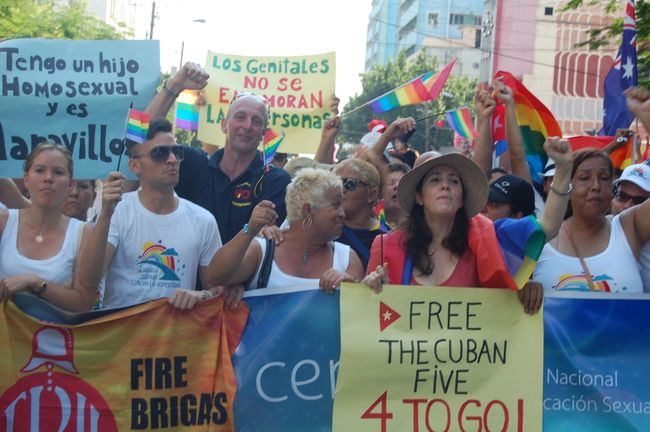 (above) Pete Wilcox, former Regional Secretary of the FBU in the North East takes part in IDAHO events in Cuba in 2012
2008 The Trade Unions Congress LGBT Conference passes an FBU motion against the US blockade and in support of the achievements of the Cuban Revolution, calling for links to be made with LGBT+ community in Cuba including inviting activists from CENESEX to conference in 2009
2009 Alberto Roque, a Cuban LGBT+ activist with CENESEX, addresses the TUC LGBT+ conference and speaks at a CSC fringe meeting. He also meets with the Terence Higgins Trust, the APPG on Cuba, and MPs
2009 Mariela Castro, director of CENESEX, is invited to take part in London Pride and addresses crowds in Trafalgar Square. She also joins Peter Tatchell for a Q&A session following a screening of the film 'Strawberry and Chocolate' at the Barbican
2010 Alberto Roque returns to the UK to take part in an FBU LGBT+ school at Wortley Hall
2011 The NASUWT gives financial support for the production of education and publicity materials for IDAHO campaigns in Cuba
2012 FBU Regional Secretary Pete Wilcox participates in IDAHO activities in Havana, taking part in panel discussions and being at the head of the conga.
2014 CSC organises a LGBT+ delegation to take part in IDAHO activities and meet with activists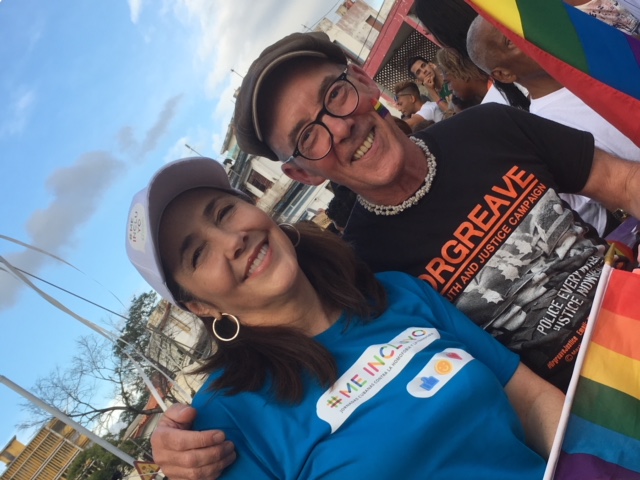 2018 Mike Jackson, secretary of Lesbians and Gays Support the Miners (LGSM) participates in a screening and Q&A of 'Pride', discussion panels, and leads the conga in Havana with Mariela Castro (pictured above) as part of IDAHO events. He receives an award for his activism from CENESEX at the Gala Against Homophobia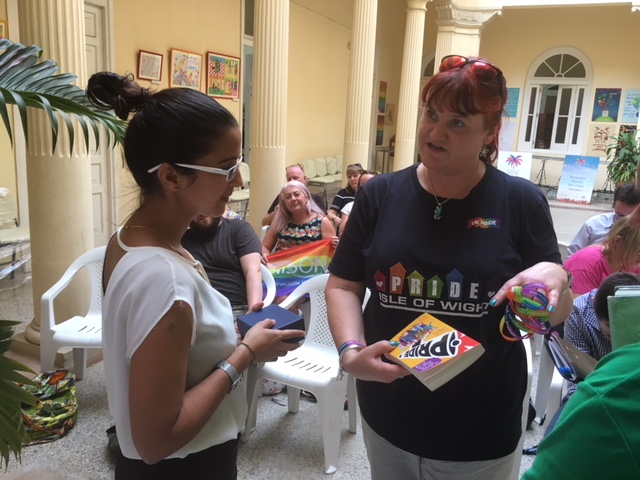 2018 Unison delegation to Cuba meet with CENESEX (pictured above)
2018 Mariela Castro speaks in London at Latin America 2019. During her stay she visits 'Gays the Word' bookshop and meets with representatives from Switchboard, LGBT+ History Month, Open Doors and other LGBT+ organisations and campaigns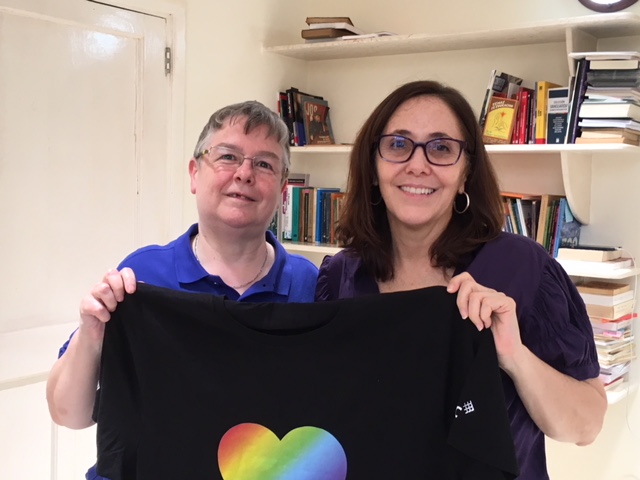 2019 Jenny Douglas, Unite the Union executive council member for LGBT+, meets with Mariela Castro in Havana to discuss the work of CENESEX (pictured above)
IDAHO celebrations in Cuba
Since 2007, Cuba has celebrated the annual International Day Against Homophobia and Transphobia (IDAHO) with a programme of events including conferences, panel discussions, debates, film screenings, exhibitions, television discussions and cultural events.
The 'Jornada Cubana Contra La Homofobia y La Transfobia' runs for two weeks around the official IDAHO date of 17 May. It is an opportunity raise awareness and campaign against homophobia in Cuban society often focusing on different spaces where discrimination exists. For example past 'Jornadas' have focused campaigns in schools, workplaces, and the family. As well as Havana, each year another province is chosen where the main programme of activities will be repeated to ensure high level events are not restricted to the capital.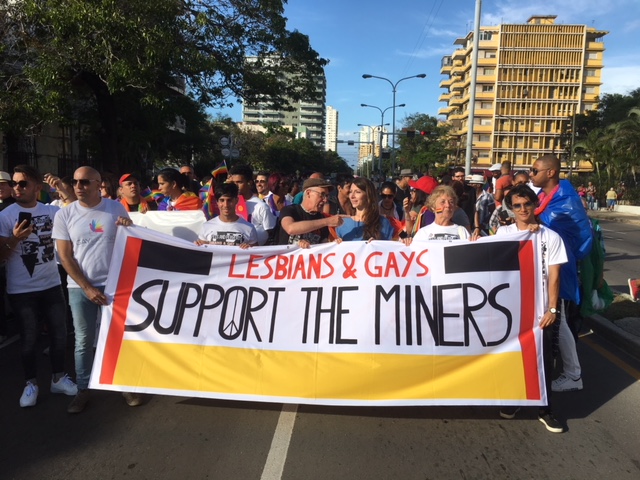 The Gala against Homophobia, the Fiesta for Diversity, and the Conga, are the most high profile events of the programme. The Gala is a cultural show, with singers, dancers and cabaret acts which takes place at the 2,000 capacity Karl Marx Theatre, attended and supported by personalities from Cuban society and politicians.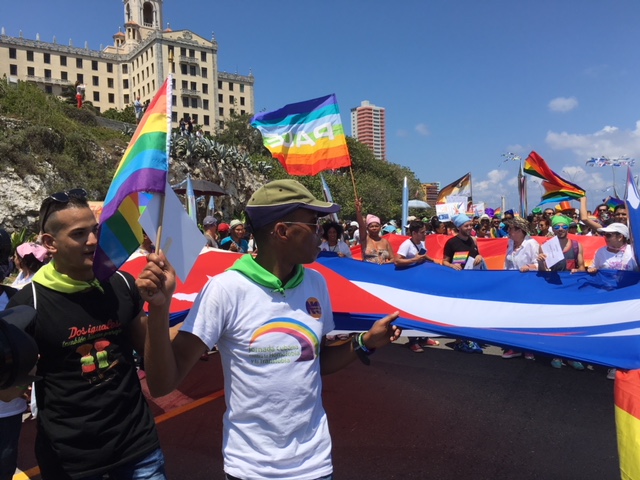 Participants gather at the beginning of the Conga for IDAHO in May 2017

The Conga is similar to a pride march, but usually with a more campaigning message against homophobia and transphobia in society. It has become known as the Conga rather than a pride march as there is a band and people dance, rather than just walk the route. The Conga is followed by the Fiesta for Diversity, a big outside party with live music, food, entertainment and stalls, attended by hundreds of people. All of the events for IDAHO are supported by the government.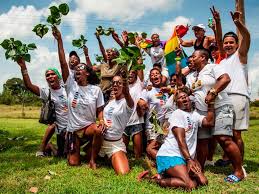 (above) Contestants in the Diversity Games as part of 2019 IDAHO activities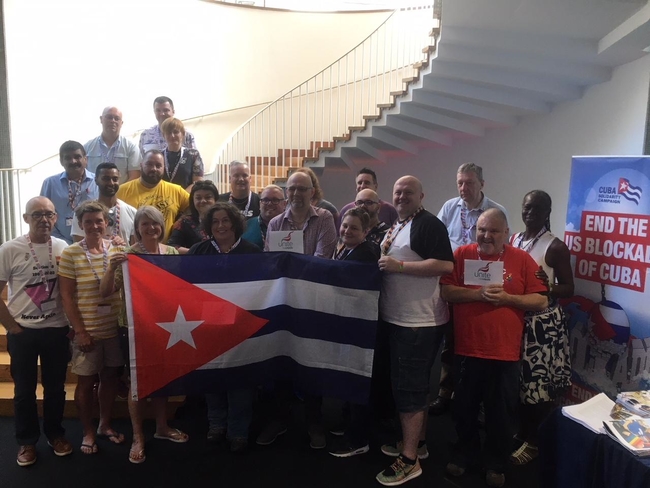 Mike Jackson with Unite delegates at the TUC LGBT+ Conference in July 2019
If you are interested in finding out more about LGBT+ rights in Cuba and the work of CENESEX please on this please contact CSC on communications@cuba-solidarity.org.uk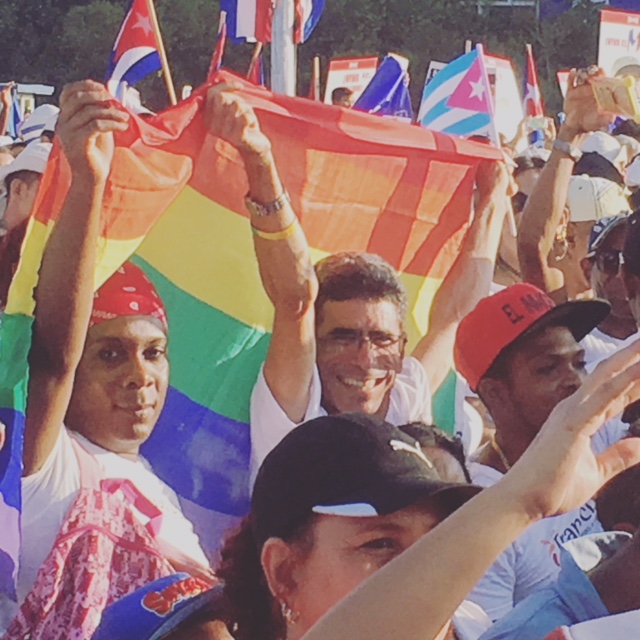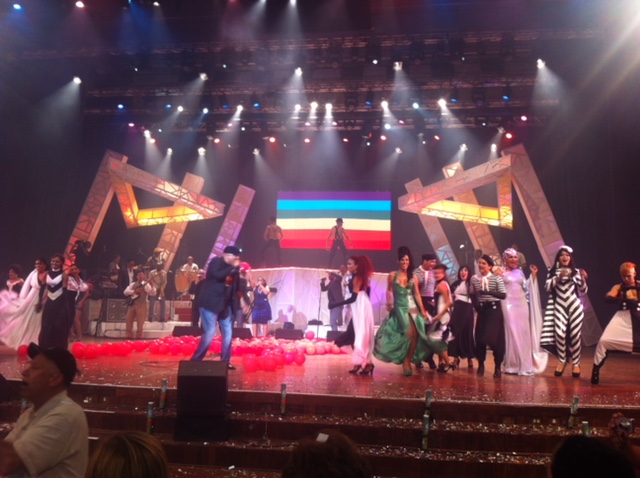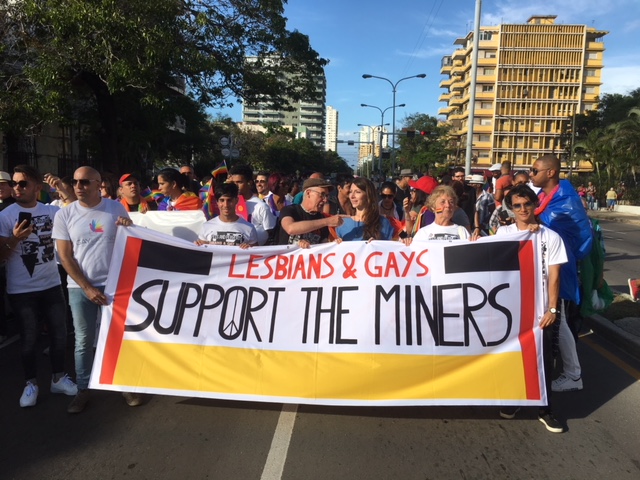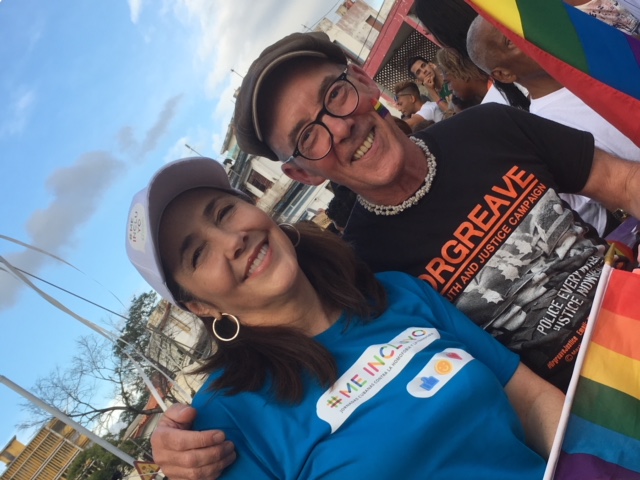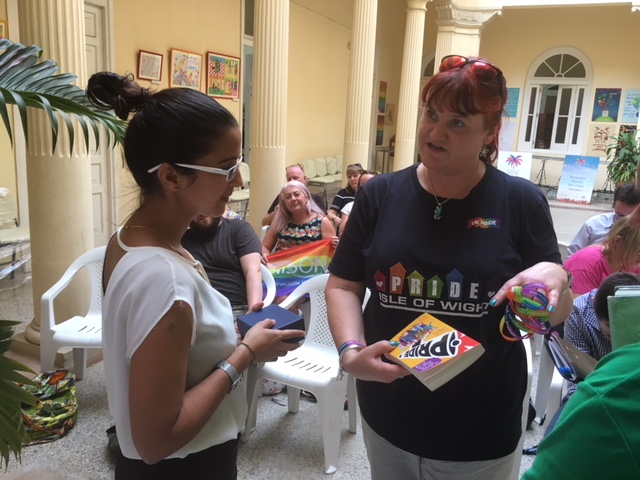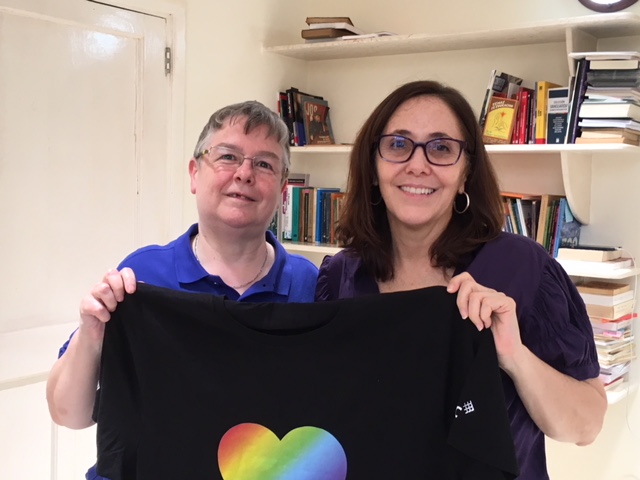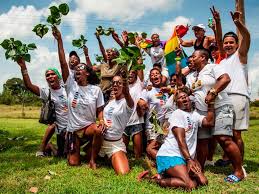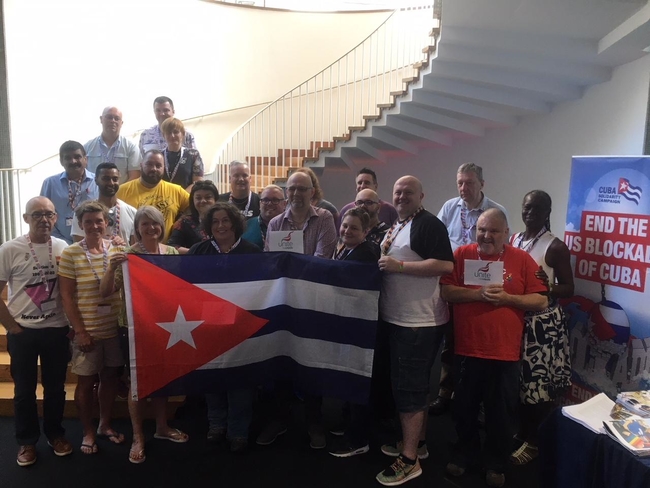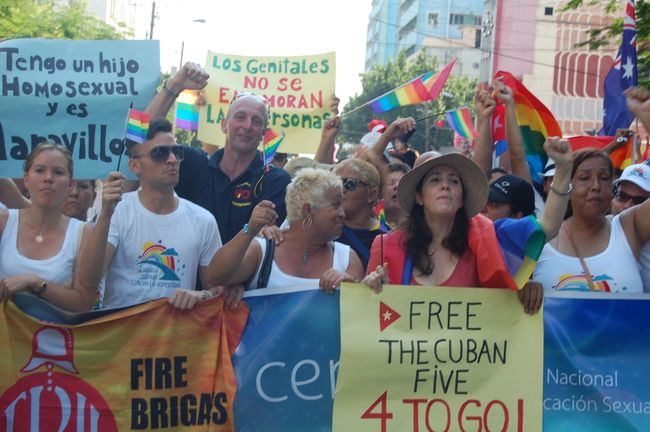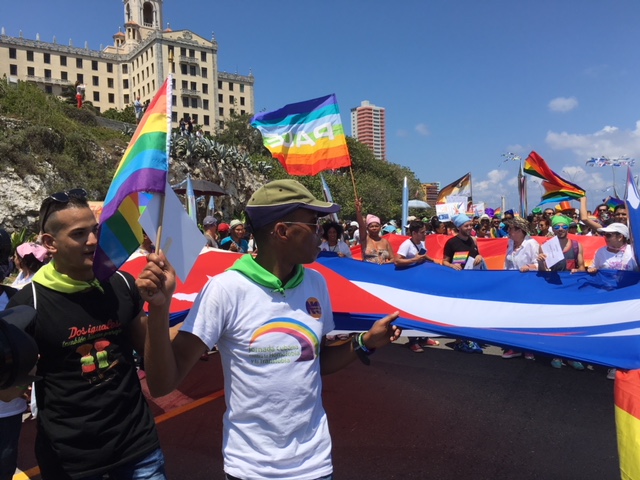 ---