First group of Cuban medical brigade returns from Bolivia
ACN | Tuesday, 19 November 2019 | Click here for original article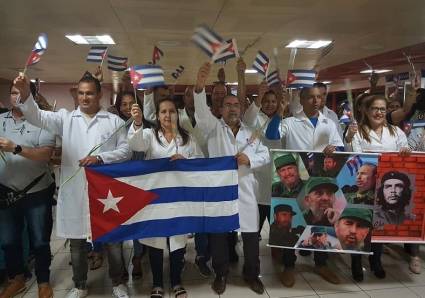 HAVANA, Cuba, Nov 17 (ACN) With the satisfaction of having contributed to the well-being of thousands of citizens of the Plurinational State of Bolivia, 224 collaborators who provided free health services there as part of a bilateral agreement between the two nations, returned to Cuba.
This first group of professionals to return to the homeland after the coup d'état against President Evo Morales, is made up of personnel who over several years carried out 1,529,301 surgical operations in that Andean country and performed more than 73,330,400 medical consultations.
Roberto Morales Ojeda, vice-president of the Council of Ministers, headed the reception at theJosé Martí international airport along with Bruno Rodríguez Parrilla, foreign minister.
José Ángel Portal Miranda, Minister of Public Health, told the doctors in Terminal 3 of the facility that this return is not the end, but a new beginning.
He pointed out that they will be able to return to their jobs, assume new tasks in the professional order or opt for a new mission abroad, "where their presence is required and they are welcome and accepted".
Cuban doctors have always been on the side of duty, even in the most complex circumstances, in earthquakes, hurricanes, fearsome epidemics such as Ebola and in the most rugged places on the planet, but always on the basis of respect and recognition for the receiving nation and with a deep humanist vocation, he added.
He also highlighted the contribution in the formation of human resources, since 5,184 Bolivians have graduated from Cuban classrooms and are currently studying more than 300.
Health professionals in Cuba are trained to value patients' lives with special sensitivity, without interfering in the internal politics of any of the countries in which they provide their services, said Portal Miranda.
With your support we will continue to honor the legacy of our heroes and the thought of the eternal leader Fidel Castro Ruz, he remarked.
In 2005 Bolivia began Operation Miracle with the sending of patients to Cuba, until a year later the first ophthalmological centers were opened in that country.
---