Condolences on the passing of Gilda Chacón Bravo
Campaign News | Friday, 9 April 2021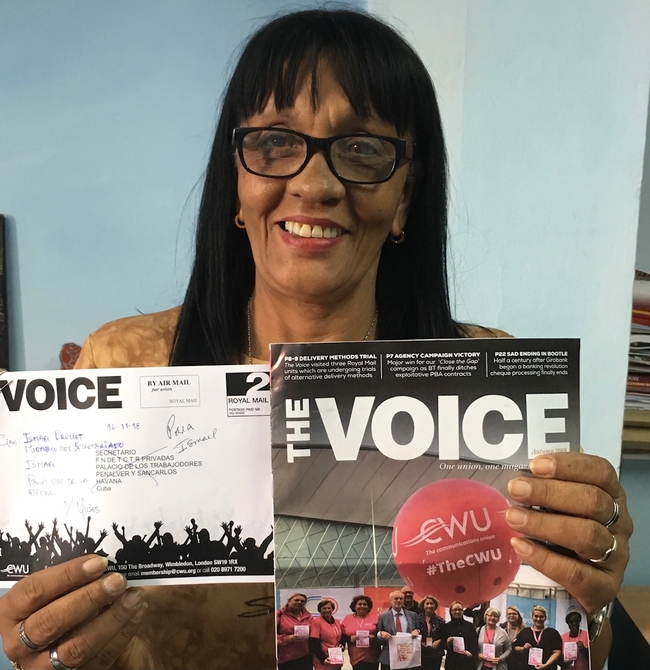 CSC is deeply saddened to learn of the passing of our dear friend and comrade Gilda Chacón Bravo, who died on 8 April 2021.
As European Officer for the Cuban Trade Union Federation (CTC – Central de Trabajadores de Cuba) Gilda looked after hundreds of British trade unionists who passed through the offices of the CTC on delegations to Cuba.
An English teacher by profession, Gilda became a trade union representative and leader in the Cuban teachers' union (SNTECD) in 1981 and rose through the ranks, until she was appointed to the International Relations Department of the CTC in 1994. Gilda initially worked with many countries, including Australia, before take responsibility for the UK in 2013. She represented the Cuban trade union movement in many international arenas including the International Labour Organisation and World Federation of Trade Unions.
Gilda came to the UK twice, once in 2009 to attend the TUC Women's Conference and to speak about the 50th anniversary of the Cuban Revolution and Federation of Cuban Women, and also in 2019 for the Unions for Cuba Conference to mark the 60th anniversary. On her visit in 2009 she also was also interviewed on BBC Radio 4's Women's Hour.
Everyone who came in contact with Gilda remember her smile and sense of humour. CSC has already been contacted by many British trade unionists, who even though they may have met her only once, who remember her warmth and friendship during their visits to Cuba. In addition to making so many feel welcomed in her county, she was a committed and wonderful ambassador for the Cuban trade union movement, driven and purposeful in her work, proud of her homeland and always eager to show international visitors the many achievements of the Revolution and Cuban workers.
In the last May Day delegation before the pandemic struck she was already planning ways to improve the next year's programme for delegates. A teacher by profession, she also gave visiting British delegations seminars on the Cuban trade union movement answering every question with the same detail and enthusiasm as if it were the first time she had been asked it.
She was a tireless fighter for justice, an internationalist and revolutionary who will be deeply missed by everyone at CSC and the British trade union movement who had the privilege to meet and work with her over recent years.
We have received many messages from trade unionists across the UK including from Frances O'Grady, General Secretary of the TUC who said:
"On behalf of the TUC I would like to send our deepest sympathy and condolences to Gilda's family, friends and colleagues in the CTC and Cuban trade union movement. I had the privilege to meet Gilda when she visited the UK and would like to express my gratitude on behalf of the many British trade unionists that she supported on delegations to Cuba and for the energy and commitment she invested in building bonds of friendship between British and Cuban workers which will be a lasting legacy to her memory."
And Steve Turner, Assistant General Secretary from Unite the Union who said:
"Gilda was a great friend of Unite the Union and is fondly remembered by many of our members who met her both in Cuba and the UK. She was the welcoming face of the CTC for those fortunate enough to take part in the delegations she organised. She always took the time to meet our May Day delegations at the airport, despite having many other groups and meetings to organise – a testament to her dedication as a trade unionist and her genuine warmth and friendship. She will be missed greatly and we pass on our condolences to her family, friends and colleagues."
The Cuba Solidarity Campaigns sends its love and condolences to her son and family, and her friends and colleagues in the CTC. She will live in our hearts and memories and in the solidarity and friendship between the workers of our two countries who will continue her legacy and her fight for a better world.
Rob Miller, Director
Natasha Hickman, Communications Manager
Condolencias por el fallecimiento de Gilda Chacón Bravo
CSC está profundamente entristecido al enterarse del fallecimiento de nuestra querida amiga y compañera Gilda Chacón Bravo, quien falleció el 8 de abril de 2021.
Como Oficial Europeo de la Federación Sindical de Cuba (CTC - Central de Trabajadores de Cuba) Gilda atendió a cientos de sindicalistas británicos que pasaban por las oficinas de la CTC en delegaciones a Cuba.
Profesora de inglés de profesión, Gilda se convirtió en representante sindical y líder en el sindicato de maestros cubanos (SNTECD) en 1981 y ascendió, hasta que fue nombrada para el Departamento de Relaciones Internacionales de la CTC en 1994. Gilda inicialmente trabajó con muchos países, incluida Australia, antes de asumir la responsabilidad del Reino Unido en 2013. Representó al movimiento sindical cubano en muchos ámbitos internacionales, incluida la Organización Internacional del Trabajo y la Federación Sindical Mundial.
Gilda vino al Reino Unido dos veces, una en 2009 para asistir a la Conferencia de Mujeres del TUC y hablar sobre el 50 aniversario de la Revolución Cubana y la Federación de Mujeres Cubanas, y también en 2019 para la Conferencia Uniones por Cuba para conmemorar el 60 aniversario. En su visita en 2009, también fue entrevistada en Women's Hour de BBC Radio.
Todos los que estuvieron en contacto con Gilda recuerdan su sonrisa y sentido del humor. CSC ya ha sido contactada por muchos sindicalistas británicos, quienes a pesar de haberla conocido solo una vez, recuerdan su calidez y amistad durante sus visitas a Cuba. Además de hacer que muchos se sintieran bienvenidos en su país, fue una embajadora comprometida y maravillosa del movimiento sindical cubano, motivada y decidida en su trabajo, orgullosa de su patria y siempre dispuesta a mostrar a los visitantes internacionales los muchos logros de la Revolución. y trabajadores cubanos.
En la última delegación del Primero de Mayo antes de que ocurriera la pandemia, ella ya estaba planeando formas de mejorar el programa para delegados del próximo año. Docente de profesión, también impartió seminarios a las delegaciones británicas visitantes sobre el movimiento sindical cubano respondiendo a todas las preguntas con el mismo detalle y entusiasmo como si fuera la primera vez que se la formulan.
Fue una luchadora incansable por la justicia, una internacionalista y revolucionaria que será profundamente extrañada por todos en CSC y el movimiento sindical británico que tuvieron el privilegio de conocerla y trabajar con ella durante los últimos años.
Hemos recibido muchos mensajes de sindicalistas de todo el Reino Unido, incluido Frances O'Grady, secretaria general del TUC, quien dijo:
"En nombre del TUC, quisiera enviar nuestro más sentido pésame y condolencias a la familia de Gilda, amigos y colegas de la CTC y del movimiento sindical cubano. Tuve el privilegio de conocer a Gilda cuando visitó el Reino Unido y me gustaría expresar mi gratitud en nombre de los muchos sindicalistas británicos que apoyó en las delegaciones a Cuba y por la energía y el compromiso que invirtió en la construcción de lazos de amistad entre británicos y Trabajadores cubanos que serán un legado perdurable en su memoria ".
Y Steve Turner, secretario general adjunto de Unite the Union, quien dijo:
"Gilda era una gran amiga de Unite the Union y muchos de nuestros miembros que la conocieron tanto en Cuba como en el Reino Unido la recuerdan con cariño. Fue el rostro de bienvenida del CTC para quienes tuvieron la suerte de participar en las delegaciones que organizó. Ella siempre se tomó el tiempo para reunirse con nuestras delegaciones del Primero de Mayo en el aeropuerto, a pesar de tener muchos otros grupos y reuniones que organizar, un testimonio de su dedicación como sindicalista y su genuina calidez y amistad. La extrañaremos mucho y le damos el más sentido pésame a su familia, amigos y colegas ".
Las Campañas de Solidaridad con Cuba envía su cariño y condolencias a su hijo y familia, y a sus amigos y colegas de la CTC. Vivirá en nuestros corazones y recuerdos y en la solidaridad y amistad entre los trabajadores de nuestros dos países que continuarán su legado y su lucha por un mundo mejor.
---