Cuba and Venezuela Show Solidarity with Haiti After the Hurricane
Telesur | Sunday, 9 October 2016 | Click here for original article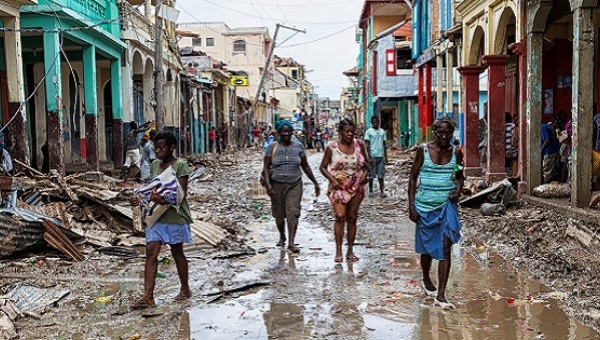 The death toll from the hurricane, which has devastated the impoverished Caribbean nation, is approaching 1,000, with scores of people still missing.
The governments of Cuba and Venezuela have shown their solidarity with Haiti by sending specialised personnel and humanitarian aid to alleviate the suffering of hundreds of thousands of people affected by Hurricane Matthew that left over 870 killed, 350,000 in need and ravaged the country.
Cuba sent a group of 38 health professionals from the Henry Reeve Brigade who are trained in disaster medicine and infectious disease containment. The volunteer team was outfitted with essential medicines and equipment and has already arrived in the Haitian capital of Port au Prince.
For its part the Venezuelan government has already sent two shipments with humanitarian aid, the first was an airplane with 20 tons of nonperishable food, water, blankets, kitchen utensils, disposable materials, tents, ponchos and medicines.
On Friday's night a ship with 700 tons of aid left the Venezuelan coast toward Haiti, the Minister of Foreign Affairs of Venezuela said in an official statement.
Meanwhile, the death toll from the Category 4 hurricane, which has devastated the impoverished Caribbean nation, continues to climb, with scores of people still missing since last Tuesday when it landed with howling winds measuring 145 miles per hour.
Matthew, which has been downgraded to Category 1 storm, also hit the United States, Jamaica, Cuba and the Bahamas, bringing torrential rain and high winds.
Haiti was particularly affected because it is the poorest country in the Americas, has not yet fully recovered from a devastating 2010 earthquake which decimated its infrastructure, while political stability remains evasive.
Moreover, there remains the threat of complications like cholera outbreaks or other health crises which have often followed natural disasters on the island. So far seven cases attributed to water contamination with sewage have been already registered.
---